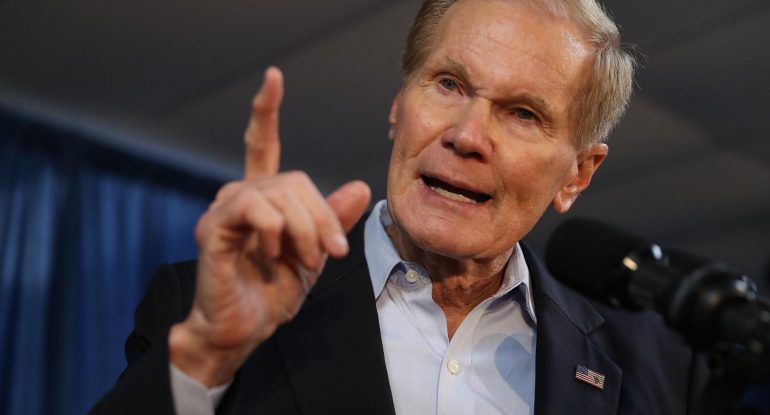 In a floor speech that moved from touting science and economics to the future of human life, Florida's Democratic U.S. Senate Bill Nelson essentially said goodbye to being part of America's space policy Monday and urged his colleagues to support science, space, and exploration forever more.
Nelson's days in the U.S. Senate are counting down quickly since he lost re-election to a fourth term in November to Republican Gov. Rick Scott.
When Nelson departs in January, he'll take with him a career-long passion for space exploration, NASA, and Kennedy Space Center and Cape Canaveral in Florida. While Scott accused Nelson during the election campaign of not doing enough in Washington for NASA and KSC, no one could credibly question Nelson's zeal.
Nelson put that devotion on full display covering both the intimate and the far-out implications, during a 22-minute Senate floor speech Monday that may well be his last there on space.
"Will humanity still exist far in the future if we chose to stop exploring now? The cosmos offers us limitless opportunities to expand, not just survive, but to thrive," Nelson said.
"Imagine the first baby girl or boy born away from planet Earth. Imagine the first artist to paint a sunset on Mars. Imagine our solar system inhabited by a hundred billion dreamers, innovators, and creators. Imagine a future where those people, perhaps the grandchildren or great-grandchildren of those in primary school today, look back on our era as the time that humanity began to journey outward," Nelson said.
"I believe that as we discover and explore the wonders of the cosmos we will achieve the greatest outcome of all. We will find that our home planet, Earth, and all the life and love that inhabits us, has become even more beautiful and all the more precious to us," Nelson said.
His speech was more than just a philosophical yearning for future exploration. Nelson, who went into space aboard the Space Shuttle Columbia in 1986, pressed his colleagues to continue supporting NASA's missions from basic science, practical technology, and the development of a commercial space industry.
He urged support for continued use of the International Space Station, investments in science research and technology, human missions farther and farther from Earth, and for anything that science might reveal and teach.
It was a speech mixed with plenty of fond and bittersweet memories: of that 1986 space flight; of astronaut colleagues including those lost in disasters; of the end of the space shuttle program; and of the space agency's current commitment to put boots on Mars in the 2030s. Nelson's speech also discussed the decline of Cape Canaveral early in this decade, and its current slow rise from the ashes, with multiple commercial rocket launches each month, heading toward the prospect of multiple launches a day.
Nelson reminded colleagues that it all has come through evolving policy decisions, much of it explicitly authorized or even directed by Congress, or through leadership. He specifically cited U.S. Sen. Ted Cruz, the Texas Republican, and Patrick Leahy, the Vermont Democrat, for working together with him on space issues.
And Nelson reminded them of Florida's unique position.
"It's been one of my singular achievements to have worked with other leaders in government and industry to bring about the dramatic modernization of the historic launch infrastructure at Cape Canaveral and Kennedy Space Center," Nelson said.
"A few short years ago, remember, business at the cape was much different than it is today. Commercial launch companies were looking elsewhere to take their business, despite all of the available infrastructure and the amazing workforce on the Space Coast. Too much bureaucracy stood in the way of progress," Nelson added.
Nelson said he convened a meeting of top leaders of NASA, the Air Force, the FAA and others, and pushed for commitments to bring abandoned launch pads at Cape Canaveral Air Force Station back to life for private rocket companies' use.
"Quite simply, jobs and ingenuity are soaring because rockets are soaring," Nelson said. "And as goes Florida's Space Coast and the Houston area, so goes the U.S. space industry as a whole."
Nelson also moved from the practical to the philosophical as he discussed the reasons for space exploration.
"As we continue to move forward, it's also imperative that we continue our world-leading science and aeronautics activities," he said.
"NASA pursues the most challenging and enduring questions facing humanity:  How does life come to exist? Are we alone? What is to become of our planet? Engaging and empowering the U.S. science community should remain a top priority, enabling us to find new discoveries and to inspire and motivate future generations of scientists and engineers."