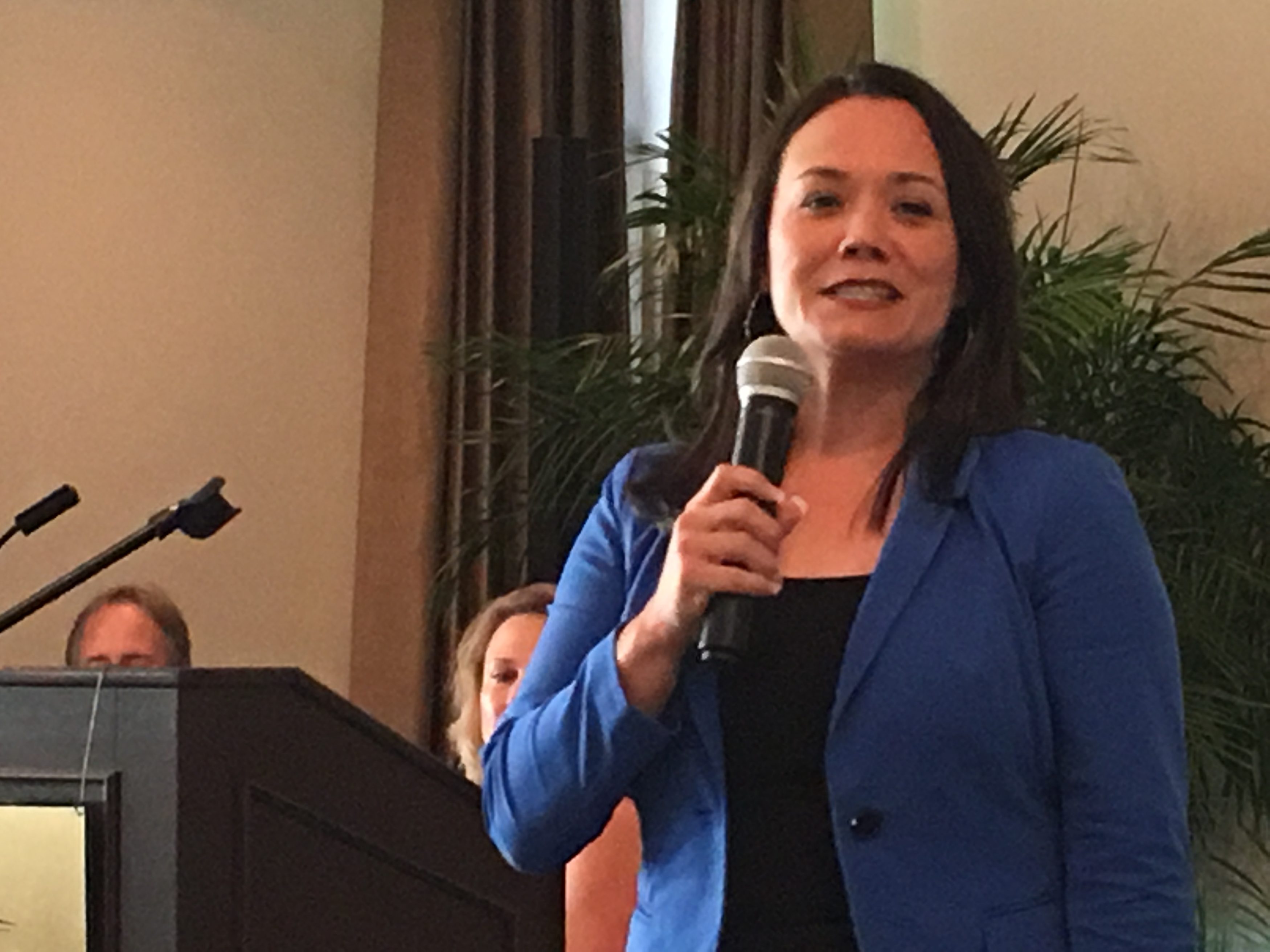 Wednesday evening saw Anna Brosche at a Jacksonville Young Democrats event.
Jacksonville's 2019 mayoral election is ramping up, with Republican City Councilwoman Anna Brosche starting to hit the candidate forum circuit.
Wednesday evening saw Brosche at a Jacksonville Young Democrats event at Cuba Libre, with several candidates for lesser offices and the non-Lenny Curry mayoral candidates.
The crowd was a triptych: one third candidates, one third political junkies, and the other third restaurant staff and the media.
Brosche, who has been running to appeal to Democrats, has hired former Florida Democratic Party executive director Scott Arceneaux on that front. Her political committee is also airing an ad blaming the recent spike in crime on Curry.
"You deserve to have someone who cares more about your neighborhood than Tallahassee … about your neighborhood than partisan politics," Brosche said.
"It is about trust in government and engaging more people in our solutions," Brosche said to applause from throughout the crowd of 60 or so.
Brosche fielded a question next about the sale of city assets and whether the voters or elected officials should decide.
"I think the answer is both," Brosche said, noting that in the matter of JEA, the "people spoke."
"On the flip side, the city also has a lot of properties. On a parcel by parcel basis, I don't think the voters even want to be a part of that process," Brosche said.
Brosche also vowed to use technology for deep dives into determining neighborhood investment into "all of Jacksonville," while promising to address the unfulfilled promises of consolidation.
Brosche, when asked if she would tweak the Sheriff's budget, said the Sheriff said he didn't need more resources at a recent luncheon.
"We must up our game investing in prevention and intervention," Brosche said.
Brosche also asserted that "smart city technology" can help Jacksonville be "more proactive" and "up our game" with a "customer service attitude."
Brosche also noted that transparency could be improved, including on the city website, which can be difficult to navigate.
"Yes, smart city. Yes, transparency. Yes, updated technology," Brosche said.
Brosche then closed her remarks.
"You deserve a seat at the table, a voice. This election is about giving you your city back … standing up to bullies … to cronyism," Brosche said.
Brosche vowed inclusivity.
"Questions are good. Questions help us get to better policy," Brosche said.
—
Other candidates spoke at the event, including At-Large Group 1 Democrat Lisa King, who said that "two people" make most of the decisions in the Mayor's Office, a sign that Jacksonville has "lost [its] way."
At-Large Group 1 NPA candidate Connell Crooms vowed to provide "leadership," to be "accessible," and to fight for the needs of working people.
King also vowed accessibility, noting that when she was on the Planning Commission, she thought public input "was the most important part of the process."
Republican At-Large candidate Don Redman diverged, saying "sometimes you've got to go to the restroom."
"But," he added, "you have to come back."
NPA At-Large hopeful Niki Brunson vowed full-time service.
"The check is just a bonus for me," Brunson said.
—
Property appraiser candidates squared off, setting up a wave of Constitutional Officer candidates.
Kurt Kraft, the underfunded Democrat running against Republican incumbent Jerry Holland, alleged that Holland was undervaluing high-end homes.
"We're losing a lot of revenue," Kraft said, saying appraisals fell "woefully" short of sales prices for homes.
"I know what I'm talking about, and I know what I'm doing," Kraft asserted.
Holland said Kraft was dissembling, that Kraft's last role at the office was measuring the outside of homes, and that he was not under appraising homes. As well, the office is subject to state audits.
"I'm going to be honest with you," Holland said. "Whatever I tell you is the truth."
Kraft has pushed that narrative for months now.
Holland noted in an interview that if re-elected to this office, he may consider another campaign in 2023.
Including, he said, the Mayor's office … if the seat is open.
Tax Collector candidate and Jacksonville City Council perennial John Crescimbeni was on hand.
Crescimbeni, with roughly $10,000 on hand, is up against Republican incumbent Jim Overton.
His reason for running: improving "customer service" in the office.
Democratic Sheriff candidate Tony Cummings (running with $1,500 on hand) spotlighted the murder rate, vowing to reduce violent crime.
He vowed to address "the morale problem."
"We have 1,800 angry officers right now," Cummings said. "Your current mayor cut the pensions for officers and put them on 401Ks. We cannot retain officers at the moment."
Of course, that was for new hires, not current employees.
"You're paying $439 million for the number one violent crime rate in the state," Cummings contended.
Cummings also had words for the LGBT community, saying "transgenders will be referred to by their name" rather than deadnamed when victims of murders.
Civilian review boards: another promise, despite Cummings saying the Fraternal Order of Police would sue if those were implemented.
Charter would not permit such, per Jacksonville's General Counsel.