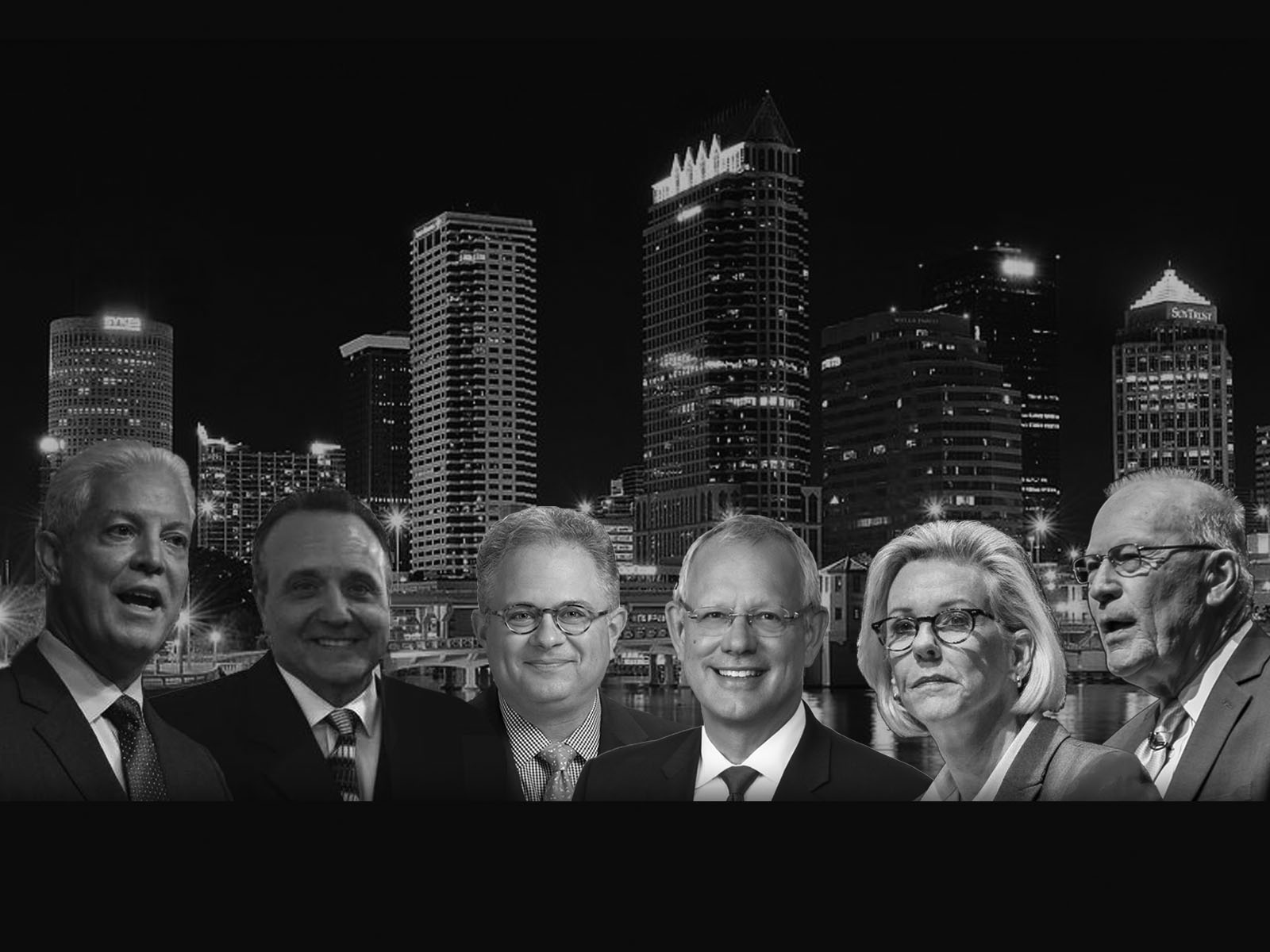 Turnout in the race one week out from Election Day is already at 6 percent.
Monday was the first day of early voting and candidates were in full swing getting out the vote as the number of voters to reach shrinks with each ballot cast.
The seven polling places open for early voting across the city did not see a lot of traffic. Fewer than 700 cast a ballot early. Nearly 14,000 voters have turned in ballots so far, according to the Hillsborough County Supervisor of Elections office. Still, turnout in the race one week out from Election Day is already at 6 percent.
"Topher Morrison casts his vote for himself" via Florida Politics — He thought it was kind of weird.
"I hadn't thought about what it kind of means," Morrison said in a video he took while walking from his downtown office to the nearby County Center to vote.
But one of his campaign staffers asked him if he was excited to go vote for himself.
"All of a sudden it kind of sunk in," he said. "This will be the first time in my life that I've actually gone to a polling center to vote and my name will be on it."
It doesn't appear that any other candidate cast a ballot on the first day of early voting.
"Jane Castor posts six-figure fundraising haul while David Straz continues his own money train" via Florida Politics — The former Tampa Police Chief raised $100,000 during the first half of February, reports show.
Castor's latest campaign haul brings her overall fundraising total to $378,000. She has about $72,000 of that left to spend.
Castor's campaign received several contributions from various Democratic political committees including Progressives of Florida, People Powered Politics, Our Future Now and Fighting for Florida Jobs, which each contributed $1,000, the maximum allowable under state law.
Tampa lawyer Ron Christaldi, who is helping lead efforts to bring the Tampa Bay Rays to Tampa, also donated $1,000. As did former U.S. Senate Democratic candidate Kendrick Meek. Chris Hunter's political committee also kicked in $1,000. Hunter ran unsuccessfully to unseat Gus Bilirakis in Congress.
Castor's campaign also enjoyed support from several real estate and development groups including maximum contributions from Broadmoor Enterprises property management, Harrod Properties, JVS Contracting, Thirty Lances Corporation and Palermo Acquisitions, among others.
While Castor's campaign raised the most during the most recent campaign finance reporting period, David Straz's campaign again bolstered its coffers with $500,000 from Straz himself. His latest self-contribution brings the total amount he has funded his own campaign to $2.35 million. That accounts for almost all of his $2.4 million in campaign funds.
"Nicholas Glover looks to volunteers for final campaign push" via Florida Politics — "We know in order to win the community, we must be in the community and I'm excited to be running a truly authentic grassroots campaign that thrives off of our hardworking volunteers," Glover said in a Facebook video message. "I need you to join me and my team by knocking on doors and making phone calls to share my vision for this great city. Your support means everything to me."
Glover posted the message Monday to coincide with the start of early voting in Tampa.
"We feel great heading into early voting," Glover said. "Our message is clearly resonating with voters. They're tired of the same broken promises from the same politicians every election year. We're finally going to take the bold action to address the issues we face."
"Bill Carlson gains six-figure lead over Lee Lowry" via Florida Politics — Carlson raised $21,000 in the first half of February, the latest campaign finance reports show. That brings his total campaign haul to $127,000 – more than $100,000 more than Lee Lowry and $90,000 more than Sal Guagliardo Jr.
Carlson pulled in contributions from a variety of notable sources including $250 from former Tampa City Council member Mary Mulhern, $100 from St. Pete City Council member Darden Rice and $500 from Jeff Vinik's Strategic Property Partners. SPP also donated $500 to Lowry's campaign.
Other contributions for Carlson's campaign came from the local ironworkers union, St. Pete Mayor Rick Kriseman's Political Action Committee, Sunrise PAC, the Gray Robinson law firm, local firefighters and former Florida Senate candidate Bob Buesing.
Guagliardo, by contrast, raised just $350. He spent $1,240 on printing services from Unlimited Printing in Tampa leaving his cash on hand at about $13,000.
Lowry raised $5,300 bringing her total raised to $21,000. In addition to SPP, Lowry received contributions from the Tampa Police Benevolent Association and several local voters.
"Alan Clendenin tops funding race in Tampa City Council District 1" via Florida Politics — Clendenin has raised more than $56,000 in just a month and a half, according to the most recent campaign finance reports filed with the Hillsborough County Supervisor of Elections office. Those earnings cover all of January and the first half of February.
Clendenin brought in $15,000 during the most recent reporting period covering February 2-15. Those contributions come from some big names in Tampa Bay politics including $1,000 from lobbyist and Democratic pundit Ana Cruz, $250 from All For Transportation co-chair Brian Willis and from consultant Beth Leytham, another $250 from Tampa's first female Mayor, Sandy Freedman, and $500 from Democratic consultant Justin Day. Christina Barker who also working on the All For Transportation campaign contributed $150.
A Realtors PAC gave $1,000.
Clendenin also drew financial support from St. Pete City Council member Darden Rice ($100) and former state Rep. Mark Danish ($100).
Contributions to other candidates in the race have slowed to a trickle.
Mark your calendar
Thursday, Feb. 28 — Last day to mail ballots back to the Supervisor of Elections to guarantee it arrives by Election Day.
March 3 — Final day of early voting
March 5 — Election Day. Voters must cast a ballot at their polling place. Polls are open 7-7. Mail ballots can be returned in person until polls close. Find your polling place here.
Early voting info
Early voting locations:
Cyrus Greene Center
2101 E. Dr. Martin Luther King Jr. Blvd.
Fred B. Karl County Center
601 E. Kennedy Blvd.
Jan Kaminis Platt Regional Library
3910 S. Manhattan Ave.
New Tampa Regional Library
10001 Cross Creek Blvd.
North Tampa Branch Library
8916 North Blvd.
Robert L. Gilder Elections Service Center
2514 N. Falkenburg Rd.
West Tampa Branch Library
2312 W. Union St.
Hours: 10am-6pm February 25-March 3
What to bring
Please bring one or two forms of identification that include your signature and photo. Without proper identification, you may still vote a provisional ballot, which will later be evaluated by a canvassing board for eligibility. Any of the following forms of photo identification are acceptable:
— Florida Driver License
— Florida ID card issued by the Department of Highway Safety and Motor Vehicles
— U.S. Passport
— Debit or credit card
— Military ID
— Student ID
— Retirement Center ID
— Neighborhood Association ID
— Public Assistance ID
— Veteran Health ID issued by the VA
— Concealed Weapon License
— Government Employee ID
If your photo ID does not include your signature, you will be asked to provide another ID that has your signature.
Bring your sample ballot to the polling place with notes on how you plan to vote. By making your voting decisions before going to the polling place, you help keep the lines down.
Get social