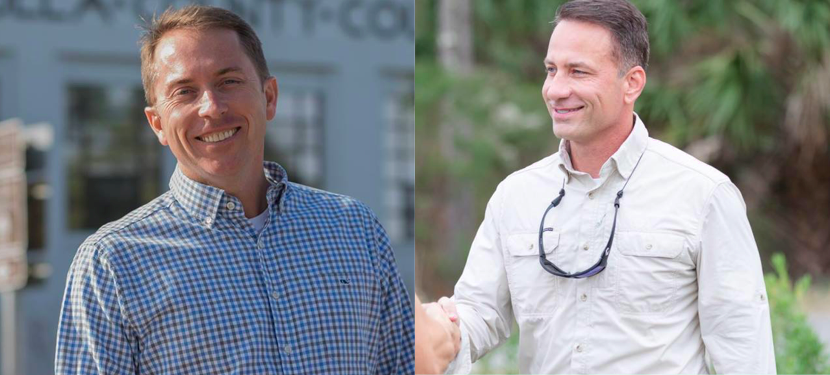 Both spent the most — more than $150,000 — in March, pitching themselves to primary voters through mailers and ads.
Republicans Jason Shoaf and Mike Watkins handily outraised and outspent the other two hopefuls seeking the Republican nomination in the race to replace former state Rep. Halsey Beshears.
For a safe GOP seat that didn't draw a Democratic contender last year, the stakes are high in Tuesday's primary for House District 7.
Through March and the first few days of April, Shoaf amassed and deployed more money than any other candidate for the seat. Between his political committee and campaign accounts, the Port St. Joe businessman brought in $223,000 in true fundraising and loaned his campaign $50,000.
Watkins, the CEO of Big Bend Community Based Care who had filed for the seat several months before it opened, had raised $213,000 through the same period.
Both candidates spent big in the home stretch, saving only a little bit of money for the days leading up to Tuesday's primary.
Shoaf had spent just shy of $245,000 through most of last week. Watkins used up a little more than $207,000 for the seat that covers or includes 10 Northwest Florida counties in the Big Bend and Panhandle regions.
The other Republicans, Lynda Bell and Virginia Fuller, have lagged on the fundraising front. Bell, the manager of a small town in Jackson County, spent a little more than $2,000 in the race. Fuller, who ran unsuccessfully against incumbent Democratic U.S. Rep. Al Lawson in 2018, spent about $2,600.
Watkins and Shoaf spent the most — more than $150,000 — in March, pitching themselves to primary voters through mailers and ads. The results of these efforts will be realized in the Tuesday faceoff that was set by Gov. Ron DeSantis after he tapped Beshears, a Monticello Republican, to lead the state Department of Business and Professional Regulation.
Both Watkins and Shoaf have fought to define themselves as the right Republican for the job, with each releasing ads saying they'll support President Donald Trump's agenda and claiming they align with the more conservative views of the party. They've also promised to be a voice in the Legislature for a constituency recently hurt by Hurricane Michael.
The race has manifested as miles trekked across the sprawling district, with the candidates popping up at local festivals, parades and forums.
But the politics have been competitive, marked with hard-hitting opposition attacks — even an almost-physical confrontation in Wakulla County.
Previous political donations and a high-paying job with the state have led to criticism of Watkins. Meanwhile, Shoaf's spot on the Triumph Gulf Coast board and his ability to rally influential support from outside of the district drew attacks from Watkins.
Watkins carries with him the backing of several sheriffs and first-responder interests, including massive cop and firefighter unions. Shoaf has enjoyed support from real estate and enterprise interests, including an endorsement from the National Federation of Independent Businesses.
Democrat Ryan Terrell will compete against the winner in a June 18 general election.