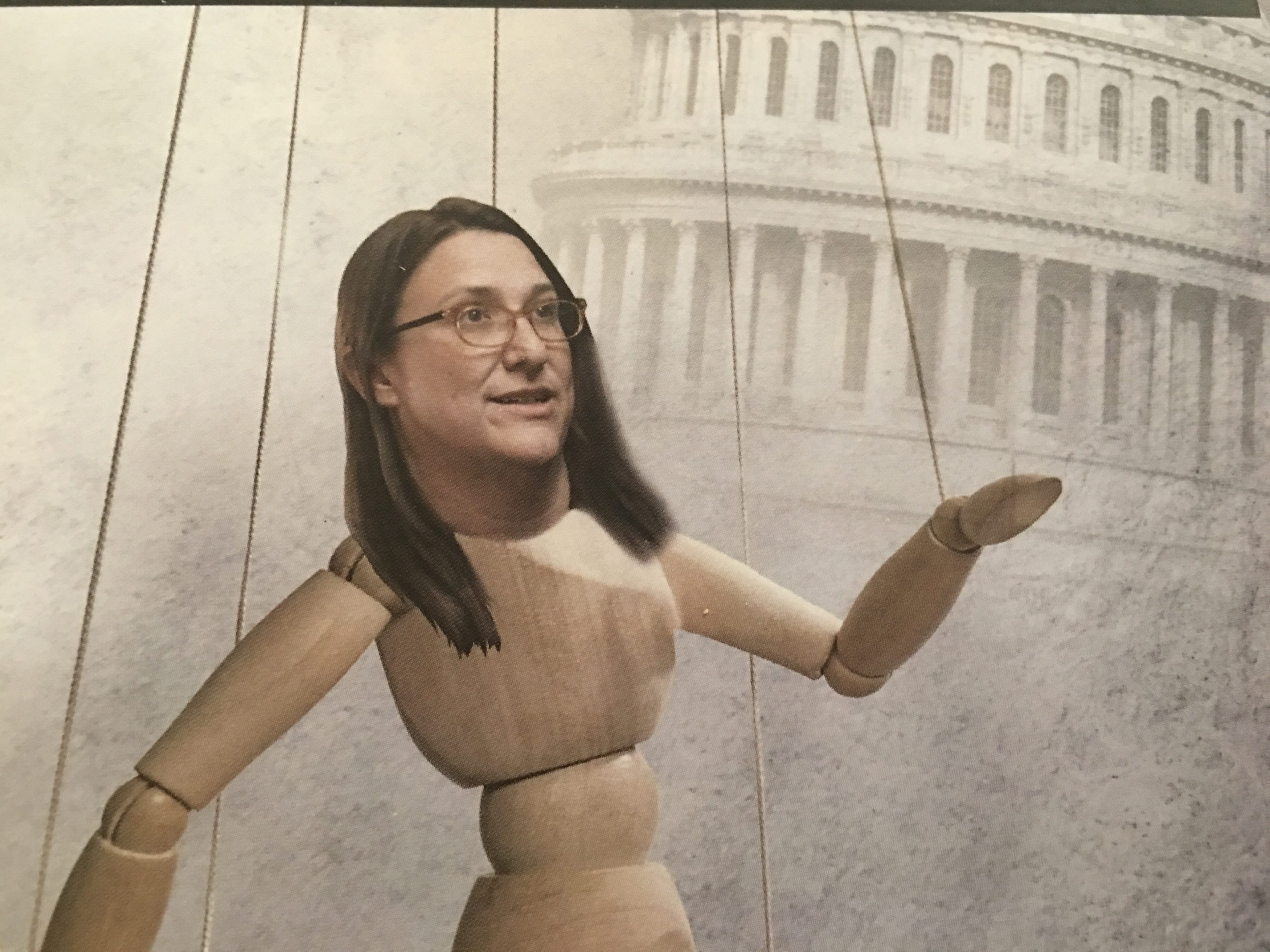 It's 'use it or lose it' time for oppo.
With days before the Jacksonville runoff elections end, most every bit of oppo has been used (and if you haven't seen it yet, it's coming to a windshield near you this weekend).
Direct mail pieces are distilling the closing arguments and attempts by candidates to obliterate their opposition in most of the campaigns still live.
Early voting wraps Sunday. Election Day, mercifully, is Tuesday.
____
Lobbyist Vs. Lobbyist: In At Large Group 1, the hits keep coming in against Democrat Lisa King.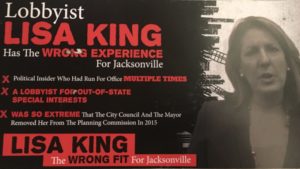 This mailer, from the Building Bridges political committee of Republican Councilman Terrance Freeman, dubs King a "political insider" and a "lobbyist" who was "so extreme" that she was removed from the city's Planning Commission.
Freeman's political committee raised $35,000 in April, with Republicans like Tom Petway leading the push. One suspects there is one last argument waiting in reserve for the weekend from interests supporting Freeman.
King does have a television ad, bought via a Florida Democratic party 3-pac, that hits Freeman for being a lobbyist. Typically when candidates go negative late in campaigns, it's a response to polling trends.
At least one internal shows this as a 10 point race.
Freeman has led the fundraising battle consistently here. Over the course of the campaign thus far, Freeman raised $192,440 in hard money, with King hauling in $127,581.
One last filing is due Friday.
_____
Big Money $unny: It's a double-edged sword for Democrats in Jacksonville. When they raise money, as Democrat Sunny Gettinger did in District 14, the mailers from the Republican side paint them as donors' puppets.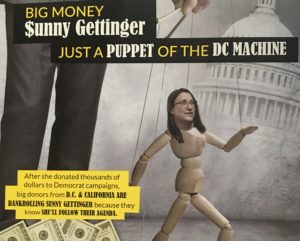 This approach is clearly nettling Gettinger, who used one of her last mail pieces to respond to mail from Republican Randy DeFoor.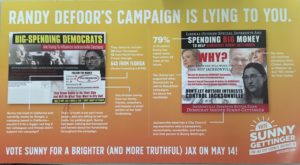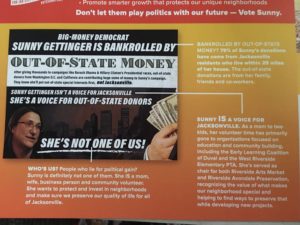 The old saying is "If you're explaining, you're losing." On the bright side, Gettinger's mailers serve as functional eyecharts for those amateur optometrists in the district.
Ironically, DeFoor is the big money candidate.
DeFoor has raised $316,000 in hard money in this cycle, with $109,000 on hand as of the most recent filings; Gettinger's $197,000 raised put her among the top Democrats this cycle, and she carried $65,000 of that into the stretch run.
DeFoor's Safe and Prosperous Jacksonville political committee reported $44,000 of its total $87,000 raised in April, with the Jacksonville Jaguars coming through with $10,000.
At least one anonymous source from the Gettinger side has been shopping oppo on DeFoor, but this late in the game, it is hard to imagine media picking it up.
_____
Bathroom bedlam: Republican Greg Rachal faces some roadblocks to winning his election against eternal officeholder and current At Large Group 3 incumbent Democrat Tommy Hazouri.
Rachal's Hail Mary: a mailer asserting that Hazouri "voted to let men in girl's [SIC] bathrooms."
"Women and girls do not want to share a public bathroom or a locker room with a man dressed as a woman," the argument goes.
Hazouri backed the expansion of the city's Human Rights Ordinance to include public accommodations for the LGBTQI community, a move that has nettled Christian conservatives in the city.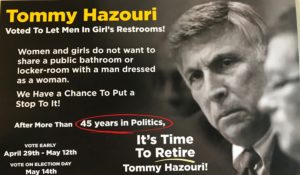 One reliable poll shows Hazouri up by over 20 points, suggesting that this is a last-ditch attempt by Rachal to animate the base, even though Jacksonville's Republican Mayor Lenny Curry and Hazouri are aligned on most issues.
Those with long memories will recall that a former Jacksonville pastor targeted Hazouri with similar attacks during the HRO debate.
That pastor has since left the ministry.
Over the course of the campaign, Hazouri raised nearly $340,000 (with a report due Friday that could see that sum rise); Rachal, new to the campaign world, just $32,000.