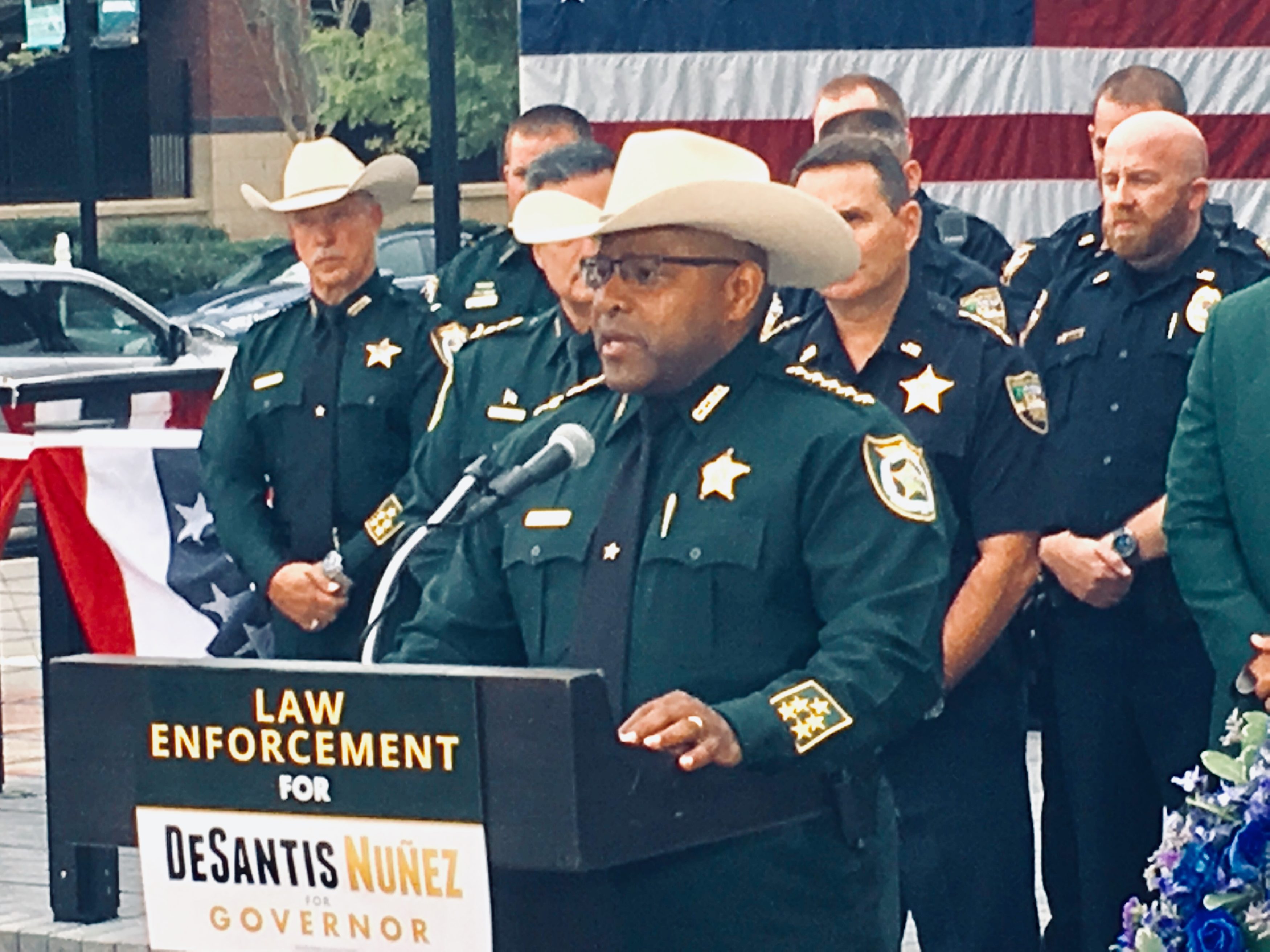 Expect a competitive 2020 race in Clay.
Embattled Clay County Sheriff Darryl Daniels will officially draw a challenger Monday, when Harold Rutledge files for the 2020 election.
Rutledge, a former sergeant with the Clay County Sheriff's Office and Clay County Commissioner, currently is executive director for the Florida Public Service Association.
"Like so many of you, I have called Clay County home for 22 years," Rutledge said. "I have patrolled our neighborhoods as a Clay County deputy, and I have worked and taught in our public schools. I have raised my family here."
Rutledge's media release notes an uptick in crime, slower response times to high-priority calls, and the two-thirds likelihood that a crime went unsolved in 2018.
"These statistics are alarming," Rutledge said. "Leadership at the Sheriff's Office is to blame, and a new administration is needed to clean house and restore integrity back to the Clay County Sheriff's Office." 
Daniels, of course, is dealing with issues of his own.
A vocal backer of Gov. Ron DeSantis in 2018, Daniels has since been dealing with the aftermath of a workforce romance that led to a yearslong hush money slush fund.
He paid off a former workplace subordinate with whom he had a long-term affair when he was running Duval County's jail.
The Sheriff accused that subordinate, Cierra Smith, of "stalking" him, a charge that proved groundless.
"I've not been given any official briefing," DeSantis told Action News Jax and Florida Politics last week. "I've heard through the media and other things that there [were] issues."
"We'll take a look at it, but I'm sorry to see that there's this type of allegations," DeSantis added.
When reminded of Daniels' general election support, DeSantis kept his distance, noting that Daniels "campaigned against [him] in the primary."
"That's just how these things go," the Governor noted. "It is what it is."
"But if there's anything I've shown in my short time as Governor, it's being willing to hold people accountable regardless of party," DeSantis added, noting that he suspended the Republican Superintendent of Schools in Okaloosa County early in his term.
As well, DeSantis noted that he "cleared out all of Rick Scott's appointees on the Water Management Board. If this rises to the level after I review it, we're going to treat it like anybody else."
DeSantis is on a plane back from Israel, where he just completed a four-day trade mission with a 90-person plus delegation.
The Sheriff won a competitive race in 2016, with Rutledge one of a few defeated opponents. Expect more competition to emerge to face a wounded Daniels.
Bonus ironic footage: Daniels and his wife playing "The Newlywed Game" on WJXT in 2016.