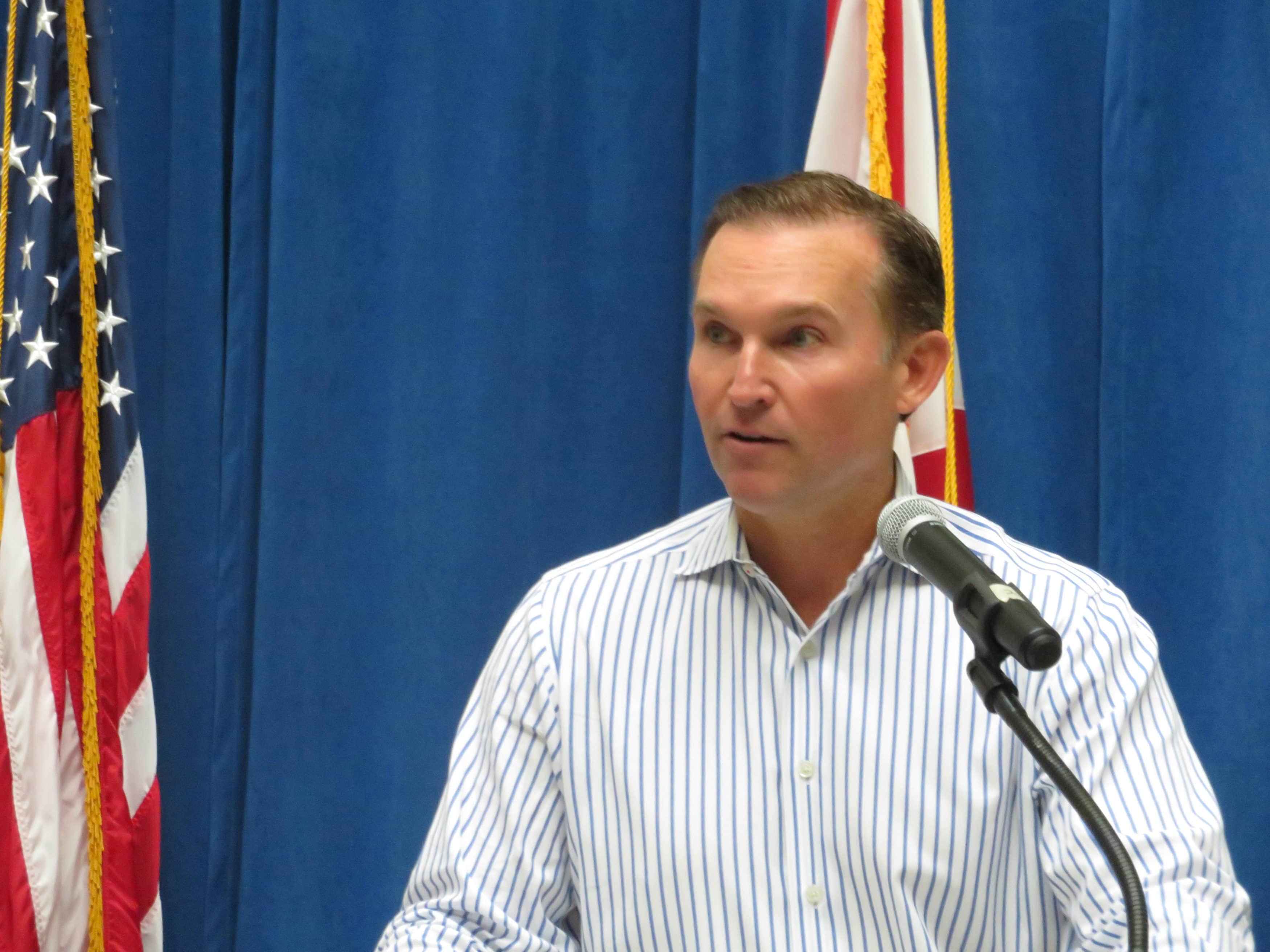 "Make the case for Nov. 2020..."
Thursday at Jacksonville City Hall was devoted to the economic impacts of a motocross competition, but a bigger-stakes race loomed in the background.
Tuesday and Wednesday saw strong momentum for a proposed discretionary sales surtax referendum: Duval County's School Board wants a 1/2 cent sales tax to be voted on this November.
Despite Mayor Lenny Curry opposing the timing of the proposed special election early, nemeses like Sen. Audrey Gibson and Rep. Tracie Davis were among over 60 speakers Tuesday at the City Council meeting backing a November vote.
Wednesday saw more momentum: Councilman Reggie Gaffney, a Democrat endorsed by Republican Curry for re-election, said Council backed the School Board in its battle with the Mayor.
The Council is expected to vote on whether to allow the November referendum on Tuesday. Curry could still veto the measure if it does not pass with a 2/3 supermajority.
On Thursday, Curry would not commit to vetoing or supporting the referendum, asserting that the material case had not been fully made.
"I don't believe that there should be a special election in November of 2019," Curry said.
"I'm open to 2020. I have kids in public schools. I know our schools need work," Curry said. "The question is when and what."
"When should it be? I think they should make the case for November 2020. And then some questions need to be answered," Curry said.
"What's the cash flow analysis? What's the debt service analysis? What's the plan of priorities? Before the Better Jacksonville Plan was passed," Curry said, "people knew for example that their roads would be resurfaced and they'd know when."
"What's the priority of fixtures, the needs that they have? They've talked about an external citizens' review board … what would be the professional expertise put on that board as it relates to this project," Curry asked.
"I think people ought to have a say in dollars going to schools, but some questions need to be answered," Curry added.
Curry wouldn't say that his political machine would engage against a November 2019 vote, should that be the will of the Council.
"I want to work with the school board. I want to work with the Superintendent. And I have advised them to make the case over the next few months, bring in the different constituencies and stakeholder groups that care about this, much like we did with pension reform."
Back in 2016, Curry pushed for a 1/2 cent sales tax contingent upon changing police and fire pension plans to defined benefit arrangements. With over $2 million behind it, that drew nearly 65 percent of the vote.
"We had to bring in the Legislature … the Governor … City Council … labor unions … the people of Jacksonville," Curry said.
"We moved when the time was right. My advice to them is simply I'd like to see success," Curry added. "Try to travel this road thoughtfully and it's more likely you will be successful."
"Let's have an eye toward 2020," Curry said. "I don't believe you should ask voters to approve a tax when they don't know what the priorities are."
"And do you have buy in? What's your political plan? How are you going to win? You going to raise private dollars or use taxpayer dollars," Curry asked.
Taxpayer dollars, Curry added, create problems.
"Are taxpayers OK with their dollars being used on a television and mail campaign? If that is what you're going to do, you can't specifically advocate," Curry said.
"How are you going to win?"
While the Jacksonville Civic Council still opposes the referendum as framed, thus far the influencer class hasn't exerted much visible sway over the process.
Curry, an avatar of donor class priorities, has lost few legislative battles.
Despite on-record opposition to expanding the Human Rights Ordinance to cover the LGBT community, that passed in his first term. And his attempt to have a "mature conversation" about privatization of local utility JEA thus far has come to naught.
If the counter-case is going to be made, meanwhile, Tallahassee may not be overt help.
Gov. Ron DeSantis, a Curry ally, was reticent when we asked him about the Duval County School Board's push to get a November 2019 referendum for a discretionary sales surtax, the last slot before the provisions requiring general election plebiscites kick in.
He would not condemn the move: "I am not sure what they're doing, so I don't want to comment on it."
The Governor then added that "standalone elections," much like Duval Schools wants, may actually contribute to having motivated voters decide an issue.