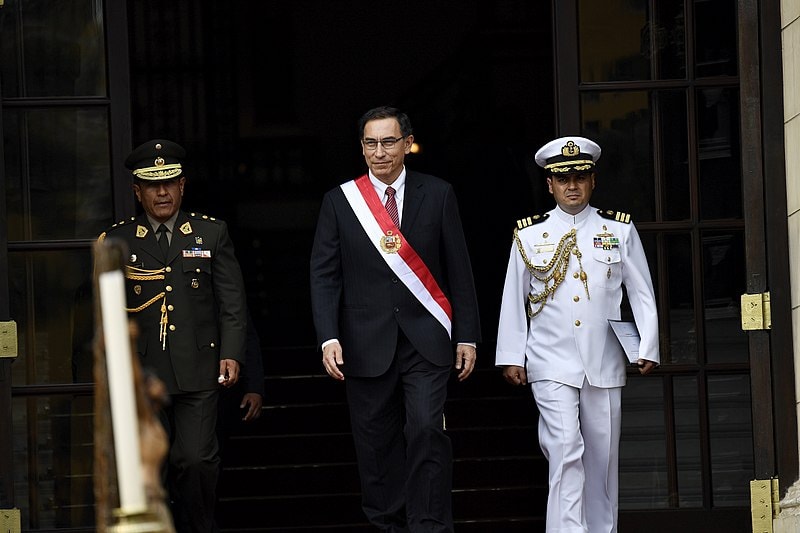 Florida elected officials continue to monitor the situation.
Florida leaders continue to press the State Department to secure bond payments from Peru.
But economic disruption in the South American nation may complicate matters as missed payments short pension funds for Florida workers.
Congressional leaders, led by U.S. Rep. Alcee Hastings, a Boca Raton Democrat, penned a letter to Secretary of State Mike Pompeo demanding action.
State Department officials confirm diplomats are in the process of discussing matters with Peru.
U.S. Sen. Marco Rubio's office has closely followed the ongoing discussions. But they too are awaiting more information from the State Department
"Our office continues to closely monitor this process and is in communication with the respective offices working on this matter," said a spokesperson for the Senator.
Meanwhile, Peru has seen economic developments that could impact the nation.
The Miami Herald reports that government officials just had to close down an illegally operating gold mine in southeastern Peru. Workers there were reportedly operating under slave-like conditions on 24-hour shifts.
The national government in Peru, still reeling from corruption scandals, elected earlier this year to shut down the La Pampa golf fields.
But Gov. Luís Hidalgo Okimura, the top official in the Madre de Dios region, said some 80 percent of businesses there relied in some way on the gold trade.
"We've gone into recession," he told the Herald.
Regional leaders have lobbied Peru's central government to help offset a $69 million blow to the economy.
But what's that all mean for pension funds in the United States?
Hastings wrote in his letter to Pompeo that pensions for thousands of workers in Florida face risk if the Peruvian government defaults on bonds.
Florida municipal worker and trade union pension funds have long been invested in agrarian reform bonds issued by Peru. The relationship dates back to the 1970s and '80s and originally came as compensation for land expropriation.
Pompeo has been involved in other matters with Peru, including publicly thanking the nation for taking in 700,000 refugees from Venezuela.
"They, the people of Peru, generously host almost three quarters of a million refugees from Venezuela," Pompeo said at a press conference in Peru covered by Agencia EFE.
The remarks came after a meeting between Pompeo, Peru President Martin Vizcarra and Foreign Affairs Minister Nestor Popolizio in Lima. But there's no indication the subject of Peru's outstanding bond payments came up.
A number of state lawmakers have challenged whether Vizcarra has honorable intentions with the bonds. That's something state Rep. Robert Ascencio, a Miami Democrat, questioned in a letter to Rubio and then-U.S. Sen. Bill Nelson.
"Not only has Peru failed to pay this debt, it also has failed to report it to various international bodies, such as the U.S. Securities and Exchange Commission, the Organization for Economic Co-Operation and Development (OECD) and the International Monetary Fund (IMF)," he wrote.
"Peru's president, Martin Vizcarra, also relies on a court decision that was illegally forged and altered to defend his stance on these land bonds."
Vizcarra came into his position as other Peruvian leaders fell out amid corruption investigations. last year after President Pedro Pablo Kuczyksi resigned amid corruption charges.
Kuczynski himself came into power after former President Alan Garcia killed himself as police came to arrest him on bribery charges.