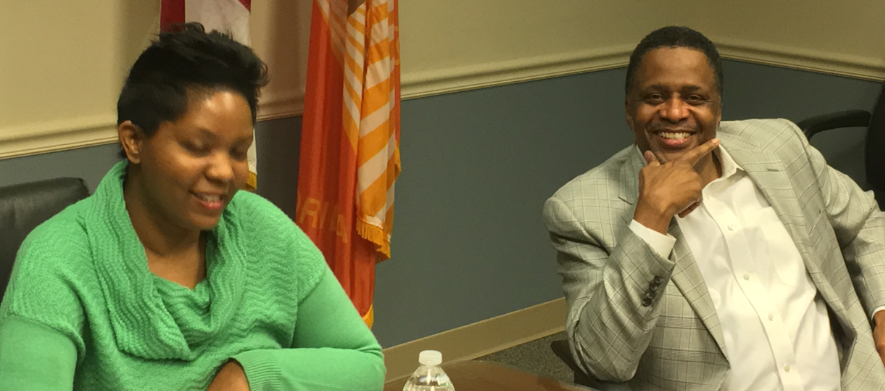 'Katrina Brown did the best she could.'
On Monday, the federal government began arguments in its case against two former Jacksonville City Councilors accused of a conspiracy to defraud.
Katrina Brown and Reginald Brown, who are unrelated, are accused of a 38-count conspiracy to defraud, say federal prosecutors. Despite attempts to sever the cases, the two will be tried together.
The pair is accused of extracting hundreds of thousands of dollars for personal use from a Small Business Administration-backed loan provided for Katrina Brown's family's barbecue sauce plant.
The total list of charges: 13 counts of wire fraud, another 13 of mail fraud, five counts of money laundering, and charges of attempted bank fraud for Ms. Brown and failure to file a 1040 from Mr. Brown.
Judge Marcia Morales Howard underscored the unique situation of Ms. Brown serving as lawyer and defendant simultaneously.
From there, federal prosecutors A. Tysen Duva and Michael Coolican made their opening cases.
Duva described the scenario: in 2011, the family BBQ business was going to expand, moving into sauce production.
"Katrina Brown had an important role in this. This was going to be her springboard … to run for the Jacksonville City Council," Duva said.
The companies got $600,000 in city loans and grants, and an SBA loan of $2.65 million from New Orleans' Biz Capital.
Brown ran and won in 2015. However, the monies were already moving to Ms. Brown's companies (KJB Specialties, Basic Products, and CoWealth), contend the feds, when in late 2013, Reginald Brown allegedly became a co-conspirator and began helping Katrina Brown commit fraud.
"The business was in trouble," Duva said, and Katrina Brown "resorted to lying and deception."
Wire fraud and mail fraud, the bulk of the charges, had to do with the fake invoices, money laundering, and in one count, money from the city of Jacksonville.
On occasion, checks for over $10,000 moved through the Browns' accounts, which constituted money laundering.
Ms. Brown used the money for personal expenses in many cases, Duva said, with occasional investments into the businesses. Mr. Brown likewise used the account "as a personal debit card," even paying his 2014 property taxes from the account.
Katrina Brown assisted Reginald Brown, already on Council, in incorporating shell entities A Plus Training and Consultants, LLC and RB Packaging, LLC.
Reginald Brown opened bank accounts for these two companies. Neither entity performed any legitimate business, the feds contend.
"Dummied-up invoices": Duva's pithy description.
"They committed fraud together for over a year," Duva lamented.
Payouts of $64,000 on one occasion and $50,000 on another were the biggest amounts that circulated through the accounts, Duva contended, with the aggregate amounts proving to be staggering.
"$251,914.04 went to RB Packaging," with another hundred thousand dollars that went through A Plus Training and cash withdrawals.
All told, "$470,000 was deposited to the Basic Products account," Duva said, including paying rent on Katrina Brown's riverfront condo.
Eventually, Ms. Brown pursued "last resort" merchant advance loans, which would require bank statements showing cash flow. She forged the bank statements as well.
The investigation became known to the public once the warehouse was raided in late 2016. However, the "follow the money" part of the investigation had been going on for years at that point.
Though the narrative has been lurid, complete with both defendants being removed from office last year after indictments dropped, the trial is expected to be a fairly routine back and forth about alleged transactions the two committeed with purportedly purloined funds.
Prosecution arguments should last for six or seven trial days, Duva said, with defense arguments from the two former politicians on trial next week.
Katrina Brown, serving as pro se lawyer, stood "on behalf of the defendant, Katrina Brown."
She described the sauce as a hit, saying that customers would come from out of state to get "extra two-ounce cups of sauce."
Demand was such that the company needed a manufacturing plant, Brown said.
"The funds were expended on efforts to make business a success," Brown said. "Katrina Brown did the best she could … [with] no intent to defraud."
Mr. Brown's attorney stressed, in his remarks, the tangential nature of his client's involvement.
"At the conclusion of the case," he expected a "reasonable doubt" from jurors regarding the charges of conspiracy or whether he "knowingly aided and abetted" the conspiracy alleged.
"The charismatic face of the business," he said, "is the rising star, Katrina Brown."
Mr. Brown, even before his first term ended, was "already thinking of his life beyond the Jacksonville City Council."
With a salary of roughly $42,000, his "career as a Jacksonville City Councilman" wasn't cutting it.
"At one point, he was thinking of becoming a toilet paper salesman," the lawyer contended.
He also failed in efforts to become a food inspector.
The Browns had a relationship that became "intimate," with Reginald helping her politically in exchange for "charismatic" Katrina's business acumen.
Ultimately, he was duped, goes the claim: "She was not the successful business woman she appeared to be."
And he realized it far too late. Per her attorney (and contrasted by laughter in the audience), Ms. Brown "tearfully" confessed her fraud to Mr. Brown, a "secondary figure trying to learn the business."
Mr. Brown returned all but $60,000 of the money moved into this accounts, the lawyer said, to Katrina Brown.
It remains to be seen whether jurors will believe that to be enough.
Even as all this happened, Democrats Katrina and Reginald Brown presented a united front on the City Council, swinging the 2016 Council President election to Republican Anna Brosche.
Their payoff? Inclusion on the City Council Finance Committee, with Brosche stacking the committee with Democrats.