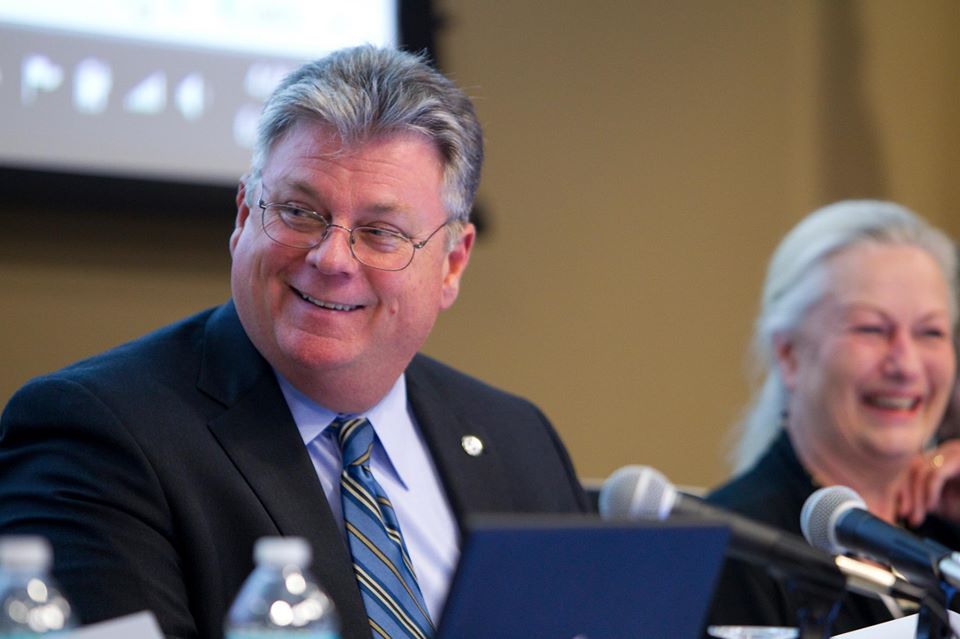 With workforce needs growing, colleges remain vital to Florida's future.
As community colleges look toward the 2020 Legislative Session, Tallahassee Community College President Jim Murdaugh feels cautiously optimistic.
As chair of the Florida College System Council of Presidents, he's watching out for all community and state colleges. But he doesn't feel alone in that work.
"This is the first year we've ever been able to align our education budget request with the Commissioner of Education," Murdaugh said. "We've never had that alignment before."
With former state House Speaker Richard Corcoran holding the job of Education Commissioner, it's a rare moment when the person holding that post doesn't come from the K-12 world. That's been good news for higher education, Murdaugh says, with missions like workforce development receiving greater attention. And that's an area where colleges play an enormous role.
The Florida College System, which includes 28 institutions, serves some 750,000 students and awards around 112,000 degrees and certificates each year. And thanks to the local nature of work at community colleges, the institutions can cater their curricula offerings to a region's most pressing economic needs.
"We are demand driven," Murdaugh said. "We don't do programs for fun. We're serious and intentional where we invest our time."
For example, Tallahassee Community College offers just one four-year degree. The Leon County institution happens to be headquartered in the same town as two state universities, Florida State and Florida A&M. But working with medical professionals and those two universities, TCC determined there's a tremendous need for nurses in the area, and the community college can help with that skills gap. So the community college offers a Bachelor of Science in Nursing.
But the need for such jobs-based degrees will only grow in the near future.
"The Florida Chamber of Commerce indicates by 2030, 64 percent of jobs in Florida will require some form of post secondary education," Murdaugh said. That could be professional certificates, credentials, associate's degrees or bachelor's degrees. Community and state colleges can help provide all of those.
In October, the Florida College System announced the launch of The Council of Workforce Education to work in concert with Corcoran and Gov. Ron DeSantis. Murdaugh noted DeSantis signed an executive order expressing a goal to make Florida the No. 1 state in workforce education by 2030.
Of course, there will be increased costs along the way, and Murdaugh hopes to see the College System budget request remain intact during Session.
The Florida College System formally requested a $27 million increase in base funding this year using a more transparent ad tiered funding model.
The system also wants $55 million in performance funding, including $20 million for a 2+2 Student Success Incentive Fund, $10 million for the Work Florida Student Success Incentive Fund and $10 Million NEW for Dual Enrollment Student Success Incentive Fund.
College presidents want to see a $1 million increase in College Industry Certifcations Incentives and $16.55 million tied to dual enrollment programs
On the capital side, they want $37.8 million for maintenance, repair, renovation and remodeling and another $28 million for priority projects.
Murdaugh would also like to see the Legislature budget $1.5 million for a Last Mile College Completion program. That's a proposal by DeSantis to fund classes for students who have completed 90 percent of their degree.
"We have students who stop out, versus dropping out, Murdaugh explains. Those students end up quitting earlier because of the financial challenge of life change. The idea of Last Mile is to help those individuals complete their higher education. It's something community colleges have embraced, and when the Legislature failed to fund the program last year, colleges sought out other funding requests.
But especially important for colleges is a request for $18.67 million for the Florida College System's Risk Management Consortium. That fund helps colleges stay running in the event of a natural disaster and with Hurricanes Irma and Matthew both striking campuses, deductibles have severely strained budgets.
"In thee hurricane seasons, 17 colleges were impacted for $75 million in damages," Murdaugh said.
That includes TCC, who took a hit from Michael, though not nearly as hard a one as nearby Chipola College or Gulf Coast State College.
While universities hurt by storms can ask the state to help with costs, but the colleges are not state government entities, so they rely on the consortium to protect from disaster.
It adds up to a steep request, but Murdaugh said the college system in Florida has proven itself with high advancement rates for students into jobs or higher education institutions.
"We have proven ourselves," he said, "though that's something than can work against us. We are a high-performing system and continue to dominate the nationally acclaimed Aspen awards. We are the 8th lowest state for debt upon graduation. At my college, 60 percent of students graduate with zero student loan debt, and that's happening at colleges across the state.
"We are a great investment. Our concern is because we are performing well, we're not urgent. We are not the crisis that has to be addressed. But we continue to need slow and steady funding increases that build upon what we've done and prepare us for demands that are coming soon."