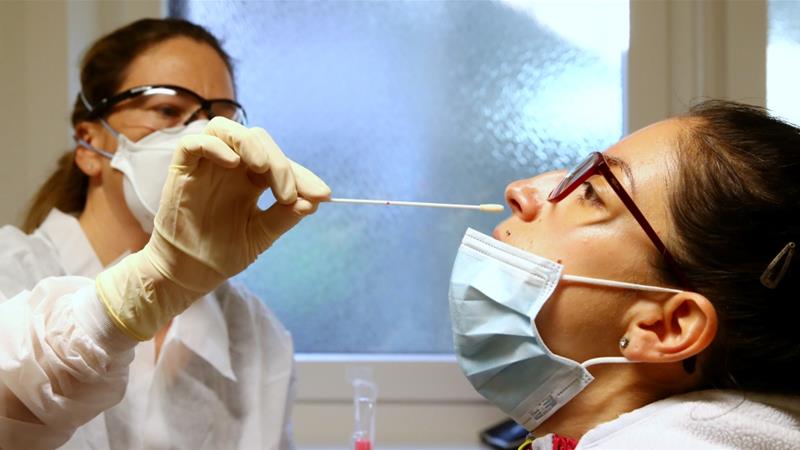 That number remains dangerously high, but a drop could mean the region has seen a peak and is headed toward a reduction in spread.
The share of COVID-19 tests coming back positive in South Florida remains at a dangerously high level. For the first time since mid-May, however, that positivity rate has dropped in all three major counties from week to week.
The news comes as Miami-Dade County recorded 44 additional deaths as the state set a new record for deaths in the previous 24 hours. That data comes courtesy of the Thursday report from the Department of Health (DOH), which covers data from Wednesday morning to Thursday morning.
South Florida's tri-county area also added 5,444 new confirmed cases in Thursday's report. The average number of new daily cases has consistently increased over the past several weeks, and that trend was not broken with Thursday's report.
However, the region has also upped its testing capacity, meaning officials can more easily identify new cases.
The DOH reports do not detail the number of actual people contracting the virus each day, as the state is not able to test every single person. Instead, the number of new daily cases is limited by testing capacity. Test more people, and you'll find more cases.
That's why that number should be looked at in conjunction with the share of tests coming back positive, the number of hospitalizations, the death toll and other data.
While the number of confirmed cases continues to increase, the rate of individuals testing positive now appears to be on a downswing. Here are some of the weekly numbers for the previous three weeks throughout the South Florida tri-county area:
Miami-Dade
— June 25-July 1: 1,650 new confirmed cases per day, 17.2% positivity rate
— July 2-8: 2,240 new confirmed cases per day, 21.2% positivity rate
— July 9-15: 2,773 new confirmed cases per day, 19.5% positivity rate
Broward
— June 25-July 1: 641 new confirmed cases per day, 12.1% positivity rate
— July 2-8: 1,134 new confirmed cases per day, 15.8% positivity rate
— July 9-15: 1,500 new confirmed cases per day, 14.9% positivity rate
Palm Beach
— June 25-July 1: 429 new confirmed cases per day, 11.1% positivity rate
— July 2-8: 537 new confirmed cases per day, 13.7% positivity rate
— July 9-15: 715 new confirmed cases per day, 11.7% positivity rate
From late June to early July, those numbers were all on the upswing, as they had been in previous weeks. That changed with the most recent week of data, however.
Again, those positivity rates remain startlingly high. Health experts warn a positivity rate above 10% is a warning the virus is not under control. All three counties remain above that rate.
The share of tests had been rising though over previous weeks. So far, data released the past several days continues to show that number plateauing or falling.
It's also true that as officials test more people, that positivity rate is expected to fall. That hasn't happened prior to this week, as both the number of tests conducted and the share of positives have risen in conjunction.
Normally, however, the first people tested are those with the worst symptoms. As testing expands, more healthy people simply take the test as a precaution, which can reduce the share of positive tests.
That means that a dropping positivity rate doesn't necessarily mean the virus is fully under control. Officials in South Florida have begun to pull back on the region's reopening though, particularly in Miami-Dade County.
Those steps, in conjunction with a falling positivity rate, could mean the region will continue to see a downswing in the share of positive tests. Additional data will still be needed to confirm that reality, however.
While Miami-Dade County recorded dozens of additional deaths in Thursday's report, the overall death rate since the start of the outbreak still dropped slightly. That number has fallen consistently in South Florida, even as the spread has increased in recent weeks. The virus is mostly affecting younger Floridians, who are less susceptible to the worst effects of the virus.
More than 84% of adult intensive care unit (ICU) beds across the three counties are occupied as of Thursday morning though due to how many people have contracted COVID-19. At least 14 hospitals have no ICU beds available, including North Shore Medical Center in Miami-Dade and Westside Regional Medical Center in Broward.
Hospitalizations and deaths are also lagging indicators, as it can take days after a positive test for an individual to fall severely ill or die. That means even if South Florida has cleared a hurdle in terms of new confirmed cases, hospitalizations and deaths could continue to spike.
___
Editor's note on methodology: The Florida Department of Health releases new data every morning around 10:45 a.m. The total number reported in those daily reports include the previous day's totals as well as the most up to date data as of about 9:30 a.m.
Florida Politics uses the report-over-report increase to document the number of new cases each day because it represents the most up-to-date data available. Some of the more specific data, including positivity rates and demographics, considers a different data set that includes only cases reported the previous day.
This is important to note because the DOH report lists different daily totals than our methodology to show day-over-day trends. Their numbers do not include non-residents who tested positive in the state and they only include single-day data, therefore some data in the DOH report may appear lower than what we report.
Our methodology was established based on careful consideration among our editorial staff to capture both the most recent and accurate trends.