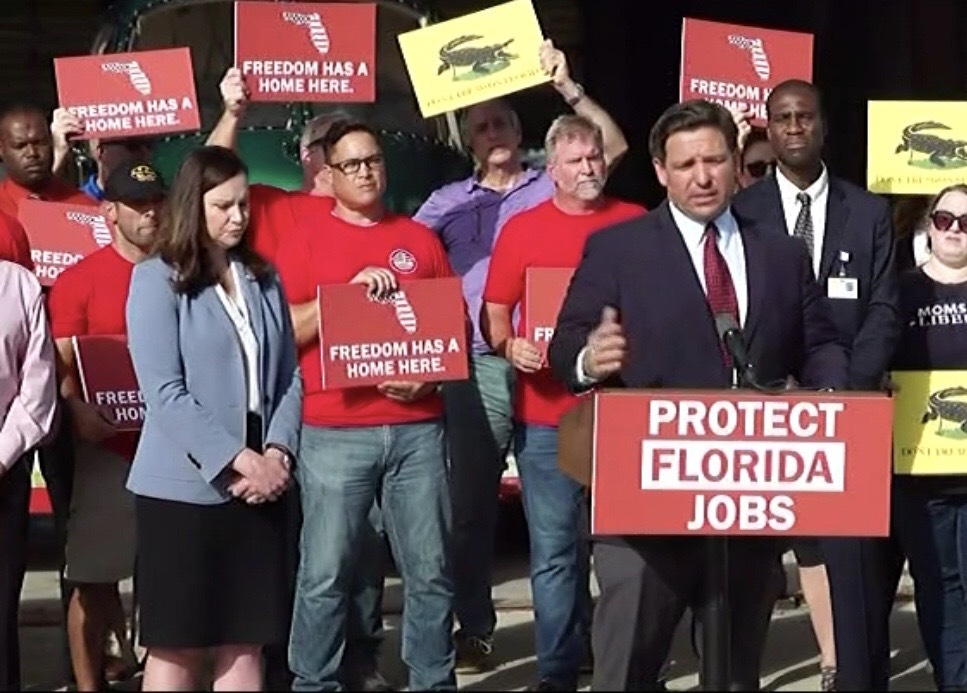 DeSantis says the issue can't wait.
Gov. Ron DeSantis is calling for a Special Session to block the President Joe Biden administration's plan to impose vaccine mandates on large companies.
"We will be calling the Legislature back for a Special Session. We want to make sure that individuals in the state of Florida have their rights protected," DeSantis said at a rally in Clearwater Thursday.
It's DeSantis' most aggressive action yet in opposition to so-called vaccine passports.
The Session will be in November, DeSantis noted, saying accelerated timing was needed as rules are being implemented on the federal level and deadlines are imminent.
But the details are still being worked out. A joint statement from Senate President Wilton Simpson and House Speaker Chris Sprowls suggested that one path forward may be to exempt Florida from the jurisdiction of the federal Occupational Safety and Health Administration.
"In the coming days, we will review the Governor's specific proposals as well as discuss our own ideas for legislative action, including whether now is the time for Florida to withdraw from the Occupational Safety and Health Administration and establish our own state program. We believe that by doing so, Florida will have the ability to alleviate onerous federal regulations placed on employers and employees," the statement asserted, suggesting that the Special Session may become very ambitious indeed.
The statement followed a press conference Thursday morning full of strong rhetoric. In Clearwater, DeSantis, accompanied by Attorney General Ashley Moody and Surgeon General Dr. Joseph Ladapo, offered stentorian arguments against the "heavy hand of government" being used to "force injections."
"Your right to earn a living should not be contingent on COVID shots," DeSantis said. He vowed to contest the Occupational Safety and Health Administration vaccine mandate and a similar requirement on federal contractors.
"They're now facing getting kicked to the curb," DeSantis lamented, vowing to test the mandate in court once the "right plaintiff" is found.
Hospital employees and local government employees likewise will be protected, he added.
"A lot of the employers are not honoring exceptions" for religious beliefs, DeSantis said.
DeSantis also vowed to protect employees fired for not getting vaccines, or people harmed by taking the vaccine under employee duress.
"At the end of the day, you shouldn't be discriminated against based on health decisions," DeSantis said.
The Governor said legislation was the correct vehicle, rather than him issuing Executive Orders or "edicts," given that Florida is "not in a state of emergency."
DeSantis' office supplemented the rally-style event in Clearwater with an email Thursday afternoon, where the Governor's second-in-command endorsed the path forward.
"Mandates have no place in the free state of Florida," said Lieutenant Governor Jeanette Nuñez. "I am proud to stand with Governor DeSantis to provide protections for employees facing discrimination over vaccine status. Our administration will continue to fight for freedom."
The Special Session, according to the Governor's Office, would protect Floridians against these "unfair and discriminatory" vaccine mandates.
"During this Special Session, Governor DeSantis is asking the Florida Legislature to provide protections for employees facing termination because of unfair, discriminatory COVID-19 vaccine mandates and to reaffirm that government entities including school districts may not fire any employee based on COVID-19 vaccine status. Violating government entities should be held accountable. Employers' broad liability protections should also be reevaluated if they harm employees through vaccine mandates," the Governor's Office contends. "In addition, we are asking the Florida Legislature to provide greater protections to parents to manage the health care decisions of their children, including the freedom to opt their children out of mask mandates."
"Your right to earn a living should not be contingent upon COVID shots," said DeSantis. "When the vaccines first came out, we worked very hard to provide it, particularly to our elderly, but we said from day one: we will make it available for all, but we will mandate it on none because ultimately we want individuals to make the determinations about what is right for them. I want a state in which people are able to maintain their livelihoods, earn a living, and provide for their families. And if the federal government or big corporations are hurting people, then we have a responsibility to step up and lead."
Legislation is already emerging, even as DeSantis suggested the prospect of a Special Session alone could be a "wake up call" to businesses not toeing the Tallahassee line on vaccines.
Gainesville Republican Sen. Keith Perry will refile legislation Thursday expanding on recently passed vaccine and mask mandate bans.
Last week, Perry filed a measure (SB 452) that would ban mask mandates in schools as well as medical requirements. However, the Senator is developing a new plan of attack, including a measure that would possibly prevent businesses from requiring vaccines for employees, an ask from the Governor.
The Attorney General and Surgeon General, meanwhile, offered strong support.
Moody vowed that the state will push back against "unlawful" mandates.
"We will always have your backs," Moody said to cheers.
The Surgeon General denounced vaccine mandates as an example of "extreme" and "really terrible policies," abetted by a "climate of dishonesty" and "concerted effort" to squash stories about bad outcomes from the shots.
"We're going to learn more about the safety of these vaccines," Ladapo said. "This idea that we are foolish for listening to people on things for which we don't have data right now is ridiculous."
The Clearwater event continued a rhetorical offensive from DeSantis this week. The Governor offered a similarly slashing denunciation of federal action against school board protesters in Titusville earlier this week.
There, he promised the Parents' Bill of Rights, the law used by the Governor's Office to justify refusal of mask mandates in schools, would be "fortified" this upcoming Session.
Expect action here too.
"The teeth need to be strengthened," DeSantis said in Clearwater Thursday of the Parents' Bill of Rights.
The Special Session call, meanwhile, is not popular with Democrats, including a Cabinet member running for Governor in 2022.
"This is a purely self-serving political ploy by the Governor, once again pulling out all the stops to appease – and encourage – extremist positions that fly in the face of science and public health instead of protecting our children, our communities, and our economy. It provides a dangerous platform for extremists who have been threatening those trying to do right to keep their communities safe, and creates a slippery slope by undermining public health policies supported by sound science and the medical community by instead promoting conspiracy theorists and risky unproven treatments," said Agriculture Commissioner Nikki Fried.
"I once again call on the Governor to abandon his reckless anti-science and anti-Biden crusade that only serves his political ambition at the cost of further taxpayer-funded lawsuits, economic disruptions, and the lives of Floridians."
___
Capital correspondent Renzo Downey contributed reporting.