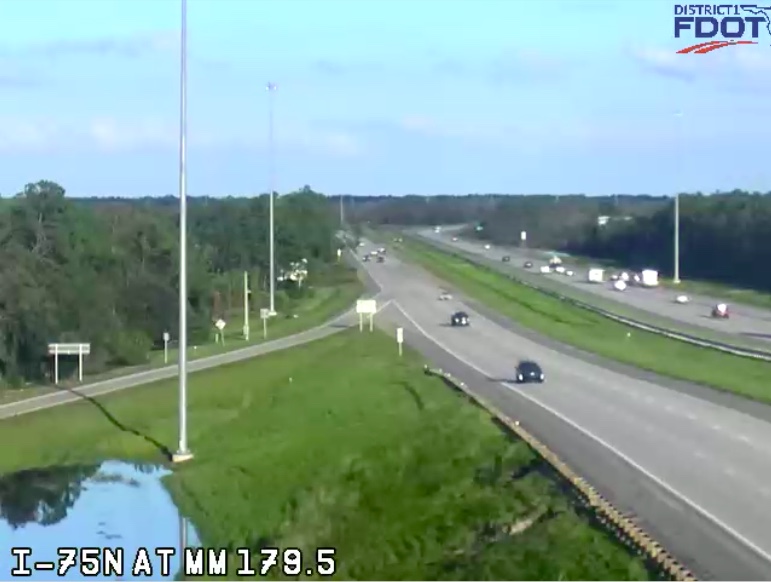 State officials are relaying information to map apps.
A section of Interstate 75 between Venice and North Port that was closed Friday reopened Saturday in the late afternoon, the Florida Department of Transportation (FDOT) reported.
The road, both the northbound and southbound sides, was closed because the Myakka River started rising and created a road hazard. But traffic cameras show traffic moving early Saturday evening on the previously closed sections between the Toledo Blade Boulevard exit (mile marker 179) north to the Englewood/Jacaranda Boulevard exit (mile marker 193).
FDOT tweeted the reopening news shortly after 4 p.m.
@MyFDOT has reopened I-75 over the Myakka River in Sarasota County. We will continue to monitor the river levels to ensure the safety of the traveling public. https://t.co/0r9XaPibKt

— FLORIDA DOT (@MyFDOT) October 1, 2022
"After close coordination with the Division of Emergency Management and Florida Highway Patrol, the Florida Department of Transportation has determined that water levels have receded far enough at this time to safely reopen," a statement from FDOT read.
But that doesn't mean that it's open to stay. The situation is still being monitored.
"It is critical to note as the as the height of the river continues to change, FDOT may enact future closures as necessary to ensure safety. FDOT and FHP have personnel on-site constantly monitoring the height of the river and the related stability of the bridge," an FDOT news release said. "Motorists should continue to regularly check www.FL511.com and @MyFDOT for updates to road closures, which are frequently changing as Florida recovers from Hurricane Ian.
The National Weather Service in Tampa Bay explained the problem at about 5 a.m. Saturday.
Along the Myakka River, there is currently NO expected change in impacts. The current forecast has the river reaching its crest now #flwx pic.twitter.com/tFi6bCGhUB

— NWS Tampa Bay (@NWSTampaBay) October 1, 2022
The I-75 closures hit more than 48 hours after Hurricane Ian made landfall in Southwest Florida near Cayo Costa in Lee County.
The Myakka River Watershed spans 594 square miles, covering parts of Manatee, Hardee, Sarasota, DeSoto and Charlotte counties. The river drains into Charlotte Harbor, which received the brunt of the storm and storm surge.
Speaking earlier in the day, Gov. Ron DeSantis said there appeared to be more standing water in parts of Central Florida than in parts of Southwest Florida. But with parts of the state's west coast having received up to 18 feet of storm surge, travel remains precarious in areas.
The closures came as residents hope to return home after evacuating the region.
Happening now I-75 North Bound is at a standstill near Toledo Blade Blvd @fox13news #northport #hurricaneian pic.twitter.com/bP6Hat9Tug

— Kim Kuizon FOX 13 (@kkuizon) October 1, 2022