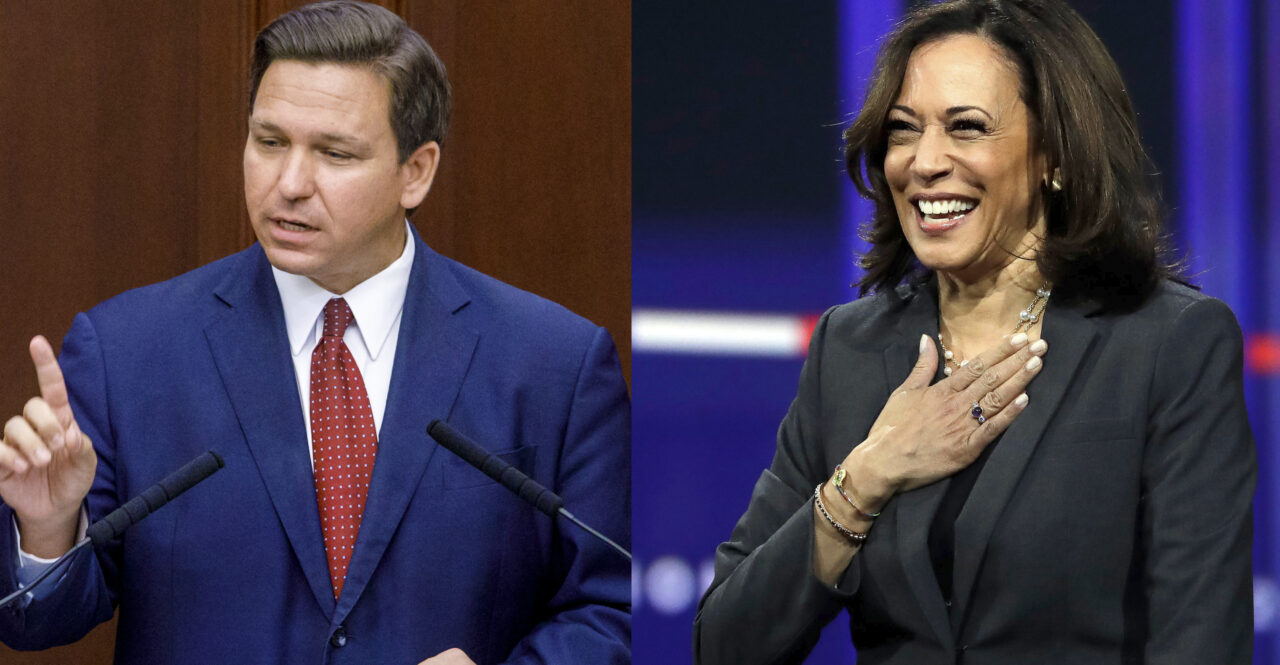 The Governor continues to say the VP is impeachment insurance.
The closing day of campaigning is just another day for Gov. Ron DeSantis when it comes to attacking Vice President Kamala Harris and what he called the "dumb decision" to put her on the 2020 ticket
"No matter how bad old Joe is, nobody wants Kamala! Nobody wants Kamala," an exuberant DeSantis told a crowd in Palm Beach County Monday, the latest example of how critiques of the VP are an enduring part of his pitch right until the end of the campaign.
DeSantis predicted Monday that "regime media would start knifing" President Joe Biden after Tuesday's election result.
"They're going to turn on him," he said. "Now they view him as a liability. They're going to do whatever they can to try to push him off the stage."
DeSantis predicted stories about whether Biden is "mentally fit" to be President Monday, as he continued an ongoing critique revisited in recent days.
Sunday DeSantis called Harris a "terrible, terrible selection" at a stop, as he again called the VP the "best insurance" against impeachment for President Joe Biden.
The "insurance" motif has surfaced before. Earlier this year, DeSantis called Harris "impeachment insurance" during a Fox News hit.
"So, here's the thing. I thought Biden picking her at first was the worst decision ever because she's not great. But she's like the best impeachment insurance and 25th Amendment insurance anyone could have," DeSantis told Laura Ingraham.
Despite DeSantis' derision toward Harris, polls consistently show her marginally more popular than DeSantis, were the two to face off in the 2024 General Election atop their parties' tickets.
The October Harvard/Harris Poll shows a slight Harris lead yet again in terms of national popular vote in that election. Harris would secure 41% support, DeSantis 39%, with 20% unsure of whom they would support.
DeSantis performs notably worse against Harris than former President Donald Trump, who draws 49% support against just 38% for Harris. October was the latest in a series of months where the Vice President edged out the Governor.
In September's survey from the same pollster, Harris drew 41% support, with DeSantis commanding 38% backing, and a remaining 21% of respondents unsure.
A Harvard/Harris Poll from May showed Harris was the choice of 41% of respondents, with DeSantis at 38% and 20% undecided.
Harris commanded the support of 42% of those polled, with DeSantis the choice of 38% of respondents, in the April survey.
A February poll showed Harris the choice of 41% of those surveyed, with DeSantis at 39%.
A January Harvard/Harris Poll, meanwhile, had DeSantis 1 point ahead of Harris, with 40% support and just 39% for the Vice President.