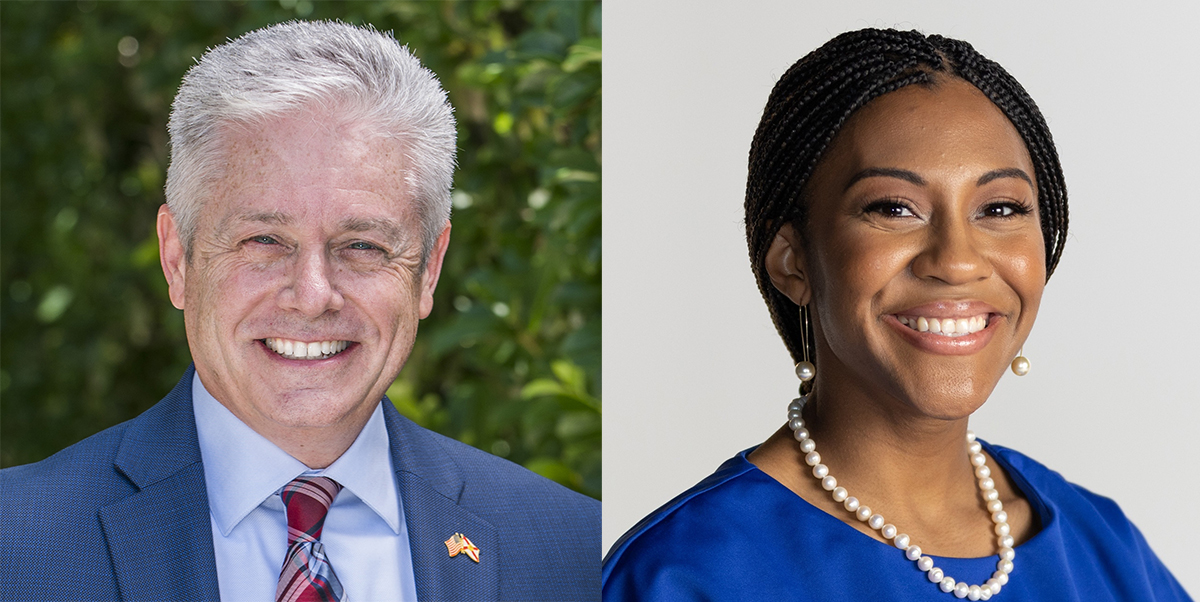 The district has almost exactly the same number of Republicans and Democrats registered.
Republican Doug Bankson won a critical House District 39 race against Democrat Tiffany Hughes.
The race pit an Apopka City Commissioner against an NAACP leader. The two candidates competed for an open House seat, one of the most closely divides in Florida.
Doug Bankson led in both Orange and Seminole County. He ultimately won with about 56% of the vote to Hughes' 44%.
HD 39 is a jurisdiction which, as of the closing of voter rolls for the election, served as home to 41,711 Democrats and 41,680 Republicans, a margin of just 31 voters. Another 34,231 no-party voters live in the district as well, along with 2,162 voters registered with third parties.
Results of the 2020 Presidential Election reflect the same division. A bare majority, 50.21%, of voters in the newly redrawn seat voted for Democrat Joe Biden, while 48.55% went for Republican Donald Trump. It's notably the only Biden district in Florida where a plurality of voters in 2018 supported Republican Ron DeSantis, who took 49.75% of the vote to Democrat Andrew Gillum's 49.23%.
That set the stage for candidates to scrap for every vote in a Midterm as House Republicans hope to ride a red wave to a supermajority.
Hughes jumped into the race in March shortly after the close of the once-a-decade redistricting process. She won election last year as president of the Orange County Branch of the NAACP, and quickly secured the support of The Collective PAC, an organization dedicated to building Black political power.
But Hughes also saw significant Democratic voices like Ruth's List, which supports pro-choice women seeking office, come quickly to her aid. All this helped clear the field and allow Hughes to advance to the General Election without an August Primary.
Hughes stressed her long involvement in the community — she serves on the Orlando Certification Appeals Board and the Orange County Community Development Advisory Board — and as a business owner, running KBI Staffing Solutions with her husband, Kenneth.
"I'm a business owner. I'm a community advocate. I'm a leader. I employ almost 600 employees every single year," she said. She said the community needs to know there is a lawmaker focused on the needs of the local economy.
"They need to know there is a legislator who is going to be fighting for you in Tallahassee to make sure we bring housing costs down, and make sure that Floridians feel and know the House of Representatives is hearing them."
Bankson had a harder road to reach the November ballot. He beat two other Republicans in an August Primary that sometimes turned personal. He defeated Charles Hart, the Chair of the Orange County Republican Party, and Randy Ross, the Orange County Chair for Trump's 2016 campaign.
Bankson said that's part of a vigorous and healthy political process. He's now focused on bringing district voters together, hopefully behind his candidacy.
In addition to serving on the Apopka City Commission for six years, Bankson founded the Victory Church World Outreach Center and has chaired the Apopka Area Chamber of Commerce.
"I'm just excited to be a voice for the people in Tallahassee and hope to represent our people well," he said.
On the campaign trail, Bankson said he has repeatedly heard from voters about property insurance costs, and feels satisfied Gov. DeSantis already called a Special Election to address that crisis. He also has promised on issues in education, and said Florida needs to get the "craziness out of the classroom and the locker room."
"We need to let people raise children with their values," he said. "We need education, not indoctrination, and I think people agree on that regardless of their side of the aisle."
Bankson held the upper hand financially, raising about $200,014 for the seat, plus $3,000 in loans and with the Republican Party of Florida providing him $49,000 in cash and thousands more in in-kind support.
Hughes hasn't been able to match that but still gathered and spent more than six figures, more than $138,124 in contributions on top of $10,000 she put in through a candidate loan.