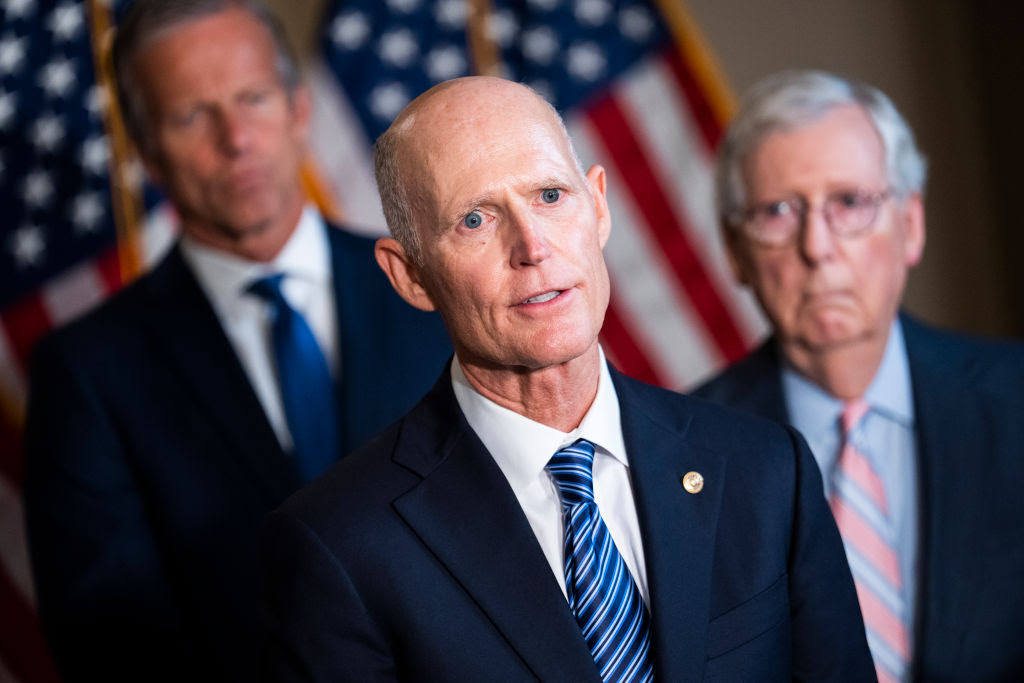 Scott denied Trump's assertion that he 'hates' Mitch McConnell.
Former President Donald Trump continues to talk up U.S. Sen. Rick Scott as a potential challenger to Republican Senate leader Mitch McConnell.
But in one of his last interviews before votes are counted Tuesday, Scott still won't say if he intends to pursue the post.
"You always like when people say nice things about you so I appreciate that the President said that. My focus is on making sure we get a majority back tonight. That's my focus. I'm not worried about what happens tomorrow or next week," Scott said on the Fox News Channel's The Story with Martha MacCallum.
Trump offered his latest on-the-record backing of Scott as a potential McConnell challenger during an interview on his plane after his Monday night rally in Ohio, where the former President suggested he would launch his 2024 run next week.
"'And I think he would probably go for it. He'd have a lot of support. A lot of people are upset with Mitch,' said Trump, as reported by the Daily Mail.
"I think Rick Scott is a likely candidate — he hates the guy," Trump said, as reported by Fox News. Trump said Scott is a "very talented guy" who is "highly underrated."
Asked if he "hates" McConnell as Trump claimed, Scott denied it, saying "I don't dislike anybody."
The speculation about whether Scott will run for Republican Leader has continued for weeks, with Scott not offering any particular insight into his aspirations.
"I don't have a plan to do that right now. The election is generally one week after this election, so we'll see what happens," Scott said Tuesday on the New Hampshire Today radio show, when asked directly if he intended to challenge the Kentucky Republican's standing to possibly become Majority Leader if Republicans regain Senate control.
"He'll decide if he's going to continue to run. I assume he will," Scott said on Fox News' America Reports in September.
Scott made similar comments at the National Conservatism Conference earlier that month, cryptically telling reporters when asked "we'll see what he wants to do" when asked about McConnell staying caucus leader.
The schism between Scott and McConnell was illustrated by their public split over Scott's "12-point plan to rescue America." McConnell slammed the plan's suggestion of review of federal entitlement programs as a nonstarter if he led Senate Republicans next year.