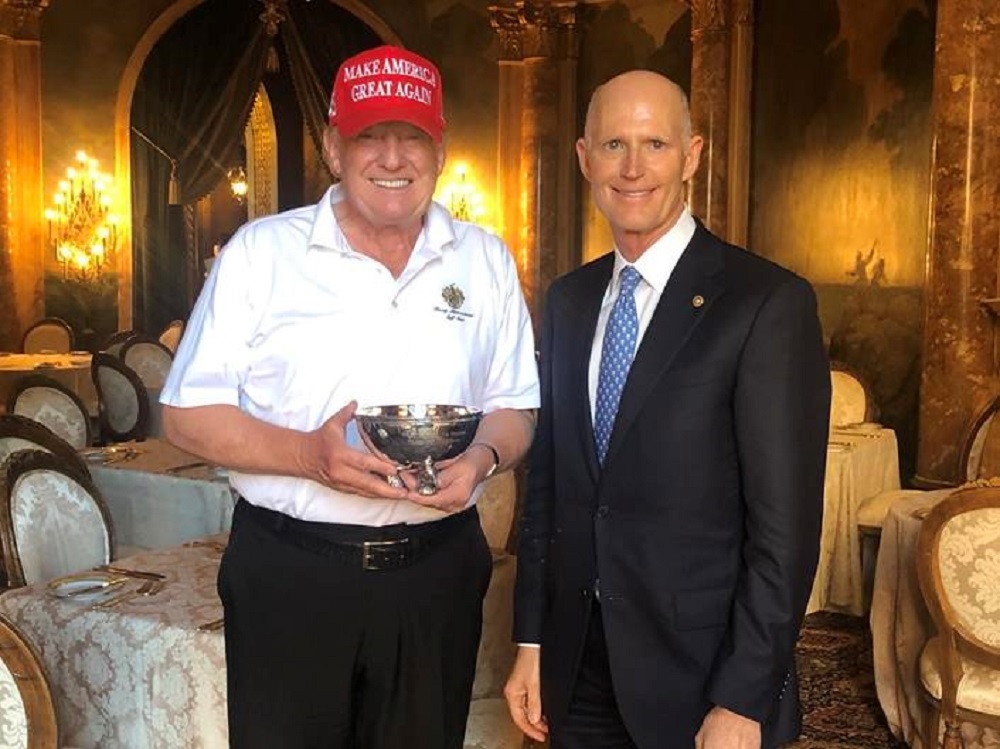 'I guess it starts soon,' Scott said of the imminent GOP presidential race.
While waiting for Election Night results to come in, Rick Scott is also taking questions on the 2024 landscape. But he's not giving live quotes yet.
During an appearance on NewsNation Tuesday night, the Senator weighed in on Ron DeSantis and Donald Trump, and how that fluid dynamic may play into the presidential race.
Trump told NewsNation that DeSantis was "ungrateful," according to host Chris Cuomo. Asked about the Trump comments, Scott would not weigh in on DeSantis, continuing to insist Tuesday's elections were his focus.
"Make sure we get the majority and then we'll have the opportunity to worry about the Presidential race," Scott said. "I guess it starts soon."
Trump offered some fresh quotes about DeSantis to NewsNation ahead of the interview with Scott.
"He was not going to be able to even be a factor in the race. And as soon as I endorsed him, within moments, the race was over," Trump said. "I got him the nomination. He didn't get it. I got it, because the minute I made that endorsement, he got it."
"Then he ran and he wasn't supposed to be able to win," Trump said, describing the Governor's race against Democrat Andrew Gillum. "I did two rallies, we had 52,000 people each one and he won. I thought that he could have been more gracious. But that's up to him."
Trump has said he will officially launch his campaign next week at Mar-a-Lago. Scott hasn't officially endorsed it ahead of time.
Scott has continued to be officially noncommittal about such a move.
During an appearance on Meet the Press Sunday morning, Scott deflected when asked if he would back Trump's third run for the White House.
"There's going to be a lot of people probably (going to) announce. We'll watch what happens. I'm focused on getting a majority in the Senate," Scott told host Chuck Todd.
Scott's non-answer tracks with previous failures to offer a definitive response to the same question.
"There are lots of people that I know who are looking to run for President," Scott told CNN's Erin Burnett in July. "They're going to all make a decision when they want to run. If President Trump or anybody else wants to announce, they'll do that."
On a Mississippi radio show the same month, Scott was asked about a potential showdown in the Primary between Trump and DeSantis.
"I have no idea. Who knows? DeSantis has a Governor's race," Scott said. "I don't know who, but I think there's going to be a lot of people who want to run. Everybody has an idea of how they can run this country better, so I think a lot of people are going to run."