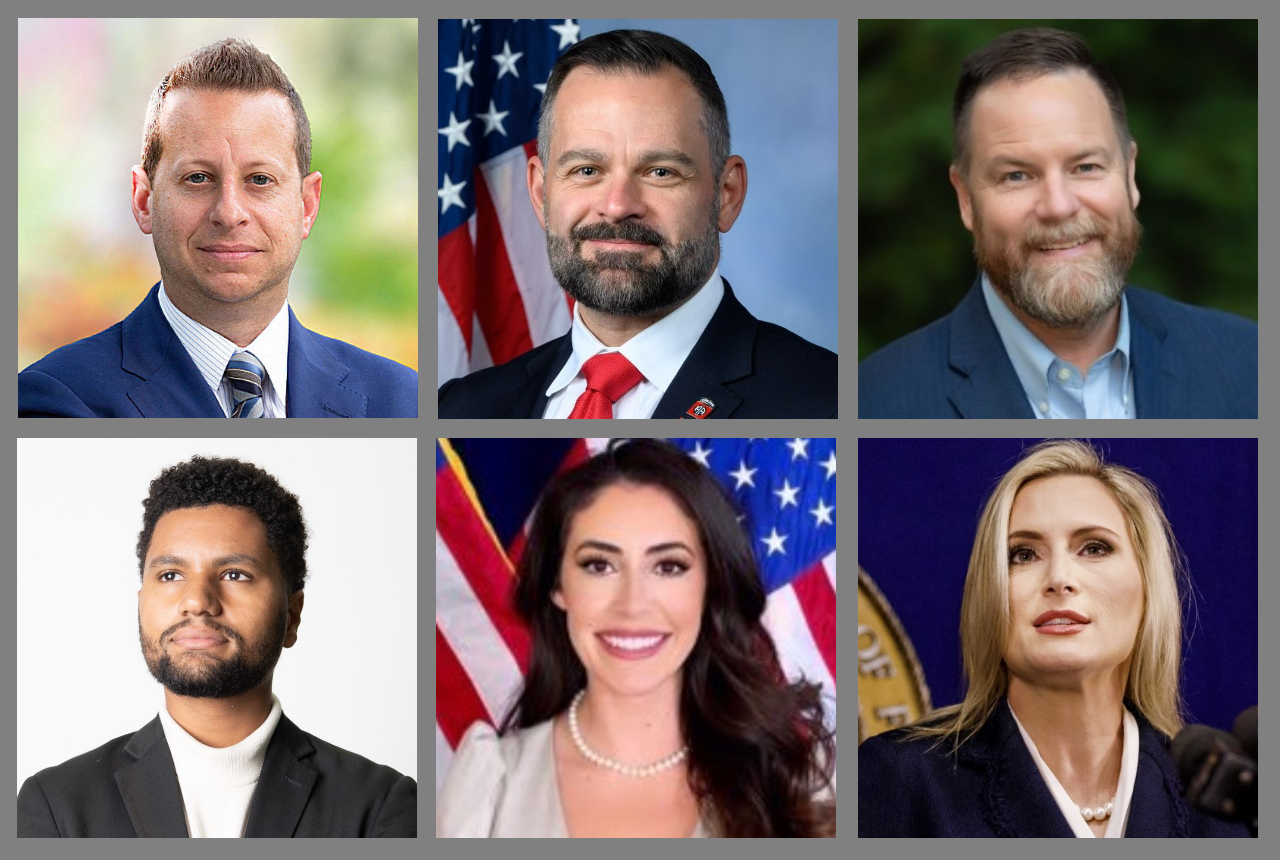 Reps. Aaron Bean, Maxwell Alejandro Frost, Laurel Lee, Anna Paulina Luna, Cory Mills and Jared Moskowitz took oaths after midnight.
Six new members of the Florida congressional delegation were sworn into the House of Representations early Saturday morning.
Reps. Aaron Bean, Maxwell Alejandro Frost, Laurel Lee, Anna Paulina Luna, Cory Mills, and Jared Moskowitz took office four days later than expected after a protracted Speaker race.
Shortly after Speaker Kevin McCarthy, a California Republican, was sworn into office as presiding officer of the House, he swore the other 433 gathered members of the body in as well.
Every member has now been sworn into two-year terms.
Shortly after an organizational Session, the House broke to reconvene Monday for the start of true business in the House.
Rep. Aaron Bean
A Fernandina Beach Republican, the former state Senator is no stranger to the legislative process. An auctioneer by day, Bean is known in Tallahassee for his engaging oratory style. He's anxious to bring his skills to Washington. He also feels the weight of serving in a Republican majority while Democrats still hold the Senate and control the White House. "Excitement is in the air," Bean said, "not just for the Bean team but also for the country." He promises a focus on immigration, a matter where he already fought with Joe Biden's administration from Florida.
Rep. Maxwell Alejandro Frost
The Orlando Democrat has generated buzz as the first member of Generation Z elected to Congress, which just landed Frost on the cover of Teen Vogue. Frost over the last several years was part of the high-profile March for Our Lives movement seeking gun reform. He will also focus on an affordable crisis greatly impacting Central Florida and Washington, D.C., where he has rather famously been unable to find an apartment can afford just yet. "I've had hundreds of letters and emails come in from people talking about their housing problems, especially renters and tenants," he said.
Rep. Laurel Lee
A former Florida Secretary of State and circuit court judge, the Thonotosassa Republican represents arguably Florida's newest congressional seat. She this year was named a member of the conservative Republican Study Committee. "I'll be the leader our community needs in Washington, standing up for families, law enforcement, our military and conservative values," Lee said after winning her election in November. She brings both a legal background and close ties to Gov. Ron DeSantis, a former Congressman and likely 2024 Presidential candidate. She oversaw many voting reforms in Florida during her time in the Governor's administration.
Rep. Anna Paulina Luna
The St. Petersburg Republican immediately made a splash in Washington as part of a bloc of votes holding out on supporting McCarthy until after he negotiated a new rules package with the House Freedom Caucus. After voting for protest nominees for two days of ballots, she supported McCarthy on the final votes taken Friday. The military veteran has long aligned herself with the America First wing of the party and said changes would empower members. "These discussions are good to have," she said.
Rep. Cory Mills
The defense contractor is one of the veterans elected to the Republican conference this year. The Winter Park Republican earned some attention last year for involvement in evacuating Americans from Afghanistan, and wants Congress to investigate what he considers a botched withdrawal. Almost immediately after winning election to the House, he also joined with conservative cohorts in demanding financial scrutiny of U.S. spending on the conflict in Ukraine. This week, he has been part of a McCarthy contingent of veterans spotlighting concerns about national security as the Speaker's race played out.
Rep. Jared Moskowitz
The Coral Springs Democrat was sworn into office in Jordan sneakers painted with "MSD Strong" painted on them as tribute to the shooting victims at his alma mater, Marjorie Stoneman Douglas High School. He previously served in the state Legislature when the national tragedy occurred in 2018. Moskowitz more recently served alongside Lee in DeSantis' administration as director of Emergency Management. He comes with plenty of relationships already in D.C. "I go into this knowing a lot of my delegation, and members of the expanding current delegation," Moskowitz said.