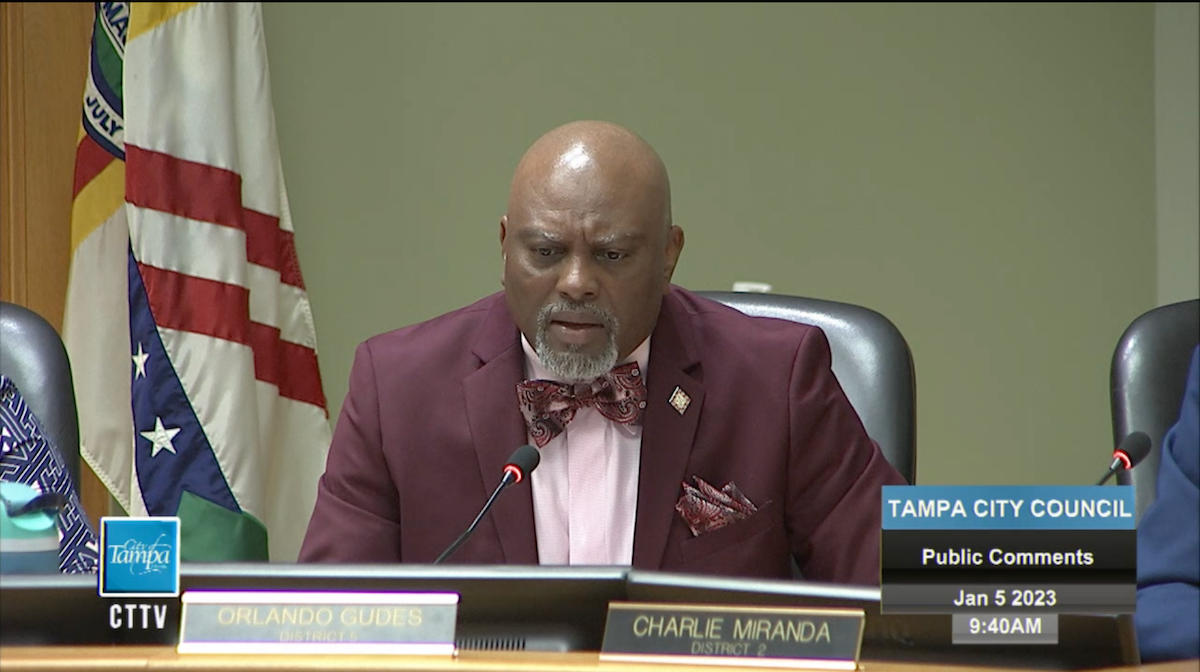 'Some of the questions on there I thought were offensive.'
Today at a Tampa City Council meeting, a Council member asked the local police union to make a public apology for a survey that asked if candidates have ever supported Black Lives Matter or have been critical of police.
Orlando Gudes, who represents District 5 and spent 26 years as a Tampa Police officer, spoke after several community members stood in front of Council and denounced the survey, which was created by the Tampa Police Benevolent Association (PBA).
"You know, I filled out the questionnaire, and I returned it back to the PBA," Gudes said. "But some of the questions on there I thought were offensive."
Gudes said in his written responses to the survey, he let the PBA know that he was offended.
"So, I'm hopeful that the PBA will evaluate the survey and come out and maybe apologize to the community and the candidates who are running for office, because some of the candidates were wary to fill it out because they were afraid they might not get an endorsement," Gudes said.
He added that several TPD officers reached out to him yesterday to express concerns about the survey, including high-ranking TPD officers.
Gudes' comments came after longtime activist Connie Burton of the Hillsborough NAACP decried the survey to Council, saying, "That questionnaire that was sent out by the PBA should be denounced by all of you."
She pointed out that the survey didn't ask if a candidate was a member of the right-wing group the Proud Boys. And it didn't ask if the candidate supports the KKK or not, despite the fact that violent White supremacist groups are on the rise in Florida.
Burton also added that most TPD officers don't live in the City of Tampa limits, yet the PBA is trying to force its agenda on leaders of the city.
"It's racist," Burton said. "And they [PBA] should be denounced."
In the survey sent to candidates, the PBA asked 28 questions of local candidates to decide if the group will give an endorsement. Some questions are about the background of the candidate, but others are more focused on if the candidate has ever stood up against police abuse.
"Have you ever participated in a protest, whether physical, virtual, digital or online or advocated against, publicly or privately, police brutality?" one question asks.
The survey also asks if the candidate has ever been critical of police at all.
"Have you ever been a member of, donated to, or supported Black Lives Matter whether financially, verbally, online or through social media?" another question asks.
The PBA sending out surveys is a common practice. But this year's survey is longer and more focused on BLM than in previous years. In 2019, the survey was five questions long and asked questions about pensions, cost of living adjustments and take-home cars.
So far, the PBA has only endorsed one city council candidate.
Janet Cruz is running for Lynn Hurtak's seat in District 6 and is the mother of Mayor Jane Castor's partner, Ana Cruz. Cruz was endorsed by the PBA almost immediately after she announced her candidacy. Cruz told the Tampa Bay Times that she does not support more powers for Tampa's Citizens Police Review Board (CRB), which was created to hold TPD accountable.
Meanwhile, Hurtak has voted for more oversight powers for the CRB.
Tampa municipal elections take place on March 7, and the deadline to register to vote is Feb. 6.
___
Justin Garcia reporting via Creative Loafing Tampa Bay.