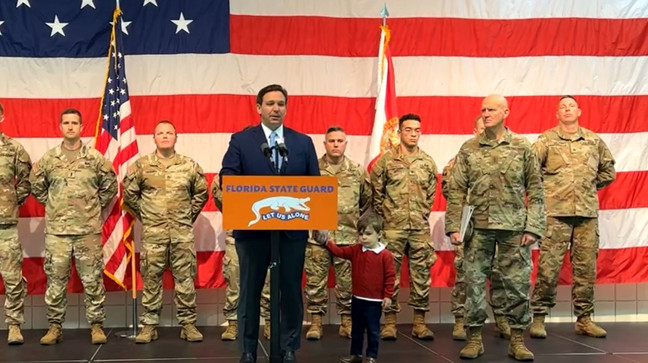 He brings an impressive background to the job.
Three months after his director of the Florida State Guard died unexpectedly, Gov. Ron DeSantis has appointed that man's second-in-command to replace him.
On Tuesday, DeSantis' office named Luis Soler, a captain in the United States Navy Reserve, as the new State Guard director. Until his promotion, Soler served as deputy director and chief of operations for the State Guard, a World War II-era civilian force the Florida Legislature resurrected last year with a $10 million budget earmark.
He will succeed retired Marine Lt. Col. Chris Graham in overseeing the recruitment and training of some 400 guard members who enlisted to provide additional support to the Florida National Guard in states of emergency.
DeSantis in June selected Graham, a Purple Heart recipient who grew up in Miami and moved to the Panhandle after leaving active duty. Graham served in the position part-time, earning a $400 to $500 daily stipend, until his untimely death in mid-October at 51.
Soler — who earned $165,000 yearly in his prior role, according to state records — brings an impressive background to the job. He enlisted in the U.S. Marine Corps in 1983 and became the platoon honor graduate, a designation that recognizes the enlistee "who best exemplifies the total Marine concept" during training, including high levels of physical fitness, marksmanship and leadership traits.
In 1996, he received a direct commission in the Navy Reserve and affiliated with the Defense Intelligence Agency. Ten years later, he deployed during Operation Iraqi Freedom.
Soler completed four additional command tours since. Over his military career, he received awards including the Legion of Merit, Defense Meritorious Service Medal, Meritorious Service Medal; Joint Commendation Medal, and the Navy and Marine Corps Commendation Medal.
Prior to joining the State Guard, Soler worked as a special agent for the Miami-Dade County Office of the Inspector General. His State Guard job is based in St. Augustine.
DeSantis called for bringing back the State Guard, which disbanded in the late 1940s, in early December 2021 as a supplemental force to the National Guard in hurricane, natural disaster and other state-specific emergency response operations.
He pitched it as a force unencumbered by the federal government that could be nimbler and more versatile than the 12,000-member Florida National Guard. And unlike the Florida National Guard, the State Guard answers solely to the Governor.
"We want to be able to have a quick response capability and reestablishing the Florida State Guard will allow civilians from all over the state to be trained in the best emergency response techniques and have the ability to mobilize very, very quickly," he said at the time.
Before joining, State Guard applicants must pass a medical exam with standards similar to the Florida National Guard and undergo a background check. They must also be free of felony convictions and if they previously served in the military, they must have separated honorably.
Members are exempt from the federal draft, according to budget language the Legislature approved in March. And according to DeSantis, they're not subject to the Department of Defense's COVID-19 vaccine mandate.
But not everyone saw reviving the Florida State Guard as an entirely benevolent move. Just days after DeSantis announced plans to bring back the force, former Democratic Agriculture Commissioner Nikki Fried — who ran unsuccessfully last year to unseat DeSantis — called it "horrifying."
"He's not only forming his own army, but it's an army that's not accountable to anybody," she told MSNBC host Joy Reid.
Former U.S. Rep. Charlie Crist, who lost to DeSantis in the General Election landslide, said the force is akin to the Governor's "handpicked secret police."
Democratic Orlando Rep. Anna Eskamani expressed similar uneasiness.
"This is a Governor that has pursued legislation to criminalize acts of protesting … called the media 'fake news' and continues to perpetuate polarizing rhetoric and tension between both political parties," she told NPR. "He doesn't seem to have the best interest of Floridians in mind."
DeSantis brushed off the criticism at a June press conference announcing Graham as the new director.
"They were basically saying that, like, 'Gov. DeSantis is raising an army to raze the countryside," he said mockingly. "All they did was give free advertising for it, and so people were like, 'Oh man! I want to join the Florida State Guard. We're really excited about it.'"
The State Guard has yet to deploy, according to DeSantis spokesperson Bryan Griffin, who told the Miami Herald it is "gearing up and training." He said State Guard members acted as observers during Hurricanes Ian and Nicole.
___
Jason Delgado and Renzo Downey of Florida Politics contributed to this report.