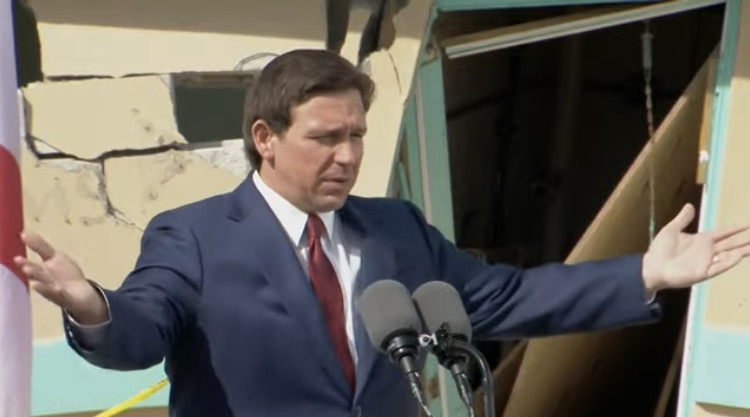 'The funding we awarded today is an important part of the recovery process.'
Residents in the path of Hurricane Ian, which hit the state as a Category 4 storm on Sept. 28, will be eligible for expanded mental health services under a $13.8 million grant Gov. Ron DeSantis is ordering state officials to use to aid victims.
DeSantis directed the Department of Children and Families on Thursday to offer more services to storm survivors.
"The funding we awarded today is an important part of the recovery process," DeSantis said in a released statement. "We are committed to cutting red tape and getting temporary housing trailers delivered to these communities as fast as possible so they can accelerate the rebuilding process. We will continue to fund programs and fill the gaps for Floridians as they recover after Hurricane Ian."
DeSantis has sought to speed recovery efforts, especially in Southwest Florida, where he pushed officials to restore bridge access for barrier island residents after bridges were shattered by the storm.
But he's also bemoaned the "red tape" involved in the process, especially with the Federal Emergency Management Agency (FEMA). He said Thursday that FEMA won't allow trailers housing storm victims to be placed in flood zones and noted the state has provided 140 travel trailers so far, more than the 80 provided by FEMA.
"Under Gov. DeSantis' leadership, the Division continues to cut through unnecessary red tape and get impacted families into safe, temporary housing while they navigate the next steps in their recovery," Florida Division of Emergency Management Director Kevin Guthrie said.
"The Division is proud to support Floridians in times of need and will continue to work diligently to assist Hurricane Ian survivors and place trailers as quickly and efficiently as possible."
Also on Thursday, DeSantis said $1 million from the Florida Disaster Fund, a state-run charitable fund overseen by First Lady Casey DeSantis, would be given to teachers in five Southwest Florida counties to help them deal with the recovery process. The funds come after $2 million was given to area teachers in October, and will help pay for food, gas, baby supplies, home repairs and transportation.
Lee and Collier counties will each receive $250,000, Sarasota County will receive $200,000, and Hardee and DeSoto counties will each receive $150,000.