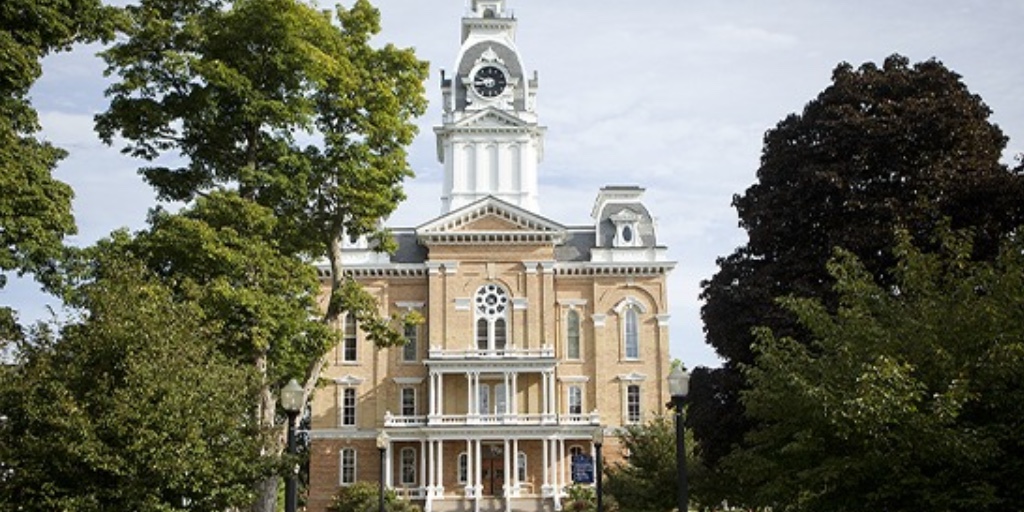 Hillsdale College has been highlighted as offering a model worthy of importing to Florida.
Following a spate of publicity on the state's intention to remake New College in Sarasota into a "Hillsdale of the South," the private, Michigan-based Christian college is having a South Florida symposium.
The media is invited to a private Hillsdale College event in Boca Raton on Thursday, which will undoubtedly serve as a showcase for what put the 1,515-student school on the map as a bastion of conservatism — and a possible model for how Gov. Ron DeSantis and state education officials would like to shape the state's education.
After a gift and estate planning seminar that will include information about leaving a legacy to Hillsdale College, Khalil Habib, an associate professor of politics at the liberal arts school, will be talking about "Origins of a Living Constitution."
Every year, Hillsdale College has taken the show on the road for events in Florida, but state officials' embrace of importing Hillsdale College to Florida went official this month when one of the new six trustees announced for New College included Matthew Spalding, dean of the Hillsdale College Graduate School of Government in Washington.
​​"It is our hope that New College of Florida will become Florida's classical college, more along the lines of a Hillsdale of the South," DeSantis Chief of Staff James Uthmeier said in a statement when the reconstitution of New College's Board of Trustees was announced.
With that announcement, DeSantis officials put a name to what sort of educational philosophy the Governor envisions as a replacement for the more mainstream higher education philosophy state Republicans have characterized as "woke" and much too concerned about diversity, equity, and inclusion (DEI).
"We must ensure that our institutions of higher learning are focused on academic excellence and the pursuit of truth, not the imposition of trendy ideology," DeSantis said in his second inaugural speech.
Spalding told The Daily Signal, however, that there are no plans to remake New College into some kind of carbon copy of Hillsdale College.
Still, it appears that DeSantis' vow to fight what he calls the "philosophical lunacy" of current educational underpinnings has unfolded in a number of ways since 2023 began.
Last week, the administration made headlines with 28 Presidents in the Florida College System promising to hew to DeSantis' vision: Root out all training and instruction that compels belief in Critical Race Theory, a philosophy that sees the nation's history through the lens of oppression inflicted on marginalized groups. Also, his administration blocked an Advanced Placement course on African American studies for the state's high schools.
In some respects, however, Hillsdale College stands as the opposite of the state's taxpayer-funded higher education institutions. The institution does not have to report statistics on student demographics because it does not receive any public funding.