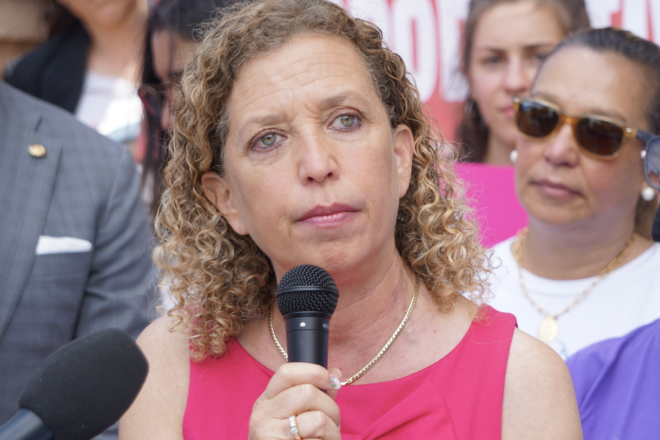 'We're not trading spending cuts for paying our bills.'
As Republicans in Washington push for spending cuts, Florida Democrats say seniors need to watch out. At a press conference on Social Security and Medicare, U.S. Rep. Debbie Wasserman Schultz argued the programs face a threat — and so does Florida.
The Weston Democrat said Republicans want to cut payments to pay for years of tax cuts for the rich. She said President Joe Biden won't negotiate, but voters need to make their own Representatives in Congress know these programs must stay off the table.
"Fortunately President Biden and House Democrats defeated Medicare's sworn enemies and delivered real relief justice here," Wasserman Schultz said.
She also attacked U.S. Sen. Rick Scott's Rescue America agenda, put out last year as he headed Senate Republicans' efforts to win a majority in the Midterms.
The plan called for a review every five years of federal spending programs, something Democrats quickly seized on as an attempt to sunset Social Security and Medicare. Scott said he never proposed cutting those programs, but Democrats across the country pilloried the proposal through the elections, where Republicans actually netted a loss in seats and failed to win back the Senate.
Scott slammed Wasserman Schultz over the characterization.
"As usual, Rep. Debbie Wasserman Schultz has no idea what she's talking about," he tweeted. "Despite her lies, the only people putting Social Security and Medicare at risk are her and her fellow Democrats. I'm happy to share my plan with her if she needs some ideas on how to fix her party's problems."
Other Democrats in Florida's congressional delegation also participated in the Wasserman Schultz-led press conference, and stressed that Florida relies heavily on the federal programs.
U.S. Rep. Sheila Cherfilus-McCormick, a Miramar Democrat, noted that 4.6 million Medicare beneficiaries live in Florida, the second highest of any state behind only California. December statistics from the Centers for Medicare and Medicaid Services show that as of December, more than 4.9 million Floridians are eligible for one of the federal programs tracked by the agency.
"Many seniors have spent their entire lives working and paying for Social Security benefits, and Social Security is their only source of income and many retirees have nothing else to rely on but Medicare," she said.
U.S. Rep. Lois Frankel, a West Palm Beach Democrat, said none of this has stopped House Republicans from demanding cuts to the programs as Congress negotiates on raising the debt limit. Technically, the U.S. hit its maximum allowable debt last week.
"Folks need to know that the threat by the extreme flank of Republicans against raising the debt ceiling, which means they're not going to pay our bills, is a threat against the welfare of our seniors," she said.
While U.S. Rep. Maxwell Frost is the youngest member of Congress, he promised to stand in solidarity with program recipients. "House Republicans have turned their back on Florida seniors," the Orlando Democrat said.
He considered it irresponsible that the new GOP majority would come for those spending programs people rely upon to pay the bills before tackling immediate crises like affordable housing and gun violence.
"The irony coming from the party that likes to tout that they are fiscally responsible is that it is the party that's actually pushing to not pay our debts and to actually hold hostage the programs that seniors supported their entire lives," Frost said.
After the event, U.S. Rep. Jared Moskowitz, a Parkland Democrat, issued a press release similarly criticizing the GOP caucus.
"The hypocrisy from House Republicans over the debt ceiling is beyond laughable. House Republicans put forward no preconditions when paying their American Express bills," he said.
"The American people don't get to dictate preconditions to Mastercard when their bill comes in the mail. You don't have a choice when it comes to paying your bills. So why are House Republicans putting forward preconditions when paying the nation's credit card? My Republican colleagues don't play around with their own credit score, but they are willing to play around when it comes to the credit score of the American people?"
Max Richtman, president and CEO of the National Committee to Preserve Social Security & Medicare, also participated in the press call. He dubbed any negotiation on the programs a form of "social extortion." He noted Social Security isn't just an issue for seniors.
"Social Security is insurance for families," he said. "Social Security benefits cover survivor benefits, benefits for the disabled, benefits for children."
Both Wasserman Schultz and Frankel sit on the House Appropriations Committee, though now in the minority. But they said conversations about spending cuts should not be a part of debt limit conversations in the first place.
"We're not trading spending cuts for paying our bills," said Wasserman Schultz. "There are no cuts that should be negotiated tied to whether or not we pay the nation's debt and pay our bills."