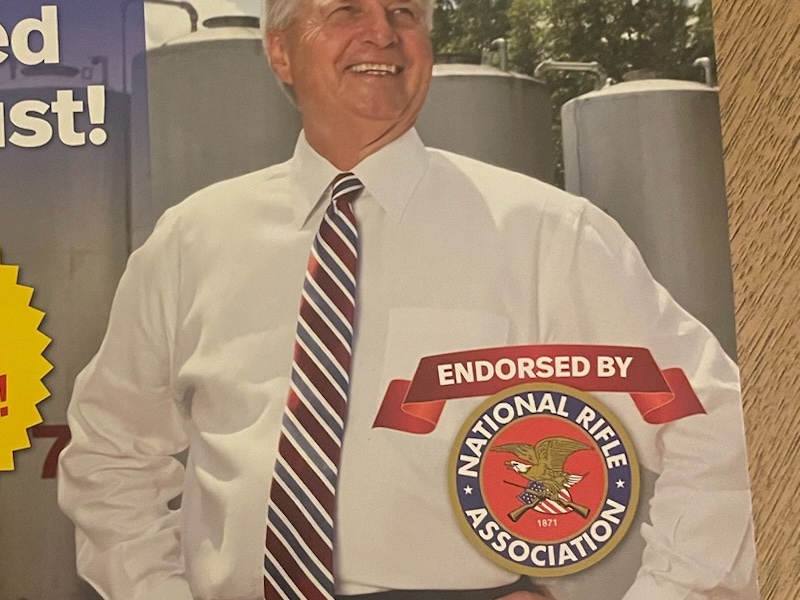 The same piece identified the former lawmaker as 'Our State Representative.'
Charlie Stone hasn't served in the Florida Legislature since 2020. And the National Rifle Association hasn't issued an endorsement in the House District 24 Special Election.
But as he runs to return to the House, a new mailer from Stone lists himself as "Our State Representative," and it states he's endorsed by the NRA, using the organization's official seal.
Five Republican candidates have qualified for the March 7 Republican Primary in the Special Election to replace resigned Rep. Joe Harding.
Of those running, only Stone has served in the Legislature before. He served from 2012 through 2020 before term limits prevented him from seeking another term. But term limits only prevent lawmakers from running after serving eight consecutive years in the same position, and they can return to the Legislature after a stint away from office.
Stone has leaned in on his history in Marion County politics — he also previously chaired the Marion County Commission.
"You know him!" the mailer reads. "He has earned our trust."
During Stone's time in the House, he indeed had a 100% voting record with the NRA, according to VoteSmart. He maintained that, even opposing the Marjory Stoneman Douglas High School Public Safety Act that passed in the Republican-controlled Legislature after the Parkland shooting in 2018.
But emails obtained by Florida Politics verify the NRA has not issued an endorsement in this year's Special Election, and the organization has contacted Stone's campaign about the mailer.
Florida politics has reached out to the NRA and to Stone.
State law forbids candidates or campaigns from representing "any person or organization (that) supports such candidate, unless the person or organization so represented has given specific approval in writing to the candidate to make such representation."
The wording "Our State Representative" has also raised eyebrows in Ocala. While honorific titles for elected officials are lifelong, Stone hasn't held office as a member of the House of Representatives for more than two years.
The mailer follows state law that forbids non-incumbents from using terms like "re-elect," and Stone follows the prescribed language in statute to say he is running "For State Representative" instead. But larger type seems to imply he already holds the title.