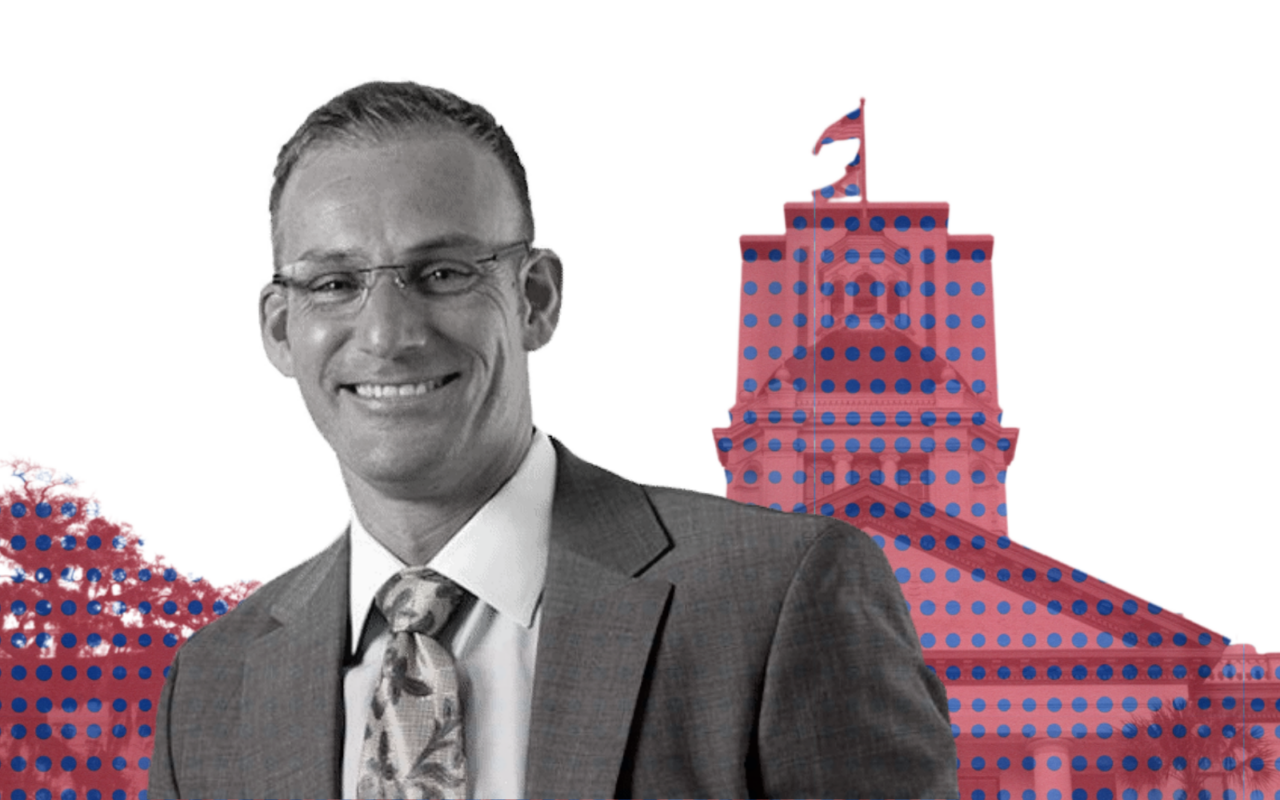 Pollsters found Grieco holds citywide favorability across political lines and demographics.
Former Rep. Mike Grieco is less than two weeks into running for Miami Beach Mayor, but he already has polling showing he's a strong candidate for front-runner.
Grieco's campaign Tuesday released the results of a survey of city residents from last year by Sarasota-based SEA Polling & Strategic Design. The firm spoke with 350 people in Miami Beach for the survey, which had a 4.5-percentage-point margin of error, Christian Ulvert, an adviser to Grieco, told Florida Politics.
Pollsters found Grieco holds citywide favorability across political lines and demographics.
Overall, 50% of respondents said they held a favorable opinion of Grieco. Just 16% said they viewed him unfavorably.
His strongest supporters include those unaffiliated with a major political party. Fifty-four percent of no-party respondents said they liked him, compared to 15% who don't. Among Democrats polled, 46% said they like him, while 19% said they view him unfavorably. The spread was smallest with Republicans, of whom 26% view Grieco positively and 14% hold a negative opinion of him.
Jewish city residents are particularly fond of Grieco, the poll showed. Fifty-three percent of Jews surveyed said they think well of him. Just 6% said they feel otherwise. Older residents like him a lot too, with 51% of voters 50 or older saying they view him favorably, compared to 18% who do not. Among Hispanic respondents, 44% said they like him and 5% said they don't. The rest either said they held no opinion of Grieco or refused to answer.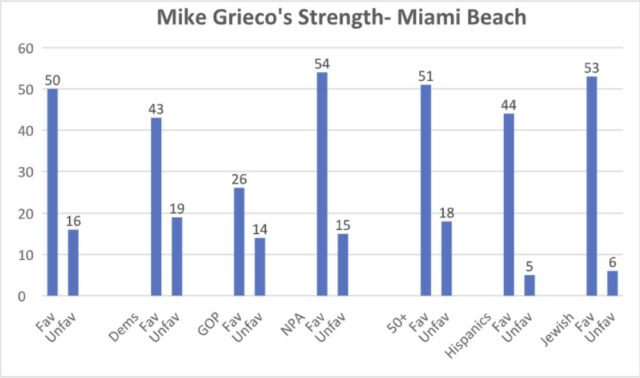 "These numbers clearly show that Miami Beach voters overwhelmingly trust Mike Grieco as an elected leader, and he begins the race for Mayor in a strong position," SEA personnel wrote.
"He has plenty of room to grow his coalition across all demographics and build support among Miami Beach's core constituencies. The bottom line is that Mike Grieco is very well-liked, trusted and immensely popular, which positions (him) very well to gain the early support from voters to win this November."
A criminal defense lawyer in private practice, Grieco entered politics in 2013 by successfully defeating an incumbent for a seat on the Miami Beach City Commission. He ran for Mayor in 2017 but dropped out of the race, resigned from the City Commission and ultimately pleaded no contest to a first-degree misdemeanor stemming from unauthorized contributions he received during the campaign.
A year later, Grieco won election to the House and served there until late last year, following a canceled bid for the Senate. He's remained active in the community since leaving office and continues to sit on the board of governors for the Miami Beach Chamber of Commerce.
He announced his bid for Mayor Feb. 1 and debuted his first campaign video on Twitter two days later.
Our first campaign message… pic.twitter.com/tXPWciwSmA

— Michael Grieco (@Mike_Grieco) February 4, 2023
Two others are running to replace Miami Beach Mayor Dan Gelber, who must leave office after the Nov. 7 municipal election.
Those candidates are former Democratic Miami Beach Commissioner Michael Góngora, who has reported raising nearly $334,000, and Republican candidate David Hundley, who has neither raised nor spent anything since filing to run in July 2021, according to city records.
Grieco's first campaign funding report for the race is pending. His political committee, Strong Leadership for South Florida, reported receiving a $20,000 check in late January from The One Foundation Inc., a private organization headquartered in Boston which since its founding has donated more than $1 million to a host of causes, including the Notre Dame Haiti Program, Intrevol, Asian Christian Academy and the Wounded Warrior Project.
Including that donation, the political committee had more than $126,000 as of Feb. 1.