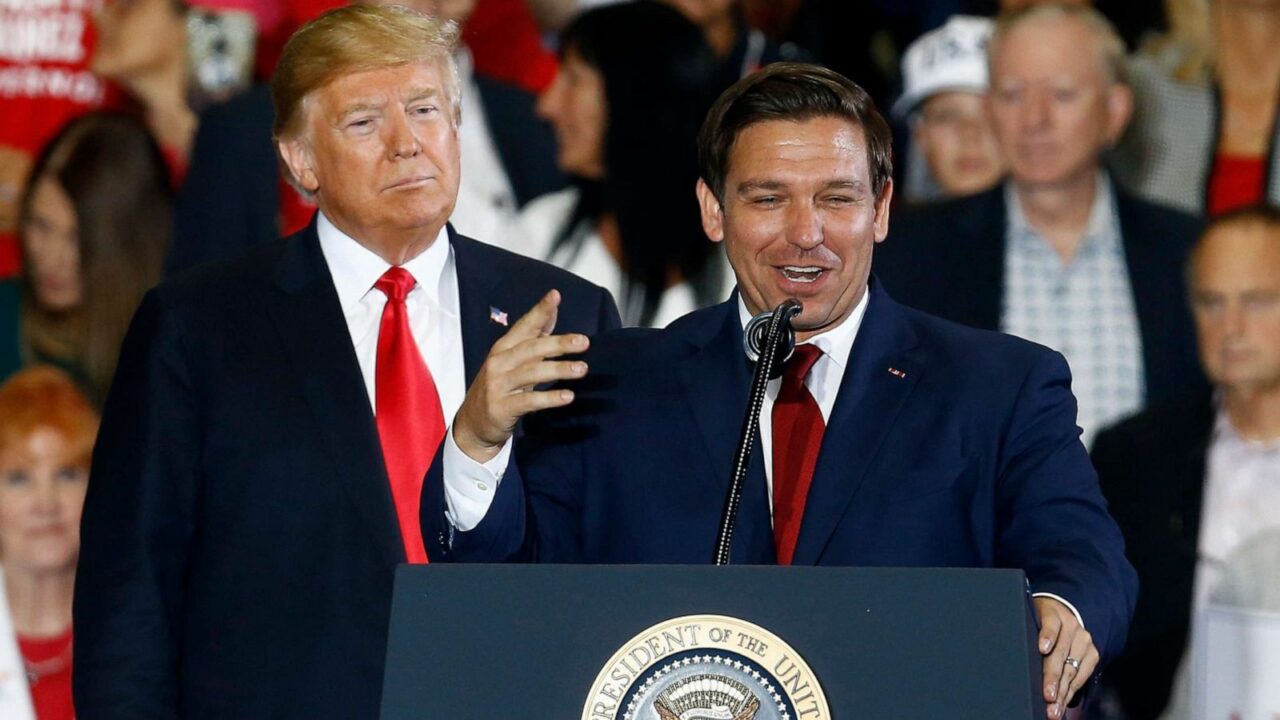 'For whatever reason, I did endorse him.'
Donald Trump claims he never told Ron DeSantis not to run for President in 2024, but argued that without his endorsement in 2018, the Florida Governor would be "dead in politics."
In an interview with former legal advisor Jenna Ellis on American Family Radio, the former President said DeSantis has "got to do what he's got to do," and that he never told the Florida Governor to "stay out" of the 2024 race. But Trump made it clear (again) that he believed his endorsement was key to the former Congressman's wins over Adam Putnam and Andrew Gillum.
"I just let people know, because I believe in loyalty, that he was at like 3%, he was dead in politics, he was never going to be in office. He was getting ready to leave the race and he came over and asked whether or not it would be possible for me to endorse him," Trump contended. "For whatever reason, I did endorse him."
"He was way behind Putnam," Trump said, before the endorsement allowed DeSantis to come back "from a 30- or 40-point deficit."
"He would have dropped out very quickly," Trump argued, before saying "he ended up beating a guy he wasn't supposed to beat" in Gillum, "because of me."
"I call that disloyalty," Trump added. "He's going to have to do what he's going to have to do. But I'm a very big believer in loyalty. If somebody gets you in, be loyal to that person."
Trump did not address the reports here he was calling DeSantis "Meatball Ron" in private, nor did he float claims as he's done on Truth Social that DeSantis was "grooming" students when teaching at a prep school early in his career. He preferred instead to traffic in a familiar narrative that he made DeSantis who he is and for his trouble was getting a Primary opponent.
DeSantis has continued not to engage Trump in any meaningful way, of course.
"I spend my time delivering results for the people of Florida and fighting against Joe Biden. That's how I spend my time. I don't spend my time trying to smear other Republicans," DeSantis said at a press conference earlier this month.
And despite widespread expectations that he will launch a campaign soon after legislative Sine Die this spring, he's still coy when asked when he might get in.
"Wouldn't you like to know?" he told a reporter trying to make news in Jacksonville Tuesday.