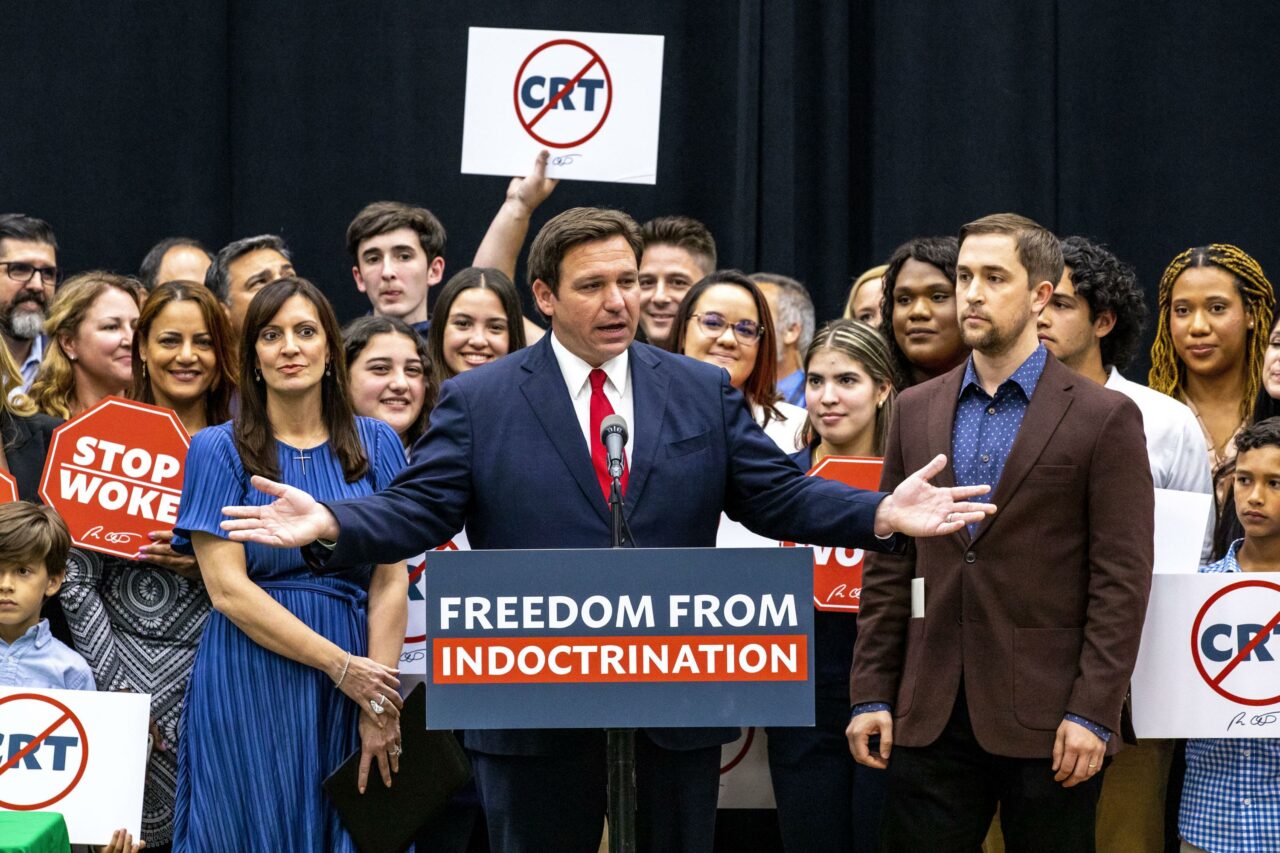 One of the targeted School Board members says the Governor must have him confused with someone else — he's not a promulgator of 'woke' ideology.
The Governor is opposing 14 School Board members throughout the state — but none of them have filed for re-election and at least one of those targeted for unemployment thinks it's a case of mistaken identity.
Gov. Ron DeSantis is thought to be the first Florida Governor to weigh in on School Board races, with a slew of endorsements in 2022. With many of those endorsed candidates elected, the Governor is getting in on the game even earlier this cycle.
Fox News reported on a breakfast between DeSantis, Moms for Liberty and other administration officials that resulted in a list of School Board members in nine counties "who do not protect parental rights and have failed to protect students from woke ideologies."
That article listed the counties the Governor's team is targeting for new School Board faces. They are Brevard, Duval, Hillsborough, Indian River, Miami-Dade, Pinellas, St. Lucie, Sarasota and Volusia counties.
One online publication, The Florida Standard, went further and listed the names of those Board members, along with the reason for opposition from the Governor's team.

Carl Persis, a retired Volusia County school principal and School Board member since 2016, was shocked to find he's on the list. He said that someone must have given the Governor's team erroneous information and that Wednesday morning was the first he'd heard of it.
Underneath his name and another School Board member's, the Standard's article lists their purported attributes: "Lifelong Democrats, the whole package — masking, transgenderism, wokeism. Son works closely with Leftist radical (Orlando area state Rep.) Anna Eskamani."
Persis said he's not working with Eskamani and doesn't know any family members who are.
"If I sat down with the Governor and talked about educational issues, I suspect we would agree on 90-95% of the issues," Persis said, voicing his support for parental rights, as the Governor has. "They may have me confused with someone else. That is certainly not my ideology."
The Governor's Office referred questions about the list to his campaign office, which had not responded by Wednesday afternoon. Moms for Liberty did not return an inquiry from Florida Politics.
Eskamani also said she was not familiar with either of those names mentioned on the list in conjunction with hers.
"But it's good to know I live rent free in people's heads," Eskamani wrote in an email. "As I'm focused on solving constituent problems like the rising cost of rent and property insurance, our Governor is destroying public education, creating culture wars and attacking family members of candidates. Pretty gross stuff."
School Board races are nonpartisan, although there is currently a bill under consideration that would require candidates to declare a political party.
Brevard County School Board member Jennifer Jenkins says she wasn't planning to run for re-election — and said last year she wouldn't. But the news that she's getting such high-level attention might push her to re-file, she said.
"It's comical," said Jenkins, a Satellite Beach resident, whose service on the dais has gotten her picketed at her home and called a "whore" by Rep. Randy Fine, according to previous texts obtained by Florida Today. 
Jenkins, in Brevard County, is listed as "a mask mandate supporter who has showcased her disdain for parental rights on MSNBC," according to The Florida Standard.
But there might be something more personal going on there, Jenkins said.
One of the founders of Moms for Liberty, Tina Descovich, pictured at the Tuesday breakfast with the Governor, was defeated in her 2016 bid for re-election — by Jenkins. The premature targeting, to Jenkins, seems like a serious miscalculation, she said.
"I would have never won my seat against a Republican incumbent by almost 10 percentage points where I live if I didn't have Republican support," she said, noting that registered Republicans have a significant advantage over Democrats in her Brevard County.
Descovich did not return a call seeking comment.
Education has emerged as a key priority for state Republicans, who have filed legislation that would change numerous aspects of public education ranging from funding to what's taught in school.
Meanwhile, Palm Beach County School Board member Alexandria Ayala said she was surprised that no one on her Board was targeted, in spite the Board's vote in favor of mask mandates and the County Commission's recent tilt toward Republicans. 
Ayala said she's glad that the Governor is so interested in education, she just wishes it was focused more on bringing the state up from its basement ratings in per-pupil funding, student outcomes and teacher salaries.
Ayala said she sees the Governor's actions as part of an effort to dismantle the system as it's been for centuries: a great equalizer for children from all walks of life.
"Most people in education want to show up, teach, have children go on to make the world a better place and not be fighting with their government every single day," Ayala said.