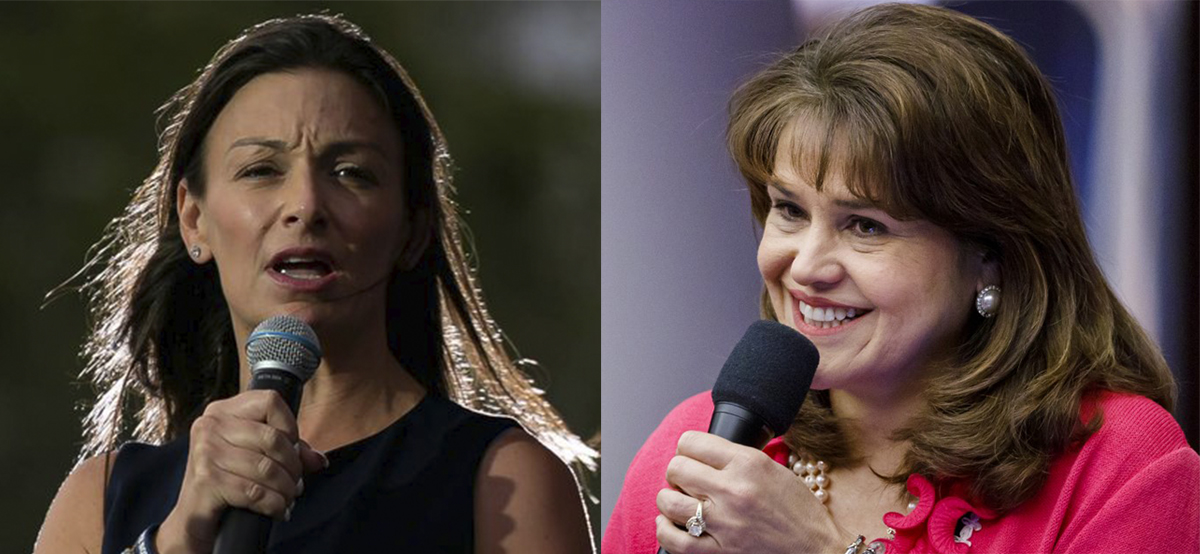 Members of the state committee vote in Orlando on Saturday afternoon.
Sources close to Nikki Fried and Annette Taddeo are bracing for the vote Saturday afternoon on who leads Florida Democrats. The two campaigns both exude confidence the respective Democrats can win the State Chair position, but questions remain even at this late hour.
A vote is expected in Orlando at 4 p.m., with the Democratic Executive Committee meeting convening at 1:30 p.m. Progressive Caucus Chair Carolina Ampudia and Broward County Democratic Chair Rick Hoye are also running, but the election has increasingly felt like a competition between Taddeo and Fried.
Fried's late entry to the race has stirred a good deal of frustration over her level of support for other Democrats in the last couple election cycles. Fried narrowly won the job of Agriculture Commissioner in 2018, but she declined to endorse the Democrat in a key state Senate race in 2020, a move that has revived questions about how loyal she is to the FDP's goals.
Both Fried and Taddeo ran for Governor in 2018, but the Democratic nomination went to Charlie Crist instead. Taddeo dropped out of the Primary and endorsed Crist and then ran for a Congressional seat. Fried, meanwhile, fought until the end. And even after her decisive loss, questions remained.
Long after the Primary was over, high-ranking officials in Crist's campaign said they were frustrated Fried offered little support to the nominee. A source from the campaign said Fried never named Crist in speeches, even supposed unity events. A high-ranking source with Val Demings' Senate campaign echoed these concerns, contending Fried rarely volunteered to go to campaign events and did little to help other Democrats.
Consultants supporting Fried dismiss the accusations, saying candidates upset at levels of endorsement or enthusiasm were largely sharing sour grapes. Fried committed to electing Democrats up and down the ballot following her Primary loss, and remains the last Democrat to win statewide office in Florida.
They also point to a spreadsheet made publicly available that has closely tracked public endorsements made by voting members who will elect a Florida Democratic Party chair today. Democratic Party rules weight committeeperson votes from counties based on populations of registered voters.
Based on the spreadsheet, as of Saturday morning, Fried had secured 531 votes for State Chair while Taddeo had just 396. Other candidates have a combined 38 votes.
It would take 581 votes to ensure a candidate wins on a first ballot, and Fried sits only about 50 votes shy of that. One consultant said he expects Fried to win on a first ballot, and would be shocked if she failed to win on the second ballot.
But Taddeo's team has questioned how firm much of Fried's support may be, particularly amid a wave of open criticism of the candidate.
They also say many voting members have privately shared they will support Taddeo but have not publicly disclosed those intentions. Meanwhile, the campaign has slowly and steadily released announcements on endorsements. Just Friday morning, the campaign announced support from both of Brevard County's committee members, who collectively delivered her 28 votes.
Meanwhile, question marks remain, including from potentially pivotal delegations. Notably, State Committeewoman Nancy Lawther has not publicly declared support for any candidate. She carries with her 59 votes. Taddeo hails from Miami-Dade County.
Fried people suggest that if she isn't backing Taddeo, there's a reason. But Taddeo's people continue to hint at key support.
One consultant supporting Taddeo suggested both candidates are about tied right now, with Taddeo up a few votes on Fried, but said neither candidate has a majority.
The wide and disparate speculation means the election will be closely watched, regardless of whether it's a blowout or a photo finish.