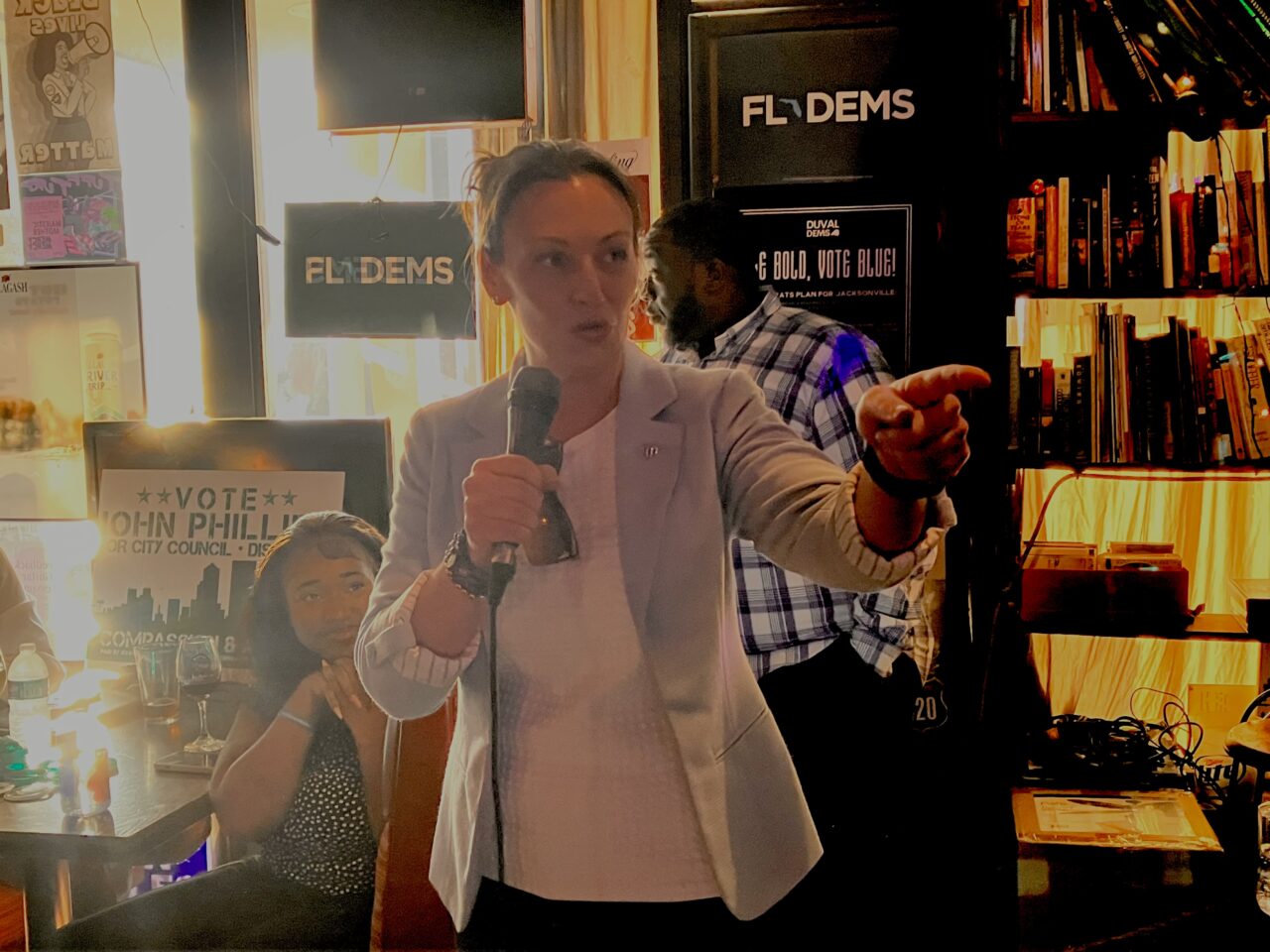 Democrats have been shut out of citywide office. Will 2023 change that?
Early voting is well underway in Duval County for next Tuesday's city elections, and the new chair of the Florida Democratic Party is mobilizing voters.
Nikki Fried was in Jacksonville's Five Points district Monday evening, for a Get Out the Vote rally at Rain Dogs, The former Agriculture Commissioner has a long connection with Jacksonville, and her visit Monday was imbued with urgency.
Duval Democrats hold a registration advantage, but currently face a super-minority on the Jacksonville City Council and are shut out of any countywide office.
Fried believes this can change. Signaling the high stakes at play, she said that she'd been chair for two weeks and "this is my first stop."
"Duval is home. My heart is here. And we are going to continue to show up all the time. Because we know Duval is Blue. And it is time for us to start winning these local races again," Fried said, drawing applause from the dozens of candidates and activists on hand.
Roughly 50,000 people have voted in Duval County already, good for nearly 8% of the vote. Democrats have made up nearly 47% of that total, but with Republicans historically much stronger on Election Day, they will want to stretch those margins.
"The name of the game is turnout," Fried said. "This is all hands on deck."
Fried promised a "new day" with her chairing the party.
"I do things differently. We show up. We engage," Fried contended.
She went on to take issue with Gov. Ron DeSantis' use of the word "woke," saying "nobody even understands woke, but they understand they can't afford to fill up their gas tanks."
Pickup opportunities abound. Though Democrats are not running candidates for Sheriff or Supervisor of Elections, they are running two mayoral candidates unlike in 2019, when no Democrats challenged incumbent Republican Mayor Lenny Curry.
The latest survey from the University of North Florida Public Opinion Research Lab shows that while Democrat Donna Deegan is on track to be the leading candidate in the First Election on March 21, she will fall short of the 50.01% needed to win outright. Deegan was the choice of 37% of those polled, with Republican Daniel Davis in second place with 20%.
Former Senate Minority Leader Audrey Gibson has been accused by some Deegan backers as playing spoiler, blocking Deegan from winning the whole thing in March. Gibson drew 7% support and has yet to commit to backing the Democrat in the runoff, should polling reflect reality in this case.
Democrats arguably are better positioned to win the Duval County Property Appraiser race outright. The same UNF poll shows City Council member Joyce Morgan with 43% support against two Republicans in the First Election. She would need a majority to win without a May runoff.
The same polling also shows that Democrat Joshua Hicks is running neck and neck with Republican Ron Salem, poised to be City Council President later this year if he doesn't lose in the winner-takes-all March election for the at-large countywide seat.
Deegan, Morgan, and Hicks were on hand, along with a number of other City Council candidates. One of them was District 7's John Phillips, who has been in a heated race with Jimmy Peluso.
"Tuesday when the election is over, come together," Fried urged with an impassive Phillips behind her, saying that after March 21, Duval Democrats should be "one party, united."