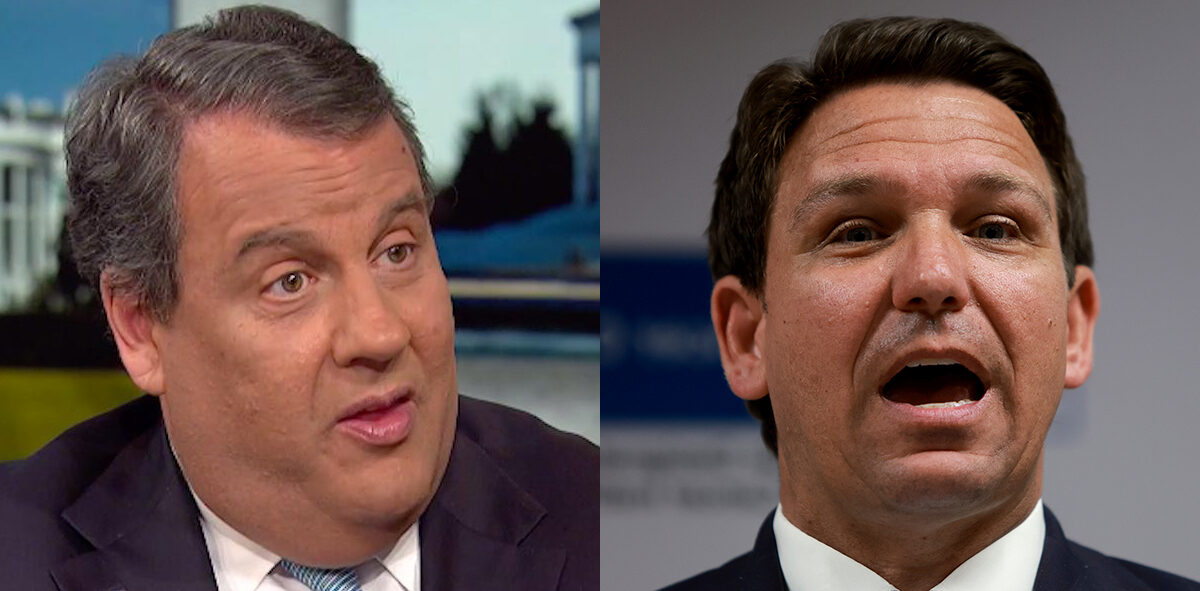 The Former New Jersey Governor continues to attack 'America's Governor.'
Chris Christie barely registers in polling of the potential 2024 field, yet he continues to gun for a leading candidate.
The former New Jersey Governor keeps targeting Ron DeSantis, casting doubt on whether the Florida Governor has the fortitude to take on Donald Trump.
The latest line of attack from Christie against DeSantis centers around the Governor's attempts to address the former President's legal woes.
Addressing DeSantis' dig that he didn't "know what goes into paying hush money to a porn star to secure silence over some type of affair," the politician-turned-commentator told POLITICO the remark was "way too subtle" and a sign of the Florida Governor's weakness.
"Oh, so that's supposed to prove to me that you're tough enough to take on Donald Trump? This is a guy who said Ted Cruz's wife was ugly. Like, you think he cares that you made a little sideswipe at him?"
Christie also chided DeSantis for his inability to find consistent rhetoric on the war in Ukraine, saying the "minute he gets criticized about something, he winds up saying the exact opposite."
These comments, reported Thursday, continue a recent trend of attacks on the Florida Governor. Christie chided DeSantis for ongoing attacks on The Walt Disney Co. this week, suggesting the Governor is not actually on the right.
"I don't think Ron DeSantis is a conservative based on his actions toward Disney," he said.
"Where are we headed here now, that if you express disagreement in this country, the government is allowed to punish you? To me, that's what I always thought liberals did, and now all of a sudden here we are participating in this with a Republican Governor."
Christie went on to say DeSantis' handling of the Disney drama calls into question his ability to deal with hostile leaders on the world stage.
"That's not the guy I want sitting across from President Xi (Jinping) and negotiating our next agreement with China, or sitting across from (Vladimir) Putin and trying to resolve what's happening in Ukraine. If you can't see around a corner that (Disney CEO) Bob Iger created for you … I don't think that's very imposing."
Last year, Christie suggested it would be a matter of time before he found a way to attack DeSantis.
"You've got to know these guys a little bit to find out what really bothers them," he said on the Ruthless Podcast in June 2022.
It seems Christie has figured some things out since last summer.