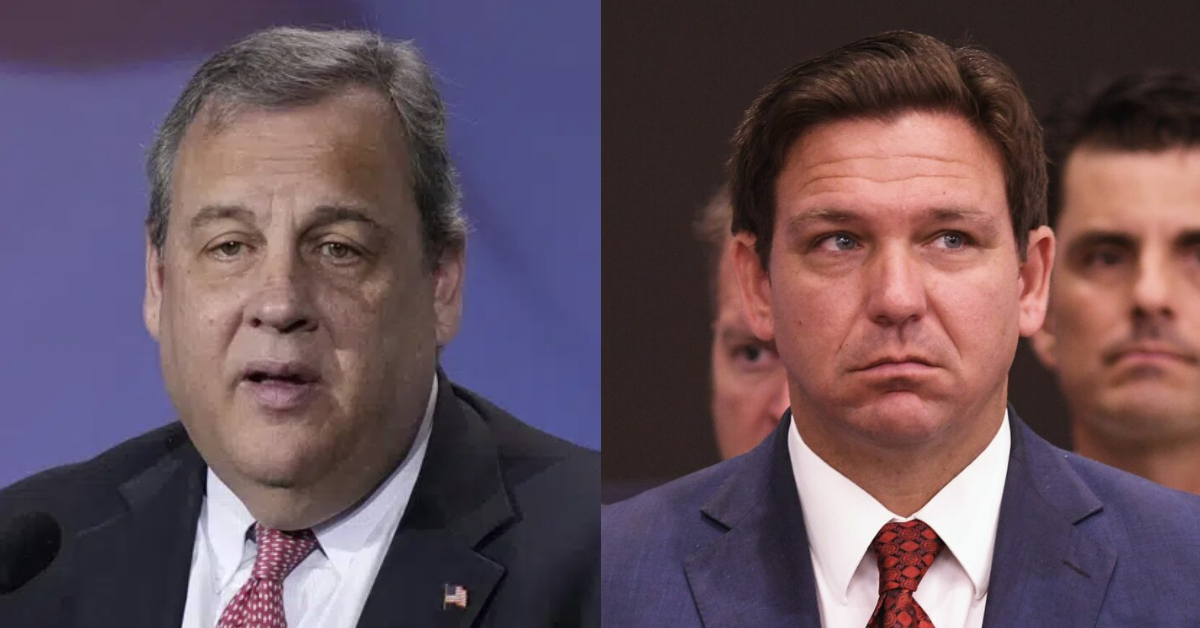 'Where are we headed here now, that if you express disagreement in this country, the government is allowed to punish you?'
Former presidential candidate and New Jersey Gov. Chris Christie had some harsh criticism for Ron DeSantis and his ongoing battle with Disney, calling the Florida Governor's actions more akin to "what liberals do."
During an onstage interview with Semafor, Christie said DeSantis, a likely 2024 Republican candidate for President, has weaponized the government to attack businesses like Disney for speaking out against his administration's policies.
"I'm a conservative, and I believe the job of government is, in the main, to stay out of the business of business," he said. "I don't think Ron DeSantis is a conservative based on his actions toward Disney."
Christie referred to a yearslong fight DeSantis has pursued with Disney stemming from the entertainment behemoth's opposition to Florida's Parental Rights in Education law, which restricts public classroom instruction on sexual orientation and gender identity.
After Disney spoke out against the measure and announced it would pause political donations in the state, the DeSantis administration worked to seize control of the company's special taxing district in Central Florida.
Disney has remained one step ahead of DeSantis so far and retains authority over the district.
But DeSantis says it's far from over. This week, the Governor floated building a prison near Walt Disney World and announced legislation that would allow the state to oversee the theme park's monorails and rides.
Despite polling showing the fight with Disney is a losing issue for him, DeSantis has nonetheless pursued it.
He should drop it, according to Christie, who described DeSantis' actions as what liberals typically do.
"Where are we headed here now, that if you express disagreement in this country, the government is allowed to punish you? To me, that's what I always thought liberals did, and now all of a sudden here we are participating in this with a Republican Governor, he said.
"That's not the guy I want sitting across from President (Xi) Jinping and negotiating our next agreement with China, or sitting across from (Vladimir) Putin and trying to resolve what's happening in Ukraine. If you can't see around a corner that (Disney CEO) Bob Iger created for you … I don't think that's very imposing."
BREAKING: Former Republican Governor, Chris Christie has just spoken out against Ron DeSantis and his attacks on Disney World:

"I don't think Ron DeSantis is a conservative, based on his actions towards Disney. I mean, where are we headed now, that if you express disagreement… pic.twitter.com/tig5dz3ysw

— Brian Krassenstein (@krassenstein) April 18, 2023