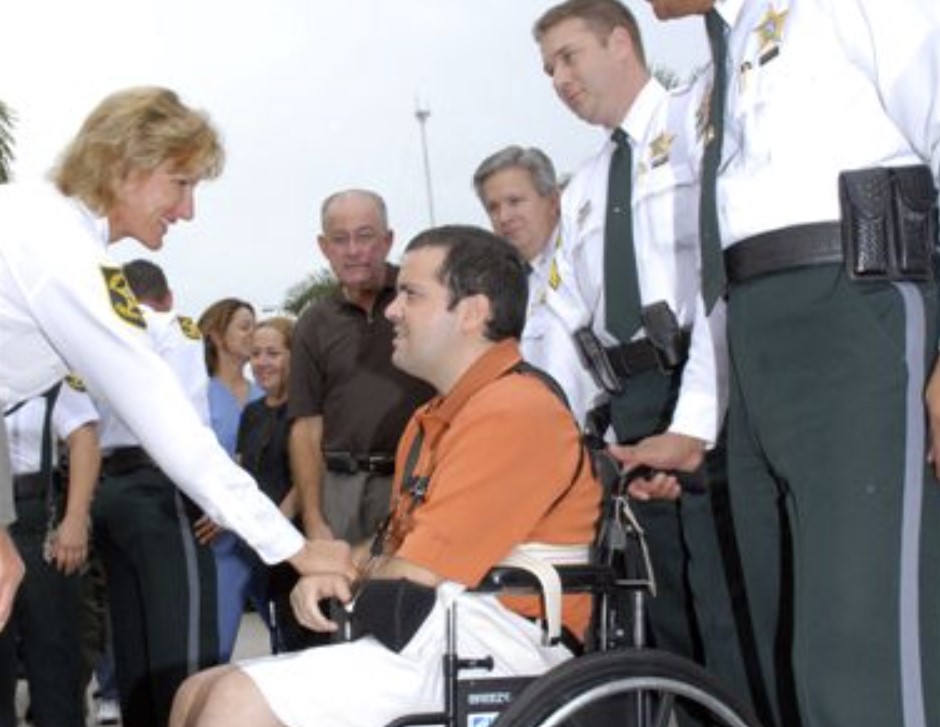 'I don't understand why we never learned after three years that the bill had a technical problem.'
Maybe it'll be next year that former Broward Sheriff's Deputy Maury Hernandez finally gets the financial relief due to him. It's unlikely he'll get it now.
Florida lawmakers have once again declined to pass legislation that would clear $10 million to Hernandez, who suffered life-threatening, permanently debilitating injuries in a preventable shooting more than 15 years ago.
For Hernandez, the payment is a pittance compared to the pain he's endured, the hospital bills he's had to pay and the decade and a half of income he lost.
But so far, it's also a sum too costly for the Legislature, which declined hearing either of the twin bills (SB 20, HB 6003) Sen. Tom Wright and Reps. Tom Fabricio and Alex Rizo filed this Session.
With less than two weeks to go before the end of the 2023 Legislative Session, subcommittees are no longer meeting and bills that haven't advanced substantially typically won't do so now.
Katherine Betta, a spokesperson for Senate President Kathleen Passidomo, cited a technical error for why Hernandez's bill got ignored this Session, telling the Orlando Sentinel that the measure "does not meet the requirements for evaluation by a special master because there was no legal finding of negligence … to evaluate nor a settlement or proposed settlement to consider."
No reason was given for why the issue had not been raised in prior Sessions, when lawmakers including Sen. Shevrin Jones, former Sen. Oscar Braynon and former Rep. Evan Jenne, among others, carried similar measures.
Lance Block, Hernandez's longtime lawyer, told Florida Politics they first learned of the problem when visiting with lawmakers in Tallahassee this month.
He said the language of the bill needs some tweaking, which he'll work to do in time for the 2024 Legislative Session, but added that he was "shocked" he'd never heard before about the problem, which has apparently prevented the bill and its prior iterations from ever going before a special master for consideration.
"I don't expect anyone from the Senate President's office to call me and say, 'Hey, the bill that came out of drafting is technically deficient,' but I would think that they would call the sponsors and tell them it didn't meet muster for a special master hearing," he said. "I don't understand why we never learned after three years that the bill had a technical problem."
He added, "I've represented Maury since October 2007. I met him when he was in a coma in the hospital, and I'm committed to helping him get relief."
The legislation by Wright, Fabricio and Rizo is known as a claims bill and is intended to compensate a person for injuries or losses caused by the negligence or error of a public officer or agency.
Claims bills arise when appropriate damages exceed what's allowable under Florida's sovereign immunity laws, which protect government agencies from costly lawsuits. State law currently limits what can be paid without legislative action to $200,000 per person and $300,000 per incident, though lawmakers have been trying to raise those payout caps.
In Hernandez's case, there was no shortage of negligence for which many believe he deserves recompense.
Just before noon on Aug. 6, 2007, Hernandez, then 28, was on his way to work in an unmarked vehicle when he witnessed a man on a motorcycle run three red lights on Pembroke Road. Hernandez pursued and pulled over the motorist, David Maldonado, who falsely identified himself as an Opa-locka city police officer before running away.
Hernandez gave chase on foot as well until Maldonado turned and fired two rounds from a .45-caliber handgun, one of which hit Hernandez in the head.
The injury left lasting physical and financial hardship.
After a year of arduous physical, occupational, speech, visual and cognitive therapy, Hernandez was left with a partially paralyzed arm, head scarring and a limp, the South Florida Sun-Sentinel reported. He attempted to return to work at the Broward Sheriff's Office (BSO) but couldn't, and he soon after lost his $60,000 annual salary and "generous benefits," including medical and life insurance.
That led to "significant economic damages," according to the legislation, which said Hernandez today faces "hundreds of thousands of dollars" in liens for uncovered medical costs.
None of this would have happened if those in the government responsible for Maldonado's probation, whom Hollywood police arrested just hours after the incident, had done their jobs properly.
Less than four months before the shooting, Maldonado pleaded no contest to felony traffic charges and received a 24-month probation sentence. Between then and the and shooting, the BSO found he accrued 40 traffic and administrative violations — including reckless driving, driving without a license, unauthorized possession of a firearm and use of nonprescribed drugs — which his parole officer, Duante Foster, failed to notify the Broward State Attorney's Office and presiding circuit court judge.
"To this day, the department has never explained why its zero-tolerance policy on reporting violations of supervision conditions was not enforced with regard to Mr. Maldonado," the claims bill said. "The State Attorney's Office maintains that if Mr. Maldonado's violations had been so reported, he would have been jailed without bail and not on the streets at the time that he shot Deputy Hernandez."
On Dec. 20, 2008, Broward Circuit Judge Martin Bidwill sentenced Maldonado to life in prison for attempted first-degree murder. The Florida Supreme Court in 2012 declined to hear Maldonado's appeal of the judgment after the Fourth District Court of Appeal passed on the matter.
Hernandez sued the Department of Corrections a year later, but the 17th Judicial Circuit Court dismissed the case, ruling that despite the department's failure to follow its stated policies and procedures, it "owed no duty of care" to him.
This year, Hernandez had the added support of Broward Sheriff Gregory Tony, former Sheriffs Scott Israel, Ken Jenne and Al Lambert, a local police union, the Florida Police Benevolent Association and Corcoran Partners, a lobbying firm run by the siblings of interim New College President Richard Corcoran, a noted ally of Gov. Ron DeSantis.
"We believe this is just the kind of case Gov. DeSantis can embrace to right a wrong that should never have happened," Broward Deputy Sheriffs Association President Matt Cowart wrote in a February letter to the Governor.
Julio Fuentes, president of the Florida State Hispanic Chamber of Commerce, also backed the claims bill, describing Hernandez in a Florida Politics guest column as a "hero in many communities" whose valor has been rewarded with "relentless opposition from the state government agency whose negligence led to his tragic shooting."
Despite his pro-police messaging and policies, including a three-stop recruitment tour in February and proposed pay bumps for law enforcement personnel in his "Freedom First Budget," DeSantis has yet to publicly opine on Hernandez's case one way or the other.