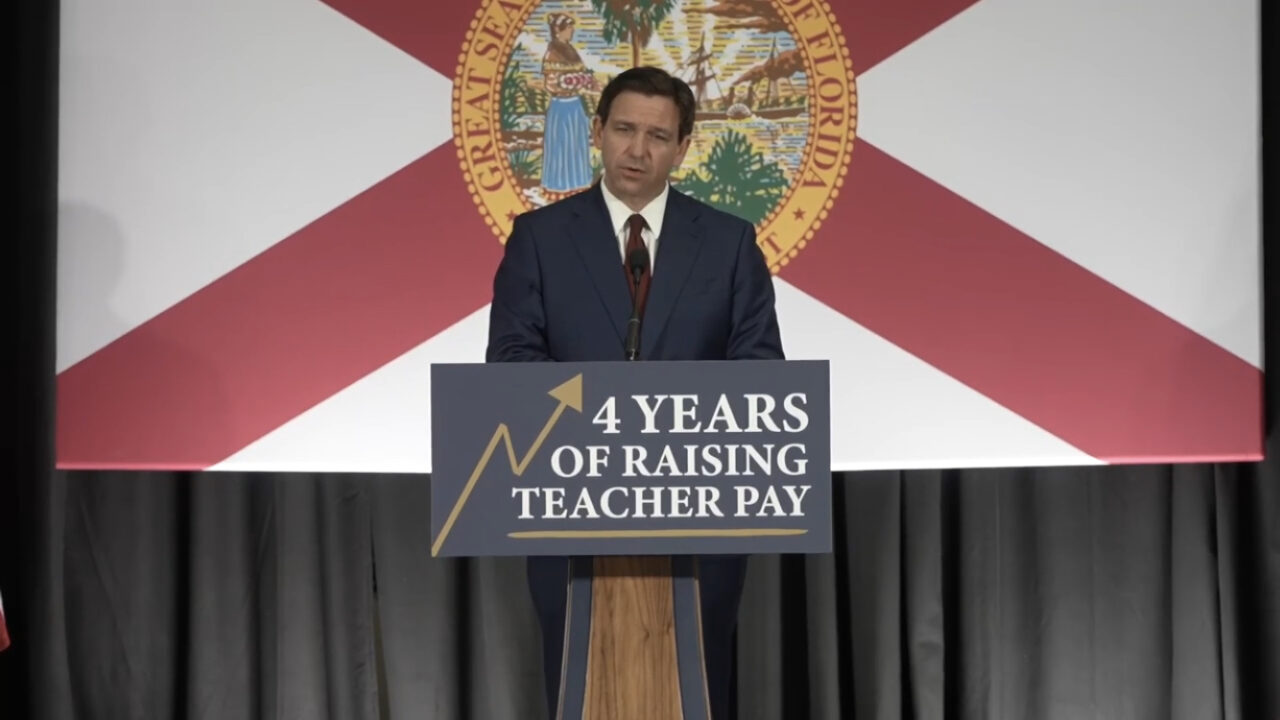 'I think that you're going to start to see capital deployed.'
Gov. Ron DeSantis says the insurance market will improve at some point, but is cautioning those changes wouldn't "happen overnight."
Speaking at a private school in Miami, the Governor offered a positive spin, before suggesting that a real contributor to Florida's insurance woes is "inflation."
DeSantis pointed to the positive effects of legislation passed in December's Special Session that discouraged moves to "incentivize lawsuits" that worked to "cause insurers to leave the state."
"When you don't have competition, you have no real way for the consumer to shop," DeSantis said.
"People are really excited about that," DeSantis said of the law change. "I think that you're going to start to see capital deployed in response to that."
However, when that capital will be deployed is anyone's guess, DeSantis added.
"It doesn't happen overnight because these are private companies that make private decisions. But clearly, when you have 8% of the property claims and 78% of the litigation expenses, you're going to have higher rates," the Governor said.
"So I do think you're going to see more capital come in and then that's good for consumers, but that doesn't happen overnight."
DeSantis went on to blame macroeconomics for the failure of Florida's homeowner's insurance sector, saying "you have massive inflation in our country over the last year and a half, two years, that impacts everything.
"It's way more expensive to fix a roof today than it was two years ago. That is going to be reflected. And so part of what I think we need to see happen is dealing with this on a national level," DeSantis said.
"They're raising interest rates, that's actually hurting people. It's hurting the economy."
DeSantis suggested moves to "stop spending so much money at the federal level" and "expand our energy production here in the United States to put a downward pressure on energy prices" would "absolutely put downward pressure on inflation and, I think, ultimately would be beneficial for consumers."
The message of vague optimism continues from the Governor, who purportedly helped to boost the reinsurance market during his stop in England last month. He met with British reinsurance companies, and "secured a commitment from companies in attendance to increase access for carriers serving Florida policyholders," according to a media release from the Governor's Office.
Requests for more details on that "commitment" went unaddressed from the Governor's Office.
The meeting in England comes ahead of yet another hurricane season that promises real challenges to the state, with recent reports suggesting reforms aren't going to lead to instant fixes after seven insurer insolvencies in the last year.
"We're probably looking (at) about 12 to 18 months before we really have the experience to show what the Legislature has done," Insurance Commissioner Michael Yaworsky cautioned earlier this month.
Citizens Property Insurance President and CEO Tim Cerio warned in March about a "difficult transition" for policyholders as they are compelled to enter the private market if they get an offer up to 20% more than the Citizens rate, and they are required to get flood insurance in any case.
The changes to Citizens are designed to reduce its policy count, which more than doubled within three years, from about 500,000 in 2020 to nearly 1.17 million as of Jan. 31.
DeSantis noted last year Citizens was "unfortunately undercapitalized" and that the company could go "belly up" if it actually had to weather a major storm.
DeSantis has defended moves to stabilize the market, stressing many of the current problems are inherited.
"As you know, we had a lot of companies that have been going out of business for a long time. No one wanted to come here and do business in Florida. I think we've changed that in going in the right direction," DeSantis said in March.
"But when your market was so bad, you know, you didn't have as many reputable companies that wanted to be in here. And so … I think we've done a lot to change it. But yes, they should, they need to be held accountable, and I know that they're going to be aggressively doing it."
Critics continue to carp, however.
Former President Donald Trump flogged the Florida Governor over what he labels "the worst insurance scam in the entire country."
Florida Democratic Party Chair Nikki Fried has said that "instead of coming up with a plan to deliver property insurance relief to Floridians, Ron DeSantis would rather spend his time making up culture wars and traveling across the country to chase the MAGA base."