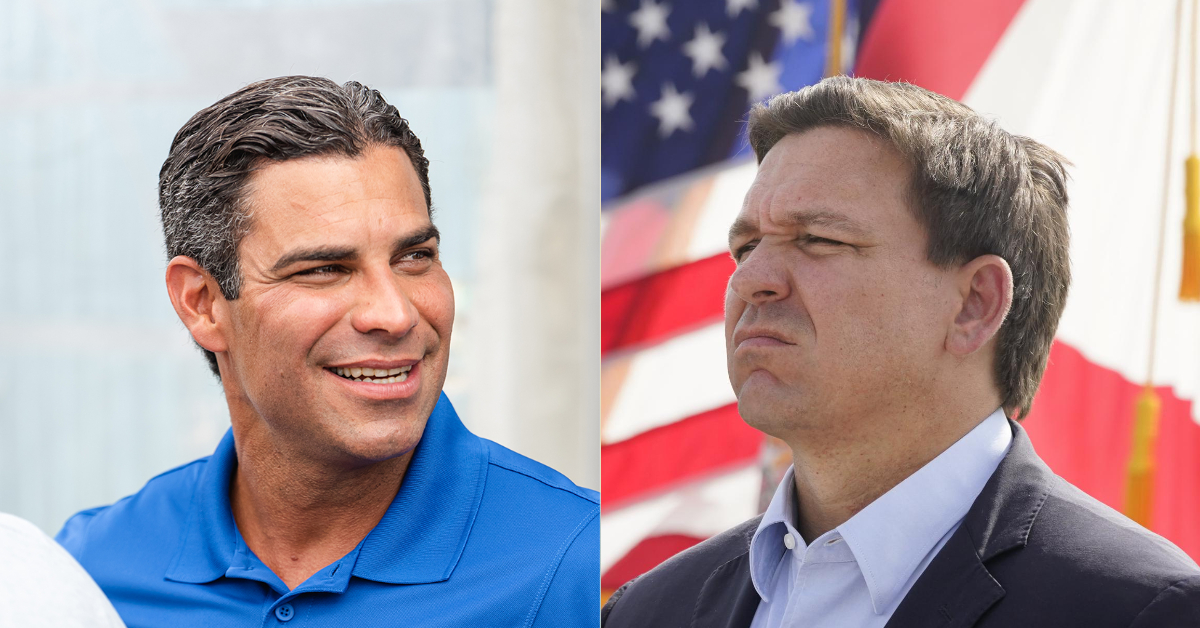 'I mean, that's the kind of stuff that Joe Biden does.'
Miami Mayor Francis Suarez is hammering Gov. Ron DeSantis over his "personal vendetta" against Disney, which took another sharp turn Thursday when the company canceled plans to spend $1 billion to bring more than 2,000 workers to the Sunshine State.
He said DeSantis has grossly mishandled the year-long spat with Disney, which first drew fire from the vindictive Governor after it spoke out against Florida's so-called "Don't Say Gay" law restricting classroom instruction on gender identity and sexual orientation.
"He took an issue that was a winning issue that we all agreed on, which was parental rights for K through third graders," he told Blake Burman on NewsNation's The Hill. "It looks like now it's something that's spite or maybe potentially a personal vendetta, which has cost the state now potentially 2,000 jobs and a billion-dollar investment,"
Miami Mayor Francis Suarez reacts to the news that Disney is pulling the plug on $1 Billion development in Florida | Mayor Francis Suarez #OnTheHill pic.twitter.com/8axWcQ3gFa

— TheHillNewsNation (@TheHillNN) May 18, 2023
Suarez's remarks came hours after Disney announced it was nixing a plan to bring its Walt Disney Imagineering division to Lake Nona, a growing area near its massive theme park in Orlando. The plan involved development of a $1 billion campus, which was set to open in 2026.
The decision came just over a week after Disney CEO Bob Iger indicated the company was rethinking its investment in Florida due to "retaliation" by DeSantis and the GOP-controlled Legislature.
It was the latest salvo in a lengthy fight between Disney and the Governor, who in February dissolved the company's Reedy Creek district that gave it self-governing power. Disney sued DeSantis last month after a board he appointed voided an agreement the company made to safeguard the district from a state takeover. A DeSantis-appointed tourism board then sued Disney in turn and, shortly after, scratched Lake Nona plan.
Suarez said making rash decisions that lose jobs and money is something one would expect of the man whose office both he and DeSantis might soon be seeking.
"I mean, that's the kind of stuff that Joe Biden does, you know? He canceled the Keystone pipeline and other pipelines out of spite that cost Americans 42,000 jobs," he said. "And you know, the one thing (DeSantis) has in common with the President is he hasn't spent much time in the private sector, and I wonder if that influences his thinking on some of this stuff."
Suarez has been ramping up criticism of DeSantis over the past month as he edges closer to a possible bid for the White House that could put them on a collision course for the Republican nomination.
He said Thursday he is "strongly considering" running and that he has to decide in the next few weeks.
"I need to make a decision soon, because … the debates are coming up quickly on Aug. 20," he said. "For someone like me, (who) has ascended quickly but is still relatively unknown nationally, you have to be on the debate to tell your story."