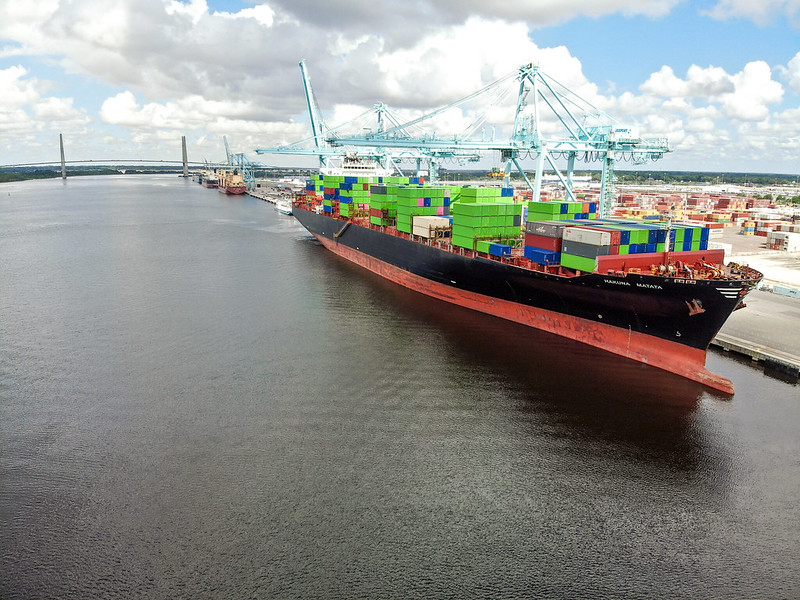 It could be worse.
Florida's escalating insurance costs are taking a bite out of the state's ports as well, with the city of Jacksonville's insurance group on path to paying millions of dollars more than last year.
JAXPORT has been involved in the city's comprehensive insurance program for 45 years, which allows the Port to take advantage of the economies of scale by being part of a larger group. This year, the cost of renewing insurance coverage inches closer to the $1 million mark for the Port's contribution.
"I probably don't need to tell you, there were a lot of challenges this renewal season," JAXPORT Chief of Regulatory Compliance Nick Primrose said at the Port's recent Board meeting.
"The insurance market didn't have a lot of positive news. That wasn't just special to Florida, it was the entire global property insurance market. There's limited capacity, and then also with hurricanes Ian and Nicole, the war in Ukraine, inflation, wildfires all kind of set up for it to be a difficult and challenging renewal season."
The policy runs March to March. In December, Primrose, JAXPORT Risk Manager James Conoly, the city's risk manager and the brokerage team went to London to negotiate the terms with the Lloyds group and various underwriters. They also met with domestic insurance carriers in Atlanta in January.
He noted that international insurance increased for the past 20 consecutive quarters. The word from London was a year-over-year premium increase of 50%-100% for the city program.
The city insurance program's total insured value, including JAXPORT, is more than $4.3 billion, up from $4 billion the year before.
"It primarily covers property, but it's also all of our equipment that's out into the open, terrorism, deadly weapons incidents, and a very unique part of it, which is port blockage and vessel impact," Primrose said.
JAXPORT's current insured value is more than $352 million, which is 8.13% of the total program. This renewal went up to $11.3 million for the whole program, up from $8.2 million in the previous year, a 38% increase.
JAXPORT's percentage of the cost equals out to around $914,000. That's up from $640,000, rising to the degree it did because of a larger increase in insured value than the city as a whole. That's a more than 42% increase. Next year's renewal is likely to also contain a 40%-50% increase.
It could be worse, though. The Port of Houston, Primrose noted, is dealing with a 60% cost increase and an annual premium of $2.8 million.
The Port's partners at its terminals are also seeing large insurance bills and trying to figure out how to handle them. The Port's been working with one of those partners recently to knock out the kinks.
"They are standalone outside of us, and there is a requirement in the contract that they carry a certain level (of insurance)," JAXPORT CEO Eric Green said.
"They're having a very difficult time in getting that insurance. They have until June 1. They probably have a third of what we think the insured value should be, and if they don't, they would have to secure a letter of credit. That's an example of how tough it is out there today and how these prices have been driven."