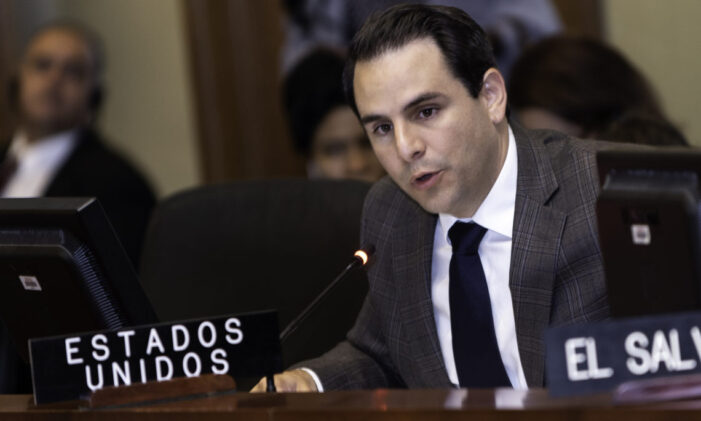 The year-old firm ranked No. 13 in the first quarter.
Continental Strategy was founded a year ago, but it's posting compensation reports that rival the top firms in state.
Former Ambassador and state Rep. Carlos Trujillo co-founded Continental alongside three established trial lawyers in early 2022, and the fast-growing team managed to pull down $1.9 million by the end of the year — enough to earn a spot among the Top 25 firms in the state.
The firm climbed several more rungs in the first quarter of 2023, posting reports that show $1.23 million in receipts to start the year.
Trujillo worked alongside Ashley Spicola, the managing partner of Continental's Tallahassee office, as well as lobbyists James Card, Tom DiGiacomo, Brennan Garcia and Paul Hawkes.
Richard Corcoran, a former House Speaker and Education Commissioner, also worked at the firm for part of the reporting period before exiting to become New College's interim President. Continental has since brought on Mark Pinto to lead the firm's Jacksonville office.
Continental earned the bulk of its Q1 revenue in the executive branch. That compensation report lists 65 contracts worth a combined $735,000, with the most lucrative being a $45,000 contract with World Wide Technology.
Florida Politics estimates lobbying pay based on the middle number of the per-client ranges firms list on their compensation reports. Contracts are reported in $10,000 increments up to $50,000.
Continental Strategy's executive report lists six other contracts in the $35,000 bracket and five worth an estimated $25,000 a pop. The set includes some household names, such as Google and Charter Communications.
Compensation reports also list overall income in broad ranges. Continental's executive report places Q1 revenues in the $500,000 to $1 million bracket. Based on median estimates from all of Florida's top lobbying firms, Continental Strategy ranked No. 8 in executive branch revenues last quarter.
The firm's legislative branch report was a notch below in the $250,000 to $500,000 range, with median estimates showing the firm likely approached the upper limit.
The compensation report lists 54 contracts worth a combined $500,000. The top clients on that side of the fence were the University of Miami and Holding Builders Accountable, a group that advocates for homeowner rights against builders for defective home construction. Both paid Continental $35,000 in the first quarter.
Charter Communications, DroneUp, Polk County Public Schools and the Safety Net Hospital Alliance of Florida followed at the $25,000 level with most other paid contracts falling within the $10,000 to $20,000 pay range.
Several statewide associations were listed in that bracket, including the Florida Association of Health Plans, Florida Charter School Alliance, Florida Conference of District Court of Appeal Judges, Florida Optometric Association and Florida's Educational Leadership Foundation. The health care industry was another major revenue driver, with notables such as UF Health Shands, Jackson Health System, MEDNAX Services and MorseLife Health System each paying $15,000 last quarter.
Continental's first-quarter haul may have been as high as $1.5 million. Based on median estimates, the firm's Q1 incomes rank No. 13 among all Florida lobbying firms.
Florida lobbyists and lobbying firms faced a May 15 deadline to file compensation reports for the period covering Jan. 1 through May. 31. Compensation reports for the second quarter are due to the state on Aug. 14.