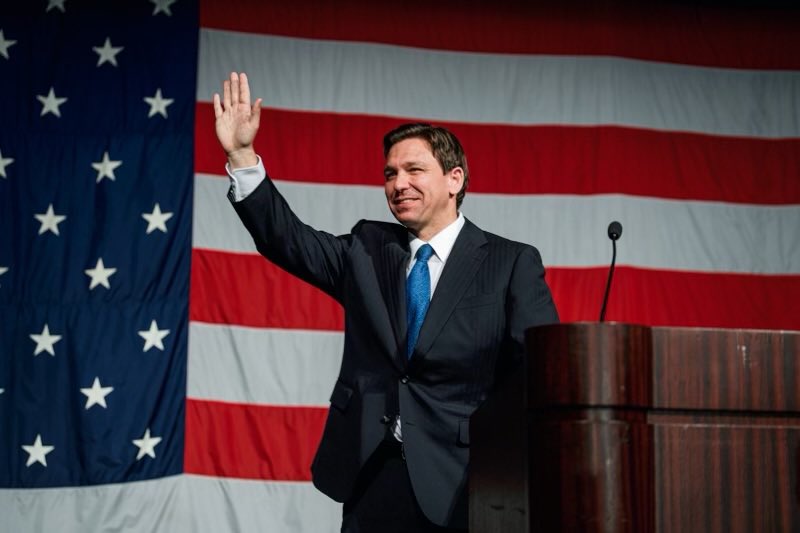 A roster of supportive conservatives questioned DeSantis on his platform for 2024
After navigating a half hour of glitches, Gov. Ron DeSantis discussed his nascent presidential campaign during a Twitter Spaces. Sharing the Space with Twitter CEO Elon Musk and a host of conservative voices, the Republican laid out a vision for the Presidency.
"This whole business we are in is about producing results," DeSantis said. "I don't care about fanfare."
The Florida Governor trashed President Joe Biden while subtly swiping at President Donald Trump. And he leaned in on the argument he has the best chance of defeating the Democratic incumbent in 2024.
"Voters who are participating in this primary process, my pledge to you is this," DeSantis said. "If you nominate me, you can set your clock to Jan. 20, 2025 at high noon, because on the west side of the U.S. Capitol, I will be taking the oath of office as the 47th President of the United States."
The Twitter Spaces started late. DeSantis spokesperson Generra Peck later tweeted the problems occurred as more than 700,000 users tried to listen in, and as many as 1 million tried. Spaces had to be shifted off of Musk's account to limit exposure.
But the DeSantis campaign suggested from a financial perspective, the event was a success. Bryan Griffin, DeSantis press secretary, tweeted the campaign raised more than $1 million over the first hour of the Twitter Spaces.
A roster of conservative influencers, many of whom have worked directly with DeSantis during his tenure as Governor, joined the Spaces to ask questions of the candidate.
Dr. Jay Bhattacharya, a Stanford University professor who advises DeSantis on COVID-19 policy, discussed how to disrupt public health institutions and prevent censorship of medical opinions. Manhattan Institute senior fellow Chris Rufo praised DeSantis for banning critical race theory in classrooms and diversity, equity and inclusion programs at universities. Dana Loesch, a former spokesperson for the National Rifle Association, raised questions on banks handing over consumer information to FBI that could be used to track gun purchases.
This all gave DeSantis a platform to discuss his accomplishments as Governor, from a ban on retail codes for guns to education policies billed as parental rights expansions and restrictions on social media censorship.
The conversation, with Musk hosting and internet venture capitalist David Sacks serving as emcee, also touched on the more niche topic of cryptocurrency. DeSantis promised to preserve the right for individuals to put money in Bitcoin and other types of crypto while noting Florida just became the first state in the country to ban central bank digital currencies.
U.S. Rep. Thomas Massie, a Kentucky Republican who served with DeSantis in Congress, pressed the Governor on specific issues. He secured a commitment DeSantis would sign the Regulations from the Executive in Need of Scrutiny Act (SR 68) if given the opportunity as President.
But Massie also pushed on how DeSantis would deliver on promises to limit government.
"Why is it that Congress is so feckless at reining in these government agencies?" Massie asked.
DeSantis said his years in the Governor's mansion and study of constitutional power will allow him to leverage the mechanisms of government for change.
"Buckle up when I get in there because the status quo is not acceptable," DeSantis said, "and we are going to make sure that we re-constitutionalize this government."
While DeSantis in Florida has sometimes been accused of erasing the lines between executive power and legislative checks, he said Biden has been abusive.
"Biden's weaponized the power of the administrative state to advance his left-wing agenda," DeSantis said. "We will reconstitute, nationalize the executive branch and we'll bring the administrative state to heal."
"Now you can't do any of that if you don't win. There is no substitute for victory. We must end the culture of losing that has infected the Republican Party in recent years. The tired dogmas of the past are inadequate for a vibrant future."