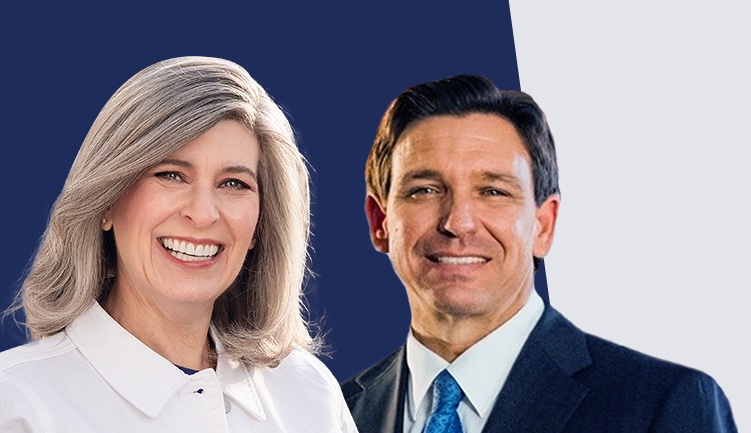 He joins every other major candidate in attendance— except Donald Trump.
His presidential campaign in full gear, Gov. Ron DeSantis has made the guest list for all the cool Iowa parties.
U.S. Sen. Joni Ernst, an Iowa Republican, announced through social media the Florida Governor will now be a special guest at "Joni's Annual Roast and Ride." He's the first Florida candidate to make that list.
The political fundraiser benefits Ernst's re-election campaign along with several Republican groups. But as a political event in the state hosting the first-in-the-nation presidential caucus, it's drawn the interest of the major contenders for the Republican nomination.
"All of the 2024 presidential hopefuls have been invited to attend," Ernst said in a video announcing the June 3 event.
Other declared candidates already confirmed they will attend include former California gubernatorial candidate Larry Elder, former South Carolina Governor Nikki Haley, former Arkansas Gov. Asa Hutchinson, businessmen Perry Johnson and Vivek Ramaswamy and South Carolina U.S. Sen. Tim Scott.
Former Vice President Mike Pence, who is also expected to enter the contest, announced earlier this month he will attend.
The event offers to the candidates the chance to reach Iowa voters, along with other influential Iowa GOP political leaders. Iowa Gov. Kim Reynolds and U.S. Sen. Chuck Grassley will attend, as will U.S. Reps. Randy Feenstra, Ashley Hinson, Mariannette Miller-Meeks and Zach Nunn.
Feenstra and Reynolds both hosted DeSantis for events in Iowa before the official launch of his campaign last week.
Iowa in January is expected to hold the first caucuses in the country, something required by state law, though the date of the caucuses remains uncertain.
In the meantime, the DeSantis campaign has placed a priority on rallying support in the Hawkeye State. While DeSantis trails former President Donald Trump in most polling, the belief is a win out of the gate would propel DeSantis to frontrunner status, or at least confirm his standing as the only viable alternative to Trump for the nomination.
Notably, Trump is the only major Republican candidate who has yet to confirm his attendance to Ernst's event.