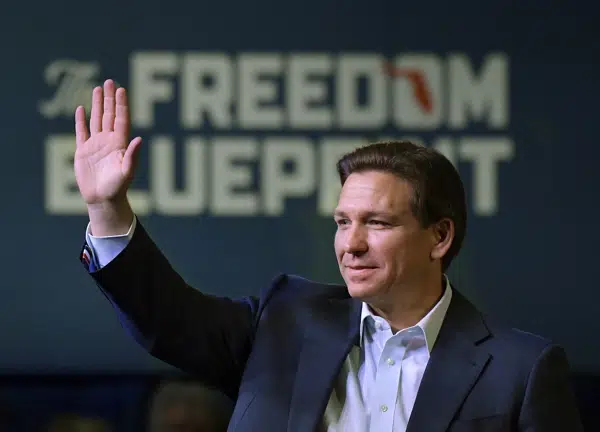 His name first appeared on the ballot a dozen years ago. Is his meteoric rise about to reach new heights?
Supporters call him a fighter. Critics call him a fascist. Gov. Ron DeSantis today made clear how he wants the world to see him: as a future President of the United States.
Months off a landslide re-election to secure a second term as Florida's Governor, DeSantis has announced he's running for President, ending months — years, really — of speculation about his next political move.
The announcement came ahead of a reported donor get-together in Miami and likely a public rally next week in Dunedin, the Tampa Bay suburb where DeSantis graduated high school.
It's a grand launch for a politician who barely a decade ago emerged as a dark horse winner in a congressional Primary and who kept a notoriously small circle through much of his campaign for Governor in 2018. Now, DeSantis aims for the ultimate political prize in American politics.
It's a long road ahead before DeSantis' face appears on commemorative china plates. For now, the path seems to require running through two Presidents, with former President Donald Trump vying again for the Republican nomination and incumbent Democratic President Joe Biden seeking a second term. Polls show neither political giant will fall quietly to DeSantis.
Yet within the state of Florida, no presidential campaign launch has generated the political shockwaves DeSantis 2024 already has. Not Jeb Bush or Marco Rubio in 2016. Certainly not Bob Graham in 2004.
The Legislative Session seemed to move around DeSantis' ambitions, both in the bills produced and the rate at which each new one landed on his desk. Before a firm launch date could be circled on the calendar, a majority of the Legislature endorsed DeSantis' presidential ambitions.
The revolution around DeSantis appears all the more insurgent considering it takes place fewer than five years after DeSantis upset the state establishment to secure the nomination for Governor and defied polls to win a Governor's race with a record slim margin.
Born in 1978, DeSantis would become the third youngest President ever sworn in should he take the oath of office on Jan. 20, 2025, with only Teddy Roosevelt and John F. Kennedy younger at their inaugurations. With three young children, the oldest born in 2018 and the youngest in 2020, he represents a generational shift in politics.
The barely-Generation X-er's career also seems nascent in political terms. DeSantis never held office before 2012, when Florida's congressional redistricting generated a political opportunity. DeSantis filed for an open seat in a district spanning much of the Space Coast north through Daytona Beach and into Saint Augustine.
At age 33, he boasted little in terms of record. He taught two years at Darlington School, a boarding school in Rome, Georgia, but chiefly ran on his record as a Navy veteran and JAG officer. Married to local news reporter Casey DeSantis, his chief claim to fame was penning the little-read book Dreams of our Founding Fathers, a conservative response to Democratic President Barack Obama's agenda.
But he emerged from a seven-candidate Republican Primary field, taking 39% of the vote, while closest competitor Fred Costello, a state Representative, won 23%.
DeSantis arrived in Washington two years after the Tea Party revolution and after Obama secured his second term. He became one of nine original members of the House Freedom Caucus, branded as the most conservative members of the GOP, but known as much for a raucous bucking of the establishment as for its members' ideology.
But DeSantis would be one of the group's less prominent members. Colleagues in Congress recall the young Congressman as a bookworm, a lawmaker who slept in his office in Washington and read studies in the evening. In 2016, he briefly ran for U.S. Senate but trailed in polls, then joined a mass exodus of candidates who quit after Rubio suspended his White House bid and announced he would seek re-election.
After Trump's surprise White House win in 2016, DeSantis sought more of the spotlight. With the new President a constant target of Democratic activists and lawmakers, DeSantis put his courtroom background to use defending Trump from attacks. As Special Counsel Robert Mueller investigated Russian meddling in the 2016 Presidential Election, DeSantis became a frequent defender of the President in appearances on Fox News.
That earned Trump's notice. When DeSantis ran for Governor in 2017, Trump endorsed him over Agriculture Commissioner Adam Putnam, the favorite of the Florida establishment. DeSantis won the GOP nomination, buoyed by his most famous endorser, setting up a showdown with Andrew Gillum, a Democrat then generating buzz as a presidential contender. But in a year where three statewide races went to recounts — including his — DeSantis pulled out a squeaker victory of just over 30,000 votes, ending Gillum's meteoric rise and starting his own.
The chaotic 2018 election cycle left even Republican supporters uncertain what to expect from DeSantis as Governor.
"Nobody knew what we were going to get from him," said Christian Ziegler, Republican Party of Florida Chair. A Republican state committeeman at the time, Ziegler met with DeSantis and knew he was a social conservative, but that was about it.
It's easy to forget, but in the early DeSantis days, he focused on largely nonpartisan issues.
Nikki Fried, who won election as Florida Agriculture Commissioner in 2018, recalls a conversation with the Governor where he promised to work with her despite the fact she was a Democrat.
"We were two leaders of separate parties, but were of similar ages, and were similar on some issues we campaigned on, like the environment," she said. "So I was extremely hopeful."
On his second day in office, DeSantis traveled to Bonita Springs and announced a $2.5-billion investment in Everglades restoration and water quality. The next day, he voted to pardon the Groveland Four, individuals arrested in one of Florida's most infamous Jim Crow-era incidents.
Ziegler said it's easy to overlook how important those early actions were in winning over moderate voters in the state of Florida. But for most of America, the DeSantis story truly began just over a year later, as the coronavirus spread within the United States.
In March 2020, Florida became the first state on the eastern seaboard with diagnosed cases of COVID-19. Early on, DeSantis took similar actions to many gubernatorial peers. He urged a major music festival in Miami to be canceled, and issued a lockdown order. But he quickly adopted a vocal reluctance to severe restrictions and started reopening businesses before other large states.
"In the beginning you had a lot of fear and everyone didn't know what to do," said Evan Power, a Tallahassee party leader and lobbyist. "But the Governor said the data isn't matching up with keeping everyone locked up forever. So when we opened up and we didn't close our beaches, it made him a national figure different from everyone else."
The pandemic also required DeSantis to spend far more time in front of cameras. He gave daily briefings with the press, and eventually developed an ease and appetite for pushing back on questions.
"When he started out, he was not a big communicator," Ziegler recalled. "Then he started doing press conferences and pushing back with facts and studies. And when the media would dig at him, he started punching back. Then all of a sudden, the base sort of perked up."
But Fried said he also became increasingly isolated during the pandemic. He started shutting out dissent, even from other Republicans. While Fried said she saw those tendencies even before the pandemic, things rapidly worsened.
"I said at a press conference in 2020, he became a dictator," Fried said. "It was his way or the highway."
She decided then to challenge DeSantis for Governor, though she ultimately lost the Democratic nomination to then-U.S. Rep. Charlie Crist. But while Democrats became increasingly frustrated with DeSantis, his policies proved popular among a base frustrated by health restrictions.
Whether because of COVID-19 policies or an organic change in the works for years, the electorate also became more conservative throughout DeSantis' first term. While Trump lost re-election in 2020, he won Florida, the only state where he posted a larger margin of victory than in 2016.
As both the pandemic and Trump's first term became part of history, DeSantis found new ways to stay in the headlines — not as a presidential defender, but as a contender.
With a Democrat in the White House, DeSantis' reputation as a fighter only grew. He tossed regular barbs at Biden over inflation, immigration and anything in the national news. And he started making moves that put himself in coast-to-coast headlines.
He removed a Democratic prosecutor he regularly derided as George Soros-funded, with court documents later showing he sought such an opportunity. DeSantis chartered a plane to pick up refugees at the Texas-Mexico border and fly them to Martha's Vineyard, with the migrants never stepping foot in Florida.
But DeSantis in the last two years also showed, in times of crisis, an ability to move from politician and statesman. He sat alongside Biden at press conferences after a Surfside condominium collapse, where the two seemed to be working in concert.
He later led the President on a tour of parts of Southwest Florida devastated by Hurricane Ian. Biden actually had to cancel a campaign event with Crist to visit Lee County, where he offered praise for DeSantis' storm response. "What the Governor's done is pretty remarkable so far," Biden told reporters, marking a major hit to Crist's campaign even if that wasn't the President's intent.
All that prefaced a 19-percentage-point re-election for DeSantis in November, the greatest margin ever for a Republican running for Florida Governor.
This Legislative Session served in many ways as a policy rollout for a DeSantis campaign.
The Governor signed a ban on abortions after six weeks of pregnancy, an end to concealed carry requirements for gun owners and limits on health care for transgender minors. He has put into state statutes laws segregating public bathrooms by gender and forbidding classroom instruction about gender identity through 8th grade. Often, boards appointed by DeSantis have gone farther in restricting trans health care and classroom instruction.
So what lies ahead?
Fried, now Florida Democratic Party Chair, said the nation would rue electing him.
"The entire country will be on pins and needles every single day if he dared to become President of the United States," she said. "I will be so bold as to say our democracy will be over."
Republicans clearly feel less dread. Power considers the conservative policy victories less a steamroll of policy and more a product of the Governor proving popular and passing an agenda while he has Republican supermajorities in the Legislature.
"It's the ability to move conservatively," Power said, "and that's where voters want him to go."
DeSantis clearly sees a path to the presidency, but of note, polls show him trailing Trump badly. The gap has only widened even as DeSantis successfully pushed his agenda through the Florida Legislature. Trump, who has cast a DeSantis candidacy as fundamentally disloyal after Trump gave the Governor help in 2018, said DeSantis holds "ZERO chance" of winning a GOP Primary this year.
"Every day, more and more Americans are realizing just how out of step Ron DeSantis is with their values and how unelectable he really is," said Karoline Leavitt, a spokesperson for the pro-Trump Make America Great Again Inc.
State Sen. Joe Gruters, a former Republican Party of Florida Chair, suggested now is simply not the right moment for a run.
"The Governor has a bright future, but the need for President Trump should trump any political ambition as we work to restore America's greatness," Gruters said. "President Trump got the job done before and he'll do it again on behalf of all Americans."
On the other hand, DeSantis notably remains the only other Republican polling in double digits against Trump. But that hasn't kept other contenders like former South Carolina Gov. Nikki Haley, former Arkansas Gov. Asa Hutchinson and, most recently, U.S. Sen. Tim Scott of South Carolina from launching campaigns.
But Florida's Governor indisputably has generated more buzz, including among his critics. The group Florida Watch has criticized DeSantis' policies for years and appears ready to go national with concerns, setting up press conferences with media in states when DeSantis' book tour has rolled into town. The group sent a media advisory ahead of DeSantis' launch attacking him for prioritizing his agenda over solving issues like Florida's property insurance crisis.
"While Floridians work hard to keep a roof over their heads and food on the table, Ron DeSantis is abandoning our state to advance his own political ambitions," said DeSantis Watch Constituencies Director Natasha Sutherland.
"Whether it is spending millions of taxpayer dollars in court to defend unconstitutional laws or simply having his rubber stamps in the Legislature change it for him, Ron DeSantis clearly does not believe he should play by the same rules as the rest of us."
Ziegler stressed that as state Chair, he will remain neutral through the Republican Primary. But he said early barometers simply don't demonstrate well who ultimately wins Presidential Elections. While pollsters can gauge national opinion at any point, it is momentum gained in early Primary states that will likely determine who wins the Republican nomination.
"DeSantis fundamentally changed what it means to lead as a Republican. We used to be a social club, now we're a fight club," Ziegler said.
"But we have two fighter leaders who might be running against each other. I don't know what will resonate as far as styles, personalities when running an election for the presidency. Trump had a lot of success as President and we were much better off two years ago than it is now under Biden. A lot of people will focus on personalities, but I actually think people will go issue by issue. Voters are a lot more awake to what is going on."
Most in Florida agree that no Republican candidate can win Florida except for Trump or DeSantis, the two contenders who call the state home. But candidates' standing could vary significantly before Florida Republicans go to polls on March 19.