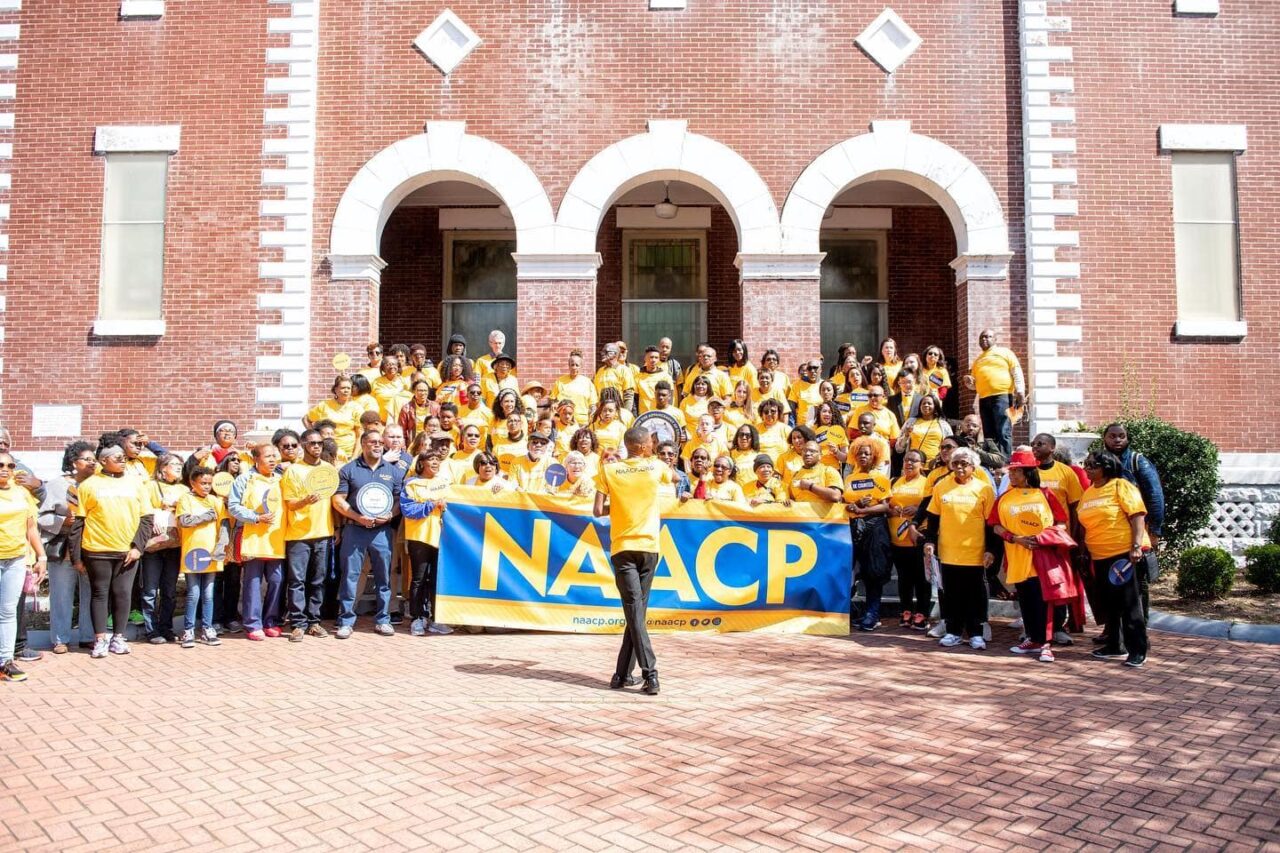 The 5-day tour begins in Jacksonville, runs north to Tallahassee, west to Tampa, south to Miami and back along the state's east coast.
Five progressive groups are planning a 15-city protest next month to mobilize minority members of the electorate and spread word about what not voting in 2024 could mean for their future in the Sunshine State.
Members of the Florida NAACP — which this week issued a travel advisory for Florida in response to laws the group calls "openly hostile" to people of color and LGBTQ individuals — will tour the state June 19-23. The Transformative Justice Coalition, Black Votes Matter, American Federation of Teachers and Rainbow PUSH Coalition will lead the charge alongside them.
The flagship transport in the "rolling protest" will be a 55-passenger U.S. Coachways bus named after late civil rights leader and U.S. Rep. John Lewis.
Its official title: the "John Lewis 'Make Good Trouble' Bus."
"This rolling protest and votercade is one of many actions to be undertaken in Florida to raise awareness and encourage Black Floridians to stand up and fight back against attacks on our communities, our democracy and our history, by registering to vote and voting every election," said Adora Obi Nweze, President of the NAACP Florida State Conference of Branches.
Following the 2023 Legislative Session, Gov. Ron DeSantis has signed measures defunding diversity programs and stamping out "monocultures" at public universities and colleges, banning so-called "woke banking," chipping away at teachers unions, shifting hundreds of millions of state funds to charter schools, banning abortion after six weeks of pregnancy, and a passel of new laws targeting LGBTQ-inclusive policies and practices.
The NAACP's travel warning joins a similar advisory the Florida Immigration Coalition and LGBTQ rights group Equality Florida issued in April and another that the League of United Latin American Citizens published last week. Those were in response to Florida's new LGBTQ laws and a sweeping measure the Legislature passed — which DeSantis since signed — clamping down on illegal immigration.
The protests next month are being coordinated by Florida NAACP branches in 15 cities. Participation is expected by many other civil and voting rights groups, labor unions, women's organizations, advocates for people with disabilities, LGBTQ groups, and student, teacher and librarian associations.
Activities will include marches, voter registration, teach-ins, banned book giveaways, education about new voting laws, press conferences and teacher recognitions.
View the preliminary schedule below.

Monday, June 19 — Jacksonville
— 7-8:15 a.m.: Registration and breakfast welcoming program.
— 9-9:30 a.m.: Juneteenth 'Stay Woke Florida' rolling protest kickoff press conference.
— 9:30 a.m.: Votercade to Tallahassee.
— 12:30-2:30 p.m.: Arrival in Tallahassee, followed by a press conference, march, rally, celebration, voter registration and banned book giveaway at Bethel Missionary Baptist Church.
— 2:30 p.m.: Departure: Votercade from Tallahassee to Gainesville.
— 5:30 p.m.: Gainesville Juneteenth reception, concert.
Tuesday, June 20 — Gainesville
— 8:30 a.m.: Votercade to Ocala.
— 9:30 a.m.: Arrival at Ocala.
— 10:30 a.m.: Votercade from Ocala to Leesburg.
— 11:30 a.m.-1 p.m.: Arrival at Leesburg, followed by a program and lunch.
— 1-2 p.m.: Votercade from Leesburg to Orlando.
— 2 p.m.: Arrival at Orlando's Lake Lorna Doone Park.
— 4 p.m.: Votercade from Orlando to Tampa.
— 6:30 p.m.: Tampa program and dinner.
Wednesday, June 21 — Tampa
— 8-9 a.m.: Votercade to Sarasota.
— 9-11 a.m.: Sarasota program, followed by votercade to Fort Myers.
— 12 p.m.: Arrival at Fort Myers, luncheon.
— 2 p.m.: Votercade to Miami.
— 7 p.m.: Miami program and dinner.
Thursday, June 22 — Miami
— 10-11:30 a.m.: Morning program
— 1-2:15 p.m.: Votercade to Fort Lauderdale.
— 2:30-4 p.m.: Fort Lauderdale program.
— 4-5 p.m.: Votercade to West Palm Beach.
— 7 p.m.: West Palm Beach dinner program.
Friday, June 23 — West Palm Beach
— 8-10:45 a.m.: Votercade to Cocoa Beach.
— 10:45 a.m.-2 p.m.: Votercade to Daytona Beach.
— 2:10-3:30 p.m.: Wreath laying in honor of Mary McLeod Bethune, followed by Votercade to St. Augustine.
— 4:30-6 p.m.: St. Augustine program.
— 6-7 p.m.: Votercade to Jacksonville, followed by closing reception and party.