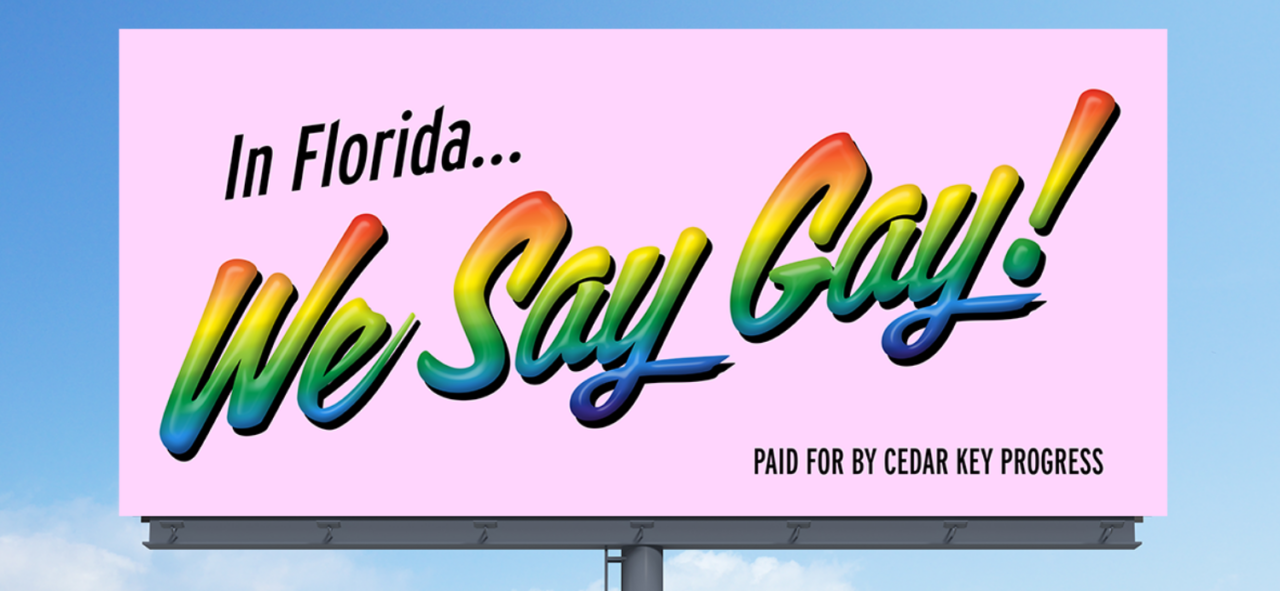 Pollsters also found voters split on the 'don't say gay' bill, but supportive of bathroom restrictions.
Whatever Florida voters think of Gov. Ron DeSantis, a new poll suggests most Floridians oppose many of his policies as anti-LGBTQ.
A poll by Civiqs found 50% of Florida voters oppose a new ban on diversity, equity and inclusion programs at Florida universities and colleges. Additionally, 48% oppose a ban on LGBTQ books in Florida schools, an issue on which has given Florida national notoriety after books were banned in classrooms.
Cedar Key Progress, a liberal political committee that just sponsored six "We Say Gay" billboards up around the state, commissioned the survey. The billboards will stand through June, Pride Month, and reference another bill DeSantis has touted but which has drawn scorn from the left. That would be a parental rights in education bill dubbed by critics as the "don't say gay" law.
"The stakes have never been higher than they are right now for the trans and queer community," reads a statement from Cedar Key Progress. "Florida Republicans are trying to make it so that our state is unsafe for anyone who isn't a Christian, straight, white man, and we won't stand for being known for all of this bigotry and hate. We say gay because the Florida we know welcomes everyone, whether you're trans or cis, gay or straight, Black, brown or white."
Billboards will appear in Tallahassee, Pensacola, Yulee, Titusville, Winter Haven, and Summerfield starting May 30.
A deeper look at the survey results shows Floridians divided on many issues.
Pollsters asked how voters feel about removing books mentioning gay or transgender people and history from school libraries, and found 48% oppose that action while 42% support it. The results show that while 72% of Republicans support the new restrictions, 49% of independents and 87% of Democrats do not. Also of note, while male respondents were closely divided, 51% of women oppose the content bans while just 34% support them.
The survey shows 50% oppose the Governor's ban on DEI programs in higher education, one of the issues highlighted during his presidential campaign launch on Twitter. Only 39% of voters support the ban. Again, the anti-DEI legislation has support among Republicans, with 70% approving. But independents oppose it 48% to 41% and 91% of Democrats dislike the ban compared to 3% who support it. The bill has the support of 46% of White voters, but is opposed by 88% of Black voters. Hispanic voters break against the proposal 47% to 43%.
It's unpopular among those with no college education, with 45% opposed and 42% supportive. But the law related to higher education is less popular the more college education individuals have. About 60% of college graduates oppose the DEI ban, and 62% of post-graduate-educated voters are against the restriction.
On the "don't say gay" law, which the state Board of Education expanded through 12th grade this year, the public appears evenly divided. About 46% support the law and 46% oppose it. Notably, independents break in favor of the law, with 47% supporting it and 43% opposed to it.
But there are issues where the public narrowly supports new laws seen as targeting the LGBTQ community. Results show 47% of Floridians support a law recently signed by DeSantis that blocks transgender people from using bathrooms respective to their gender identity and requires use of public restrooms based on gender assigned at birth. Just 39% oppose the law. While 67% of Democrats are opposed to the bathroom segregation law, 47% of independents support it and only 38% are opposed. About 79% of Republicans support the law.
Pollsters surveyed 400 Florida adults May 18-22. Results have a 5.8% margin of error.