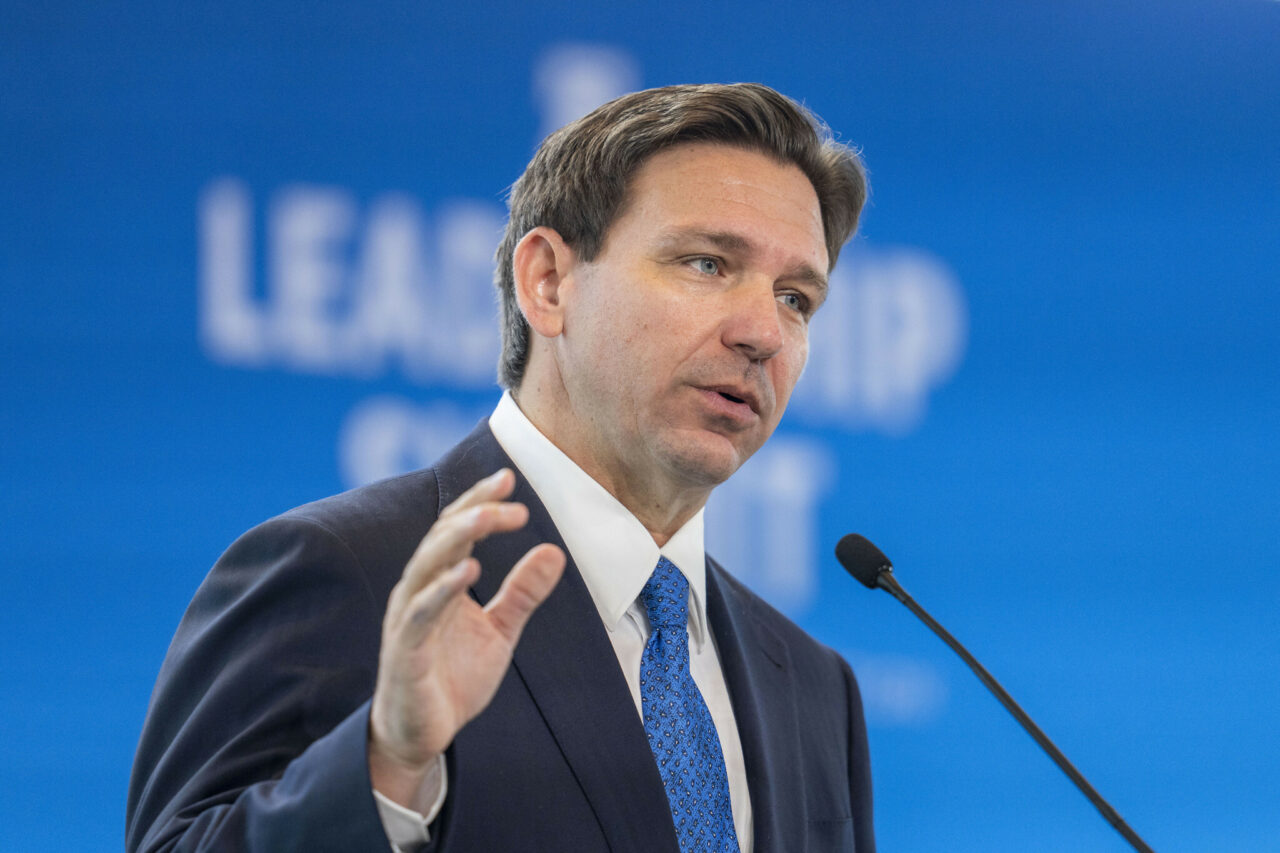 The Campaign Legal Center said a Florida state committee can't legally ship $80 million into a federal super PAC.
It's been less than a week since Gov. Ron DeSantis' presidential campaign launched. Already, a watchdog group said the campaign is breaking the law.
The Campaign Legal Center alleges $80 million was illegally transferred from Friends of Ron DeSantis, a state political committee, to Never Back Down, a super PAC providing outside support for DeSantis' presidential ambitions.
In a complaint filed with the Federal Elections Commission, the Washington group said the Florida Republican directed money from a state committee to the super PAC despite strict restrictions on coordination.
Friends of Ron DeSantis, which recently was renamed Empower Parents PAC, supported DeSantis' campaigns for Governor in 2018 and 2022. Over its lifespan of more than four years, the committee has raised nearly $223 million.
While DeSantis just formally launched his presidential campaign on May 24, attorney Saurav Ghosh alleges in the CLC complaint DeSantis effectively has campaigned for President since at least March 10. That's when The Washington Post reported DeSantis already privately told supporters he planned to run for higher office.
The FEC said DeSantis traveled the country to fundraise an amount far greater than what he needed to secure re-election. That seemed to be confirmed by the fact that Friends of Ron DeSantis has only ever spent a little north of $140 million. The committee had about $90 million in cash-on-hand left when DeSantis won re-election by a 19-percentage-point landslide.
DeSantis continued to raise funds after he won re-election. He also started traveling to events in early Primary states including Iowa, New Hampshire and Nevada. Meanwhile, Friends of Ron DeSantis continued raising millions even though the committee could no longer serve its original mission. DeSantis can't seek re-election to a third term as Governor due to term limits. But the committee has changed purpose and name, no longer existing explicitly to support DeSantis as a candidate for Governor.
The campaign notably is chaired now by state Sen. Blaise Ingoglia, a former Republican Party of Florida chair who has endorsed DeSantis for President and rallied state lawmakers to also endorse the Governor.
Of note, Florida law allows coordination with state committees that face fewer restrictions on fundraising. But federal law forbids coordination between candidates and super PACs with similarly supportive missions.
Never Back Down, a super PAC dedicated to helping elect DeSantis as President, formed this year and spent nearly $1 million setting up an infrastructure before DeSantis' formal launch. The organization ahead of the launch was frequently described as an effort to lay groundwork for a DeSantis campaign before one officially existed, but critics already had alleged this made a "mockery" of campaign finance laws. And officials with the super PAC openly told the Post they intend to "push the bounds" of support historically provided by super PACs.
The CLC complaint suggests Never Back Down's work doesn't skirt federal regulations, but rather violates them. Looking at the excessive cash balance with the state committee, the complaint suggests it's clear there's a plan to convert that money raised for DeSantis' gubernatorial re-election into funding for the super PAC.
"Friends of Ron DeSantis has contributed, or will soon contribute, over $80 million to Never PAC," the complaint states.
The CLC complaint intends to cut that type of action off before it takes place.
"The Commission should seek appropriate sanctions for any and all violations, including civil penalties sufficient to deter future violations, injunctive relief to remedy these violations and prohibit any and all future violations, and such additional remedies as are necessary and appropriate to ensure compliance with (the Federal Election Campaign Act)," Ghosh wrote.
The Washington, D.C.-based CLC in November also accused former President Donald Trump of using soft money before his formal campaign launch.
DeSantis' campaign has not responded to requests for comment.