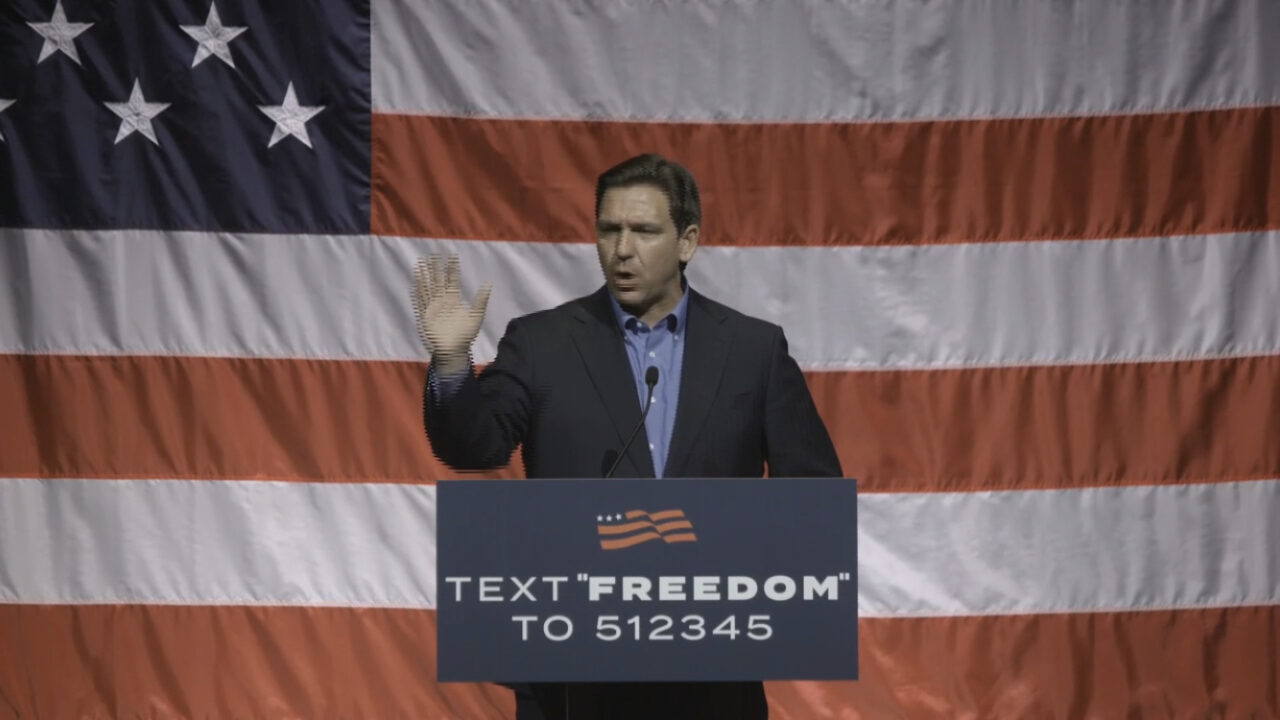 However, more than half of Florida Republicans in the House back Donald Trump.
On the 2024 campaign trail, Gov. Ron DeSantis is taking credit for delivering a Republican majority in the U.S. House.
The presidential candidate told a crowd in Greenville, South Carolina that by "leading a ticket," he had a "responsibility to help the other candidates who are running."
And that help included redistricting, apparently, which ultimately changed the contours of the Florida Congressional Delegation and facilitated a slender Republican majority in the House.
"We helped elect four additional Republicans to the U.S. Congress and we probably wouldn't have the majority if that hadn't happened," DeSantis said.
Florida now has 20 Republicans in Congress, up from 16 in the previous Congress. The state gained a seat in reapportionment, taking the state from a 15-12 split to a 20-8 GOP advantage.
DeSantis' office drew Florida's congressional map, one approved by the Legislature on April 21, after DeSantis vetoed a map produced by the Legislature during the Regular Session.
The current map has 20 districts won by Republican Donald Trump in 2020 and just eight won by Democrat Joe Biden. The map DeSantis vetoed had an 18-10 split.
DeSantis communicated his expectations strongly in March 2022, during the heat of the process.
"At the end of the day, we were very clear about what the Legislature was doing, that that would not get my signature. I think that there was a belief, a mistaken belief that somehow I didn't mean what I said," DeSantis said.
"Guys, I mean what I say," he emphasized. "And so we ended up in this position. And so pass something that will get my signature."
Despite the Governor engineering a Republican-leaning map that did ultimately secure the Congressional majority, more than half of Florida's Republicans in the House have endorsed Donald Trump.
U.S. Reps. Gus Bilirakis, Vern Buchanan, Byron Donalds, Carlos Giménez, Matt Gaetz, Anna Paulina Luna, Brian Mast, Cory Mills, John Rutherford, Greg Steube and Michael Waltz have all endorsed Trump.
Meanwhile, Rep. Laurel Lee, whom DeSantis appointed to be Secretary of State, is the only Republican in the delegation to back the Governor's 2024 bid.
U.S. Reps. Aaron Bean, Kat Cammack, Mario Díaz-Balart, Neal Dunn, Scott Franklin, Bill Posey, María Elvira Salazar and Dan Webster are all uncommitted.
___
Florida Politics reporter Jacob Ogles contributed to this post.