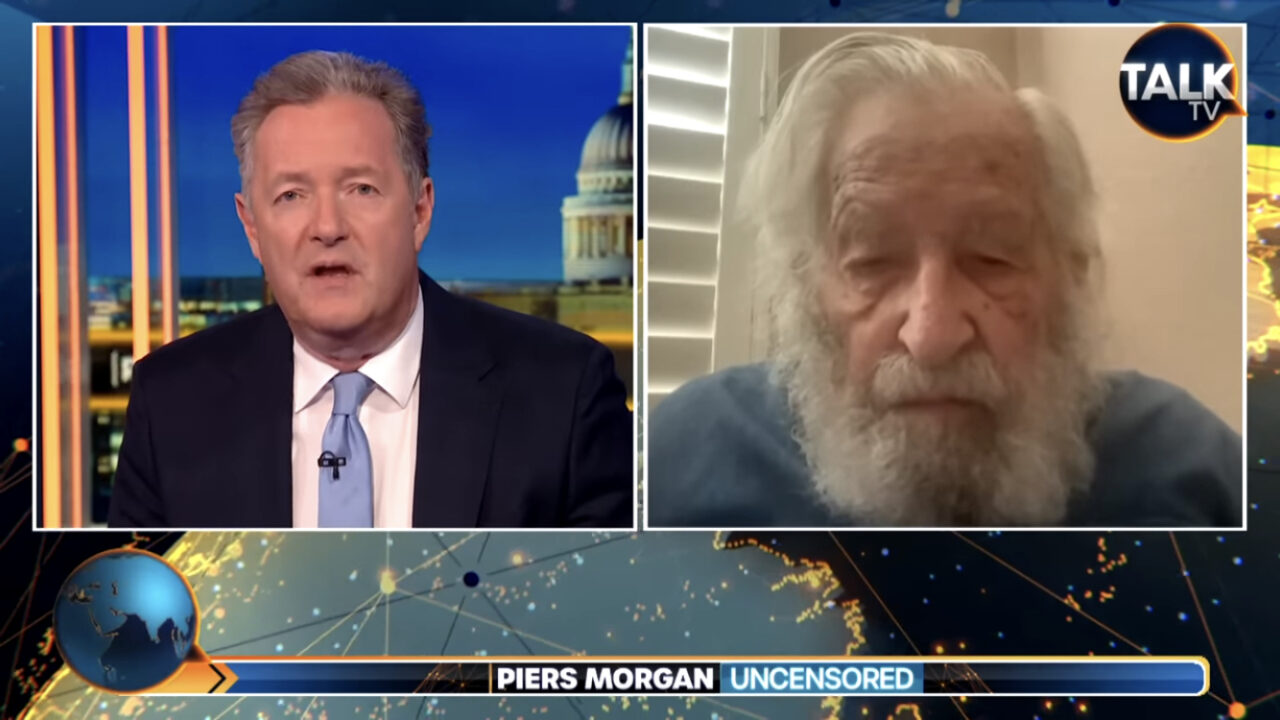 'You have to teach a kind of history which glorifies the United States. Nothing about what actually happened.'
Nonagenarian linguist Noam Chomsky is knocking Florida's Governor for attacking "freedom of speech."
The Massachusetts Institute of Technology professor emeritus expressed his concerns with Ron DeSantis' changes to Florida educational discourse during an interview with Piers Morgan this week.
"There certainly is an attack on freedom of speech, even freedom to read in the United States," Chomsky said. "Ron DeSantis is running for president as he just announced. He has imposed regulations, laws in Florida which make it illegal to teach authentic American history. You have to teach a kind of history which glorifies the United States. Nothing about what actually happened."
DeSantis was especially vocal in his objections to a proposed Advanced Placement African-American Studies course. "Queer theory," "abolishing prisons," "social justice," and "intersectionality" nettled the Governor.
DeSantis said the state prefers to "do history," which is "just cut-and-dry history."
"You learn all the basics, you learn about the great figures. And you know, I view it as American history. I don't view it as separate history. We have history of a lot of different shapes and sizes," the Governor said in January. "People that have participated to make the country great. People that have stood up when it wasn't easy. And they all deserve to be taught."
Chomsky went on to critique the Governor's focus on abolishing "critical race theory," asserting that the intellectual genesis for opposition to that on the right came from New College trustee Christopher Rufo.
"What is critical race theory? Does anybody know? Critical race theory is a slogan invented by the right wing and the person who invented it. Rufo has been very open and frank, he says we just use this as a way to refer to everything we hate," Chomsky contended.
"If you want to know what critical race theory actually is, it's a small academic discipline which suggests which investigates systematic elements of racism in America, they certainly exist. It's never reached the schools, schools wouldn't even know what it is," Chomsky charged.
"This is invented by the right wing," Chomsky added, as an attack on "teaching American history" and  "teaching the gender issues."
"So we'll call it critical race theory, but it's a small academic discipline which no one ever heard of until it was picked up primarily by Rufo and then expanded through the Republican Echo Chamber to be some major attack."
DeSantis prioritized the "Stop WOKE Act," legislation to quell university treatments of racism, sexism, and related inequalities, but thus far it is failing in federal court. The legislation would ban critical race theory and give parents a cause of action to sue districts promulgating CRT concepts.