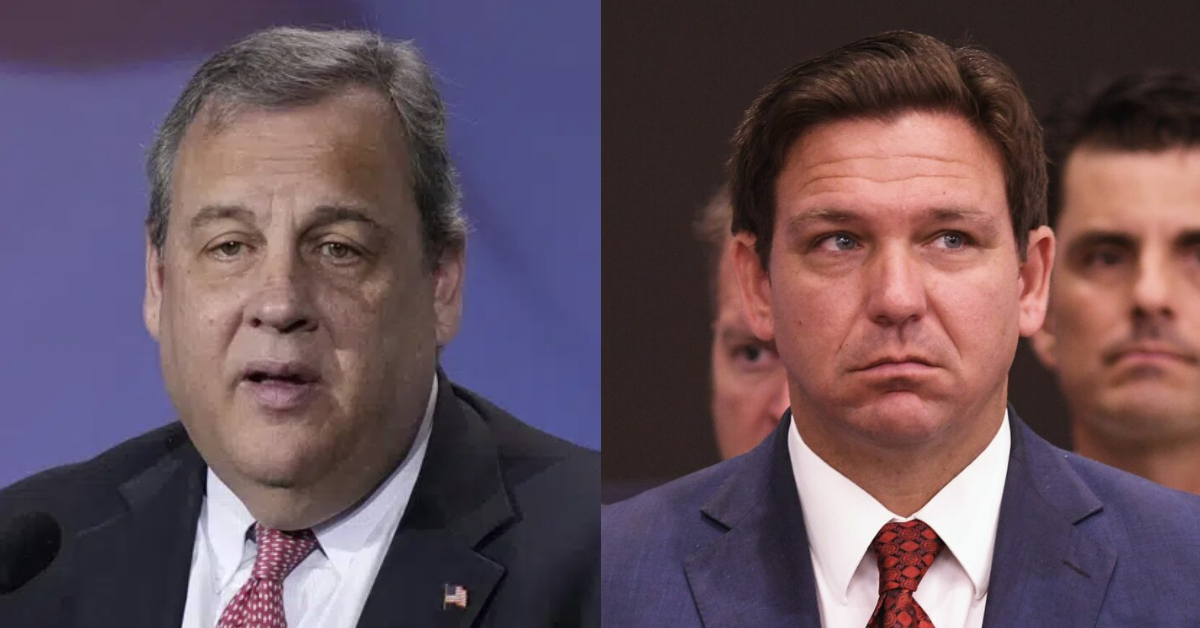 'Did he have a TV? Was he alive that day?'
Ron DeSantis is taking fire from a 2024 rival for a non-answer to a question about the Capitol riot on Jan. 6, 2021.
During a CNN interview, former New Jersey Gov. Chris Christie pilloried a response DeSantis delivered during a New Hampshire town hall earlier in the week. A high school student at the town hall asked DeSantis whether Trump "violated the peaceful transfer of power" with his actions.
"So I wasn't anywhere near Washington that day. I have nothing to do with what happened that day," DeSantis responded, refusing to directly engage the question. "Obviously, I didn't enjoy seeing, you know, what would happen, but we've got to go forward on this stuff."
For Christie, that answer was insufficient.
"He wasn't anywhere near Washington. Did he have a TV? Was he alive that day? Did he see what was going on? I mean, that's one of the most ridiculous answers I've heard in this race so far. You don't have an opinion about Jan. 6 except to say I didn't particularly enjoy what happened?" Christie told Kaitlan Collins.
"We had people trying to hunt down the Vice President of the United States, chanting 'Hang Mike Pence,' and Donald Trump the entire time sat outside the Oval Office, that little dining room of his, eating a well-done cheeseburger and watching TV and doing nothing to stop what was going on until it got to the point where even he could no longer stand it. … And Ron DeSantis doesn't have any opinion on that?"
The Governor has taken the Jan. 6 riot less than seriously in most comments he made about the event, a striking position given that Florida has passed its own anti-riot legislation.
Responding to an interview question in May on "Clay and Buck," the Florida Governor opened the door to clemency actions on "Day 1" surrounding the attempt to halt the certification of the 2020 Presidential Election.
"Some of these cases, some people may have a technical violation of the law. But if there are three other people who did the same thing, but just in a context like Black Lives Matter, and they don't get prosecuted at all, that is uneven application of justice," DeSantis said. "And so we're going to find ways where that did not happen and then we will use the pardon power and I will do that at the front end."
Back in February, DeSantis likened protests at the Florida Capitol to the insurrection.
"It's interesting that if they're doing that from the Left, then the media says that's 'democracy in action.' They don't say it's an insurrection if you take over a Capitol because of that, but I think that's what it's getting to."
The Governor had commented on Jan. 6 previously, including last spring, when he said concern about the riots that delayed congressional certification of the 2020 Presidential Election was a "dead horse" and a "loser" with voters.
On the anniversary of the incident, he offered similar dismissals of the focus of media and Democrats, diminishing the insurrection.
"This is their Christmas," he said of the media and Democrats at a January 2022 news conference. He expanded on that take in a subsequent fundraising email, contending that "Jan. 6th is like Christmas for the out-of-touch D.C., New York political and media class."