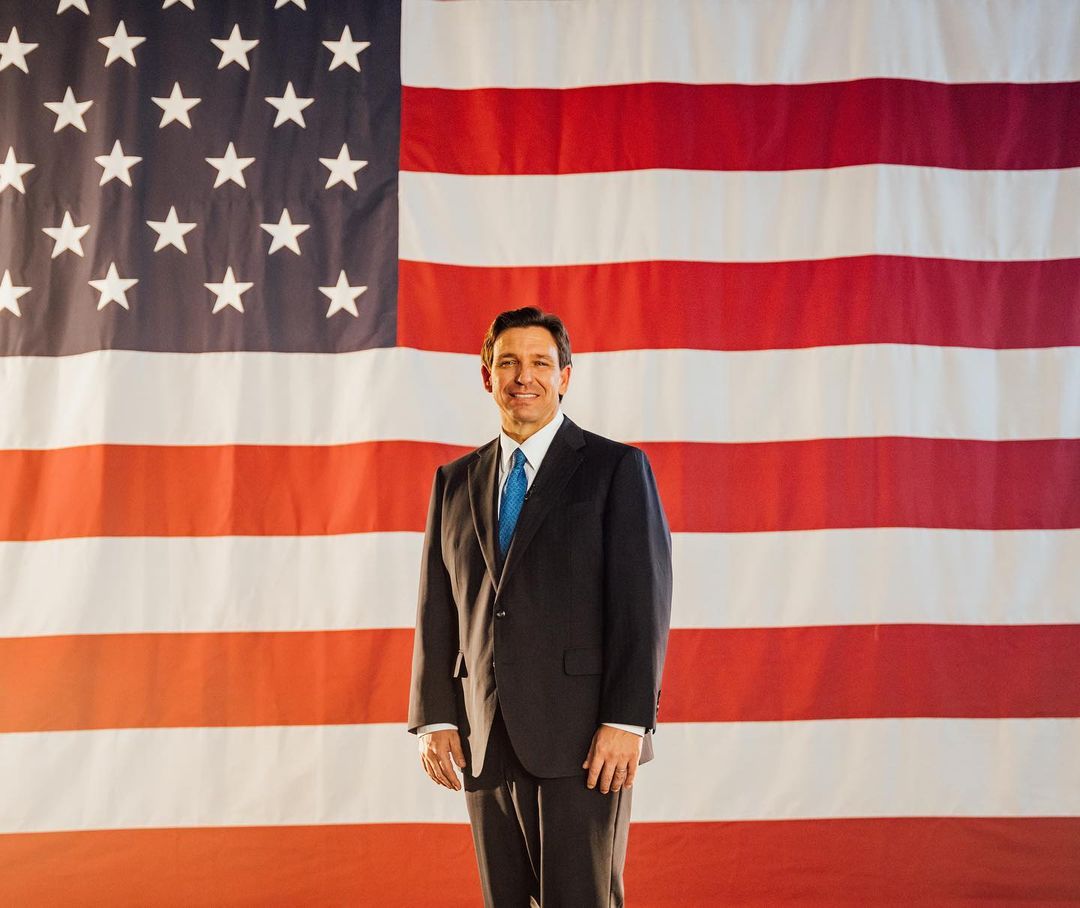 'DeSantis can't rewrite history — he still won't admit that the attack on the Capitol on January 6 was an insurrection.'
The Democratic National Committee is taking issue with what they call "whitewashing" from Ron DeSantis regarding his position on the Jan. 6, 2021 Capitol riot.
"Ron DeSantis can't rewrite history — he still won't admit that the attack on the Capitol on January 6 was an insurrection and hasn't wavered in his flagrant support of insurrectionists who assaulted police officers and continue to spread baseless and dangerous conspiracy theories," asserted spokesperson Ammar Moussa.
"DeSantis kicked off his abysmal presidential campaign considering pardons for violent insurrectionists and refusing to admit that Donald Trump lost the 2020 election and has made clear that he will continue to embrace election denialism in his desperate attempt to win over the MAGA base."
The comments come after DeSantis spent much of Tuesday offering commentary on the siege of the Capitol by Donald Trump supporters seeking to stop the certification of President Joe Biden's election on Jan. 6, 2021.
During a CNN interview with Jake Tapper, Ron DeSantis said it was time to move on past the 2020 election and the aftermath, with the former President reportedly being a "criminal target" for the Jan. 6 riot.
"This country needs to have a debate about the country's future. If I'm the nominee, we'll be able to focus on Biden's failures and I'll be able to articulate a positive vision for the future," DeSantis said.
"I don't think it serves us good to have a Presidential Election focused on what happened four years ago in January. And so I want to focus on looking forward," DeSantis added. "I don't want to look back."
Earlier that same day, DeSantis admonished Trump for standing by as chaos happened on January 6, 2021, as supporters tried to stop certification of the 2020 Presidential Election.
"I think it was shown how he was in the White House and didn't do anything while things were going on. He should have come out more forcefully," the Governor said during a press conference in West Columbia, South Carolina.
DeSantis' change of tone about the events of that fateful day has been weeks in the making.
During a town hall in New Hampshire last month, DeSantis dodged an audience question about Trump's role.
"So I wasn't anywhere near Washington that day. I have nothing to do with what happened that day," DeSantis responded, refusing to directly engage the question.
The Governor has taken the Jan. 6 riot less than seriously in most comments he made about the event, a striking position given that Florida has passed its own anti-riot legislation. He has floated clemency for participants, and mocked concern about the day.
Responding to an interview question in May on "Clay and Buck," the Florida Governor opened the door to clemency actions for some rioters on "Day 1" if he is elected President.
"Some of these cases, some people may have a technical violation of the law. But if there are three other people who did the same thing, but just in a context like Black Lives Matter, and they don't get prosecuted at all, that is uneven application of justice," DeSantis said. "And so we're going to find ways where that did not happen and then we will use the pardon power and I will do that at the front end."
Back in February, DeSantis likened protests at the Florida Capitol to the Jan. 6 riot.
"It's interesting that if they're doing that from the Left, then the media says that's 'democracy in action.' They don't say it's an insurrection if you take over a Capitol because of that, but I think that's what it's getting to."
The Governor commented on Jan. 6 last spring, when he said concern about the riots that delayed congressional certification of the 2020 Presidential Election was a "dead horse" and a "loser" with voters.
On the anniversary of the incident, he offered similar dismissals of the focus of media and Democrats, diminishing the riot.
"This is their Christmas," he said of the media and Democrats at a January 2022 news conference. He expanded on that take in a subsequent fundraising email, contending "Jan. 6th is like Christmas for the out-of-touch D.C., New York political and media class."