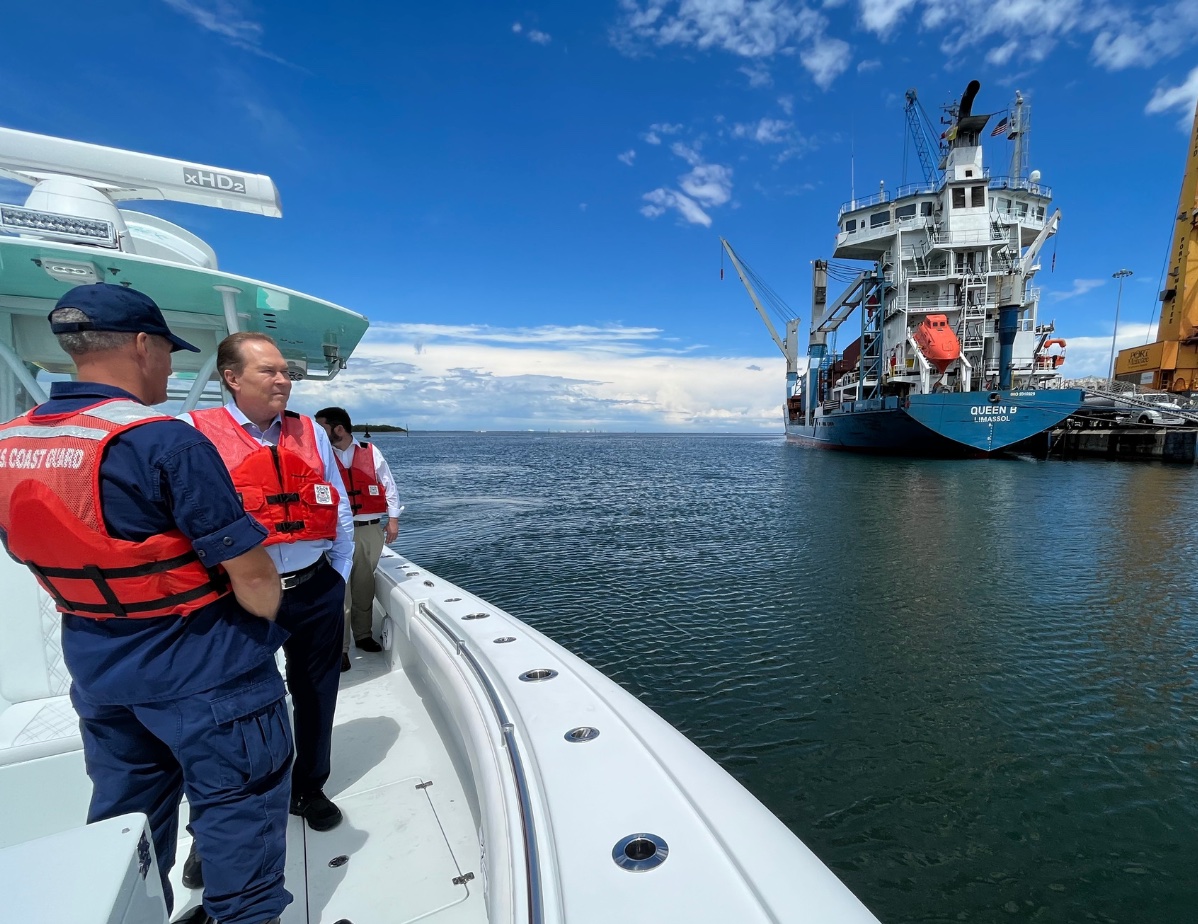 Coast Guard officials have cleaned more than 19,000 gallons of contaminated water since last week.
U.S. Rep. Vern Buchanan said more than 19,000 gallons of oil were likely dumped into waters near SeaPort Manatee.
After touring the waters with the Coast Guard, the Longboat Key Republican said there's no sign of a continued problem such as an oil leak. But that has left officials suspicious someone dumped oil into the water last week as Hurricane Idalia impacted the region.
"Our local waterways, environment and marine life are incredibly important to area residents and Florida's tourism-based economy," Buchanan said.
"With no evidence pointing to any infrastructure failures or pipeline leaks so far, it looks increasingly likely that someone may have dumped this oil and is failing to come forward. Whether an accident or purposeful, any potential bad actors must be held accountable for putting our waterways at risk. Just as water quality is critical to our way of life, Port Manatee is essential to our area's economy, and I'm committed to ensuring both are safeguarded from future spills."
Buchanan toured the impacted area with Coast Guard Captain Michael Kahle and SeaPort Manatee Executive Director Carlos Buqueras. Ahead of the tour, the Congressman provided an update that most of the oil found in the waters had been removed.
The Coast Guard has removed some 19,000 gallons of contaminated water from the port, of which there was approximately 3,500 gallons of heavy, unrefined oil.
Buqueras said it only adds to the mystery that the crude ended up in the local waters. The port in the last fiscal year moved 404.6 million gallons of petroleum products, but not unrefined oil.
"It's still too early to define where exactly that heavy fuel came from, because we don't handle a lot of heavy fuel," Buqueras said.
The Environmental Protection Agency's National Response Center first received reports on Aug. 31 about an oil spill at the port. Cleanup began the following day. About 97% of known contaminants have been removed at this point, according to the Coast Guard.
"I appreciate the work the U.S. Coast Guard is doing, led by Capt. Kahle, to investigate the source of this spill and ensure it never happens again," Buchanan said. "I look forward to the investigation's timely resolution."
SeaPort Manatee holds particular significance to the Gulf Coast economy. It provides a $5.1 billion annual economic impact to the Southwest Florida region and supports more than 37,000 direct jobs.
Buchanan has pushed for years for the expansion of Florida's deepwater ports, the closest in the U.S. to the Panama Canal. He serves on the House Ways and Means Committee and has been deeply involved in international trade.
But he also has dealt with environmental hazards to his coastal district like red tide, and fought for the closure of facilities like the Piney Point stacks at the center of an environmental disaster just two years ago.