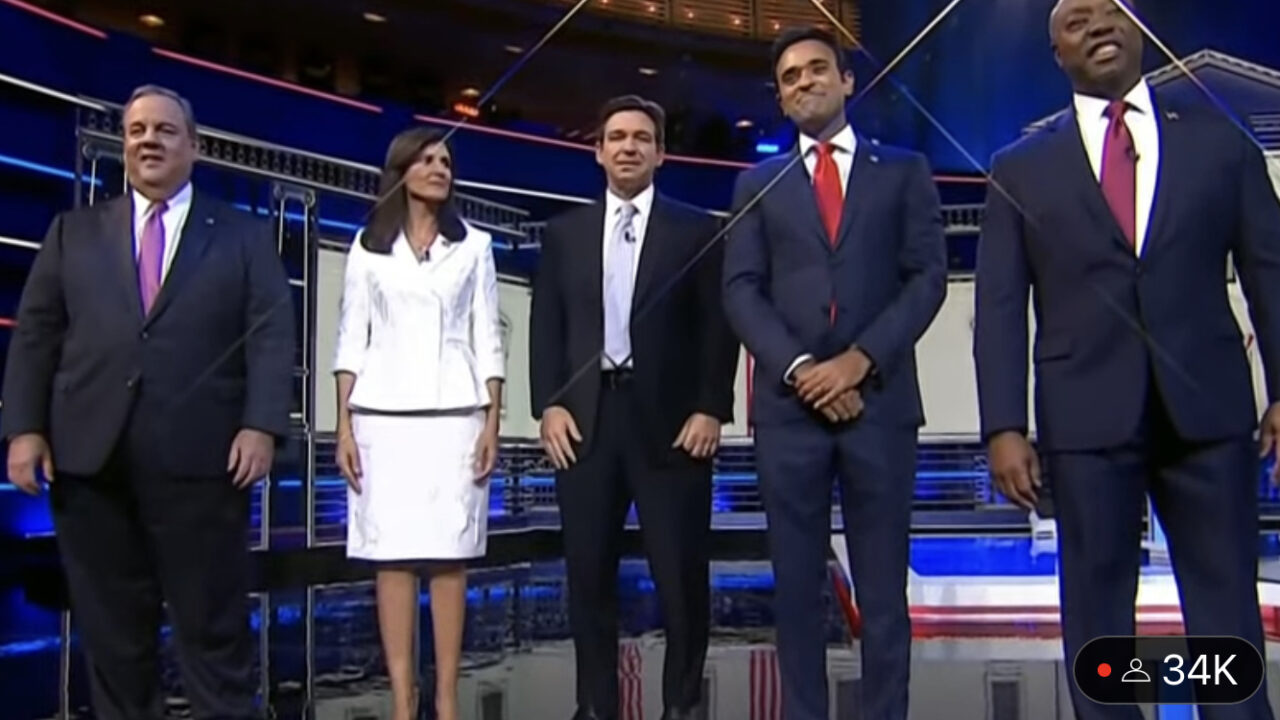 A party of 5 was on stage, but there were few breakout moments for Ron DeSantis Wednesday in Miami.
Florida's Governor took the stage in his home state Wednesday night, with an appearance in the third Republican presidential debate and a need to distinguish himself that wasn't exactly fulfilled during the two hours on stage.
Despite the home field advantage, Ron DeSantis' main competition wasn't in the Miami debate hall, but was rallying his faithful at a stadium in Hialeah.
And the Governor was again one of the crowd, eclipsed by sharper lines from some opponents, and reliant on phrases familiar to those who have followed his campaign trail speeches, delivering a performance that made his social media supporters happy, but likely did not close the gap with the former President who leads him in polls.
Though front-runner Donald Trump was absent, opponents Chris Christie, Nikki Haley, Tim Scott and Vivek Ramaswamy shared the stage with him.
The Governor entered the debate with his campaign trumpeting a lift from a key endorser: "Ron DeSantis will enter the third GOP debate on the heels of a historic endorsement from Iowa Governor Kim Reynolds and will present his vision for America's revival."
On the stage, though, Iowa's big get was replaced by a series of big-picture topics, including the absent President.
DeSantis was asked first about why he's a better choice than the absent Trump, and he gravitated to well-worn stump speech remarks about how issues are too big for "distractions."
"Trump's a different guy than he was in 2016," said DeSantis, arguing that the former President should be on stage, and contrasting Tuesday night's GOP losses with the winning he's been responsible for.
"He owes it to you to be on this stage and explain why he should get another chance. He should explain why he didn't have Mexico pay for the border wall. He should explain why he racked up so much debt. He should explain why he didn't drain the swamp and he said, we're going to get tired of winning."
"What we saw last night. I'm sick of Republicans losing," DeSantis added. "In Florida, I showed how it's done. One year ago here we won a historic victory, including a massive landslide right here in Miami-Dade County. That's how we have to do it."
From there, DeSantis got his next words in on the Israel-Hamas crisis, where he took a tough stance and said he'd advise Benjamin Netanyahu to "finish the job once and for all with these butchers."
"They're massacring innocent people. They would wipe every Jew off the globe if they could," DeSantis said. "He cannot live with that threat right by his country. Hamas should release every hostage and they should unconditionally surrender."
Ramaswamy, in a broadside against DeSantis and Haley, said he was an alternative to the "neocon" consensus, in one of many slashing remarks he made throughout the debate.
"Do you want a leader from a different generation who's going to put the country first, or do you want Dick Cheney in 3-inch heels?"
Haley retorted once given speaking time, saying that she wears "5-inch heels" and "they're not for a fashion statement, they're ammunition." This led Ramaswamy to note "there are two of you" on stage, alluding to DeSantis' height-helper footwear.
The Governor, asked how he would hold Iran accountable, noted he "served in Iraq back in the day."
"As Commander-in-Chief, I'm not going to put our troops in harm's way unless you're willing to defend them with everything we have," he said, blaming President Joe Biden for rendering American troops "sitting ducks" in the region — a line DeSantis has workshopped for weeks.
Ramaswamy swatted at Haley and DeSantis once more, saying "censorship" of student groups protesting in favor of Palestinians could be a slippery slope to a "worse underbelly" of control of speech, a seeming allusion to the Florida Governor removing the charter of Students for Justice in Palestine (SJP).
DeSantis did not respond to Ramaswamy's attack, but did defend the removal of SJP's charter, saying tax dollars would not go to "fund Jihad."
The discussion moved to Ukraine, where DeSantis reiterated his position that U.S. troops would not be there, but would be stationed at the southern border, offering a wide-ranging attack on Biden before saying, again, that "we need this war to end."
China was next on deck, with Haley swiping at DeSantis, wondering if "Ron" would "end formal trade relations with" them given fentanyl.
DeSantis said that he would build up the Navy to respond to the Soviet-level threat to "the future of freedom" from Beijing, before presenting contrast with his rival in the first counterattack of the night, 45 minutes into the event.
He noted that Haley "welcomed" China into South Carolina, contrasting that with Florida's new ban on Chinese land purchases. Ramaswamy attaboyed DeSantis' point about Haley, but argued that one of the Governor's donors pushed for a "lobbying based exemption in that bill that allowed Chinese nationals to buy land within a 20-mile radius of a military base."
DeSantis went on to say, in response to a question, he would ban TikTok, expressing concern "about the data they're getting from our young people" and vowing a "full-spectrum approach to fending China off."
Haley brought it back to land purchases, contending that Enterprise Florida recruited Chinese businesses and that Chinese companies were "expanding" in Florida.
"You gave them stuff. I didn't give them anything. And I abolished Enterprise Florida," DeSantis said, eliding the fact that the organization thrived in the state for more than four years, facilitating two foreign trade missions for DeSantis, one in 2019 to Israel and another one this year just before he launched his presidential campaign.
Haley then attacked the "liberal" DeSantis for his opposition to "fracking," a major issue in the 2018 gubernatorial campaign that was put into the state cvonstitution by Florida voters that year, and strengthened by an early executive order from the Governor compelling the Department of Environmental Protection to end the practice.
"I don't think it's a good idea to drill in the Florida Everglades," DeSantis said. "And I know most Floridians agree with me."
He will, however, frack in other places, he made clear.
Haley summarily swatted at DeSantis on Social Security and Medicare, saying "Ron and Trump" have "joined Biden and Nancy Pelosi and saying they won't do entitlement reform." (Pelosi is no longer Speaker of the House, of course).
DeSantis dodged the question, which was a talking point from the Trump campaign earlier this year (with the former President calling him a "wheelchair over the cliff kind of guy" for supporting entitlement cuts last decade). He noted, as he has before, that Social Security is important to today's "seniors" amid today's "rising prices" and "inflation."
He also contended that "life expectancy in the United States is declining," saying he would "peg" the entitlement to lower life spans — again, an argument he has made before. Indeed, life expectancy in the U.S. has decreased to 76.4 years in 2023 from 77.28 in 2020, according to Centers for Disease Control and Prevention data.
Life expectancy isn't just declining for Americans, but also for people crossing the Mexican border who are suspected of being drug runners as well.
Regarding fentanyl, a topic broached near the end of the debate, DeSantis again promised to enforce the Mexican border and use "deadly force."
"If someone in the drug cartels is sneaking fentanyl across the border when I'm president, that's going to be the last thing they do," DeSantis vowed. "We're going to shoot them stone cold dead."
From dead cartel members, DeSantis moved to abortion and the "culture of life," saying that the "pro-life cause" needs to win "referenda," such as the one in Ohio Tuesday night that codified reproductive rights.
As he has since becoming a presidential candidate, he defaulted to a states' rights view on abortion, dubious of a potential national law.
"Texas is not going to do it the same as New Hampshire. Iowa is not necessarily going to do it the same as Virginia," said DeSantis, who came back from the campaign trail earlier this year to sign Florida's six-week abortion ban during a private ceremony late at night at the Florida Capitol.