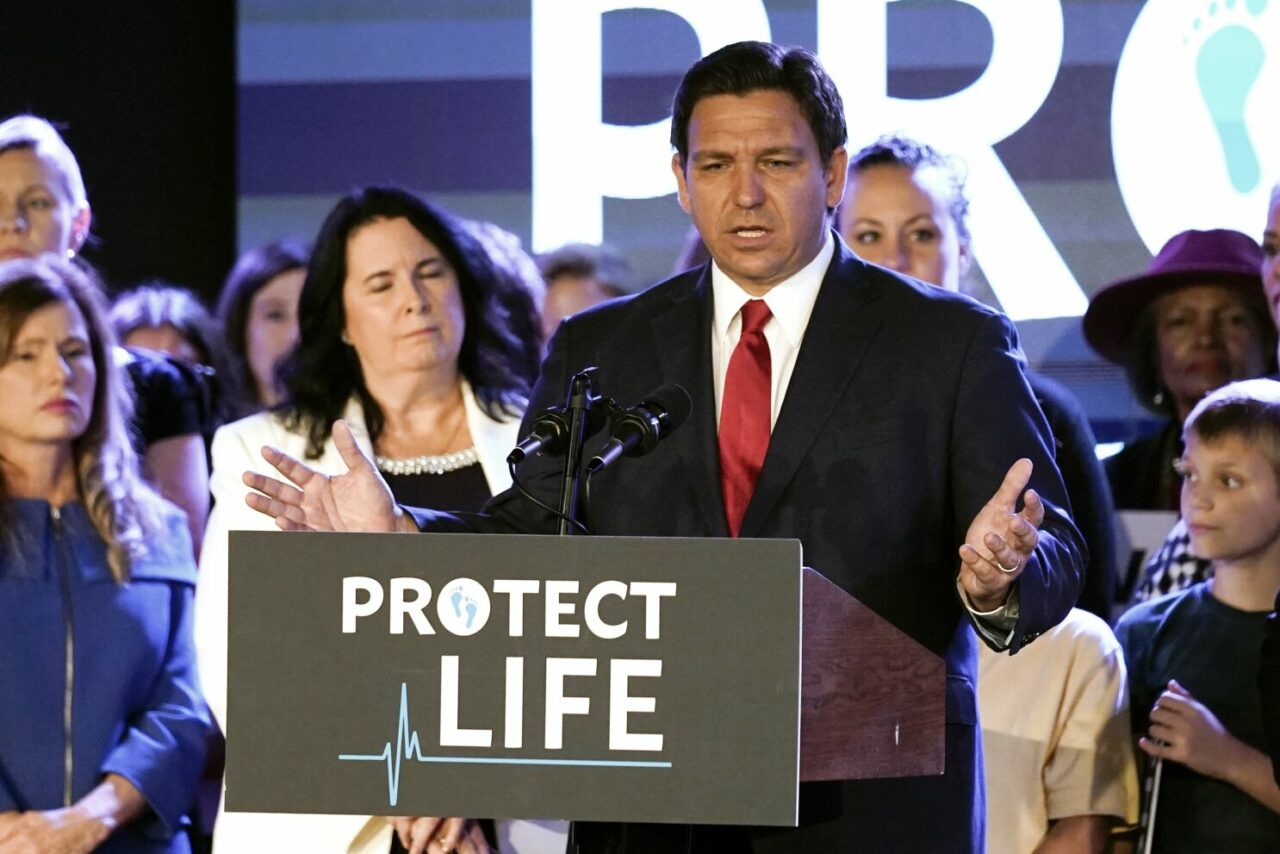 Can anti-abortion forces repel pro-choice groups in this 'big, expensive state'? The Governor sounds worried his side can't keep up with spending.
Gov. Ron DeSantis is happy that it will take at least 60% of the vote to protect abortion access via a ballot initiative next year, because he expects amendment sponsors to be "loaded for bear."
"I look at Florida, we have of course, the Heartbeat Protection Act," DeSantis said, referring to the law he signed this year that bans abortion in most cases after the sixth week of gestation, which critics say is effectively a total ban.
"But they're trying to get on the ballot to do a constitutional amendment in Florida and they would need 60% not 50. But the reality is it's a very big expensive state to be able to advertise in and I guarantee you the other side would come loaded for bear," DeSantis warned on Saturday night.
The Governor's comments, made at the Pulse 'It's a Wonderful Life' Christmas Gala in Des Moines, Iowa, were made in the context of Ohio voters protecting the right to abortion via a simple majority vote this year.
DeSantis, who is the most effective fundraiser in the history of Florida politics, complained that all the money in the Buckeye State went the wrong way on this issue.
"So you have a situation where on these referenda, you have so much money flowing in to promote it and then the media is 95% in favor of those," DeSantis said, lamenting an "imbalance" that affects "the information flow that these voters are getting."
The Governor blames "Republicans that are you know, supposed to be promoting culture of life and everything, but if you look a lot of these business guys, these Wall Street guys, they are not pro life."
"And so they may support Republicans because they want lower taxes, but they're more apt to give to the other side when it comes to something like this.So I do think we've got a structural problem when it comes to these referenda," DeSantis said.
Floridians Protecting Freedom (FPF), the committee working to put abortion access on the ballot in 2024, has nearly 500,000 signatures of the 891,523 needed.
The referendum, if it goes on the ballot, would ask voters to agree that "no law shall prohibit, penalize, delay, or restrict abortion before viability or when necessary to protect the patient's health, as determined by the patient's health care provider."
Proponents say it would restore the right to an abortion in Florida to where it was until the U.S. Supreme Court last year overturned the landmark ruling, Roe v. Wade. For nearly 50 years, that ruling allowed women to end pregnancies up to 24 weeks of gestation. The new Dobbs decision moved regulation of the procedure to state jurisdiction.
The Florida Legislature passed a 15-week ban in 2022, with no exceptions for rape or incest. Then, during last Session, passed a six-week ban on the procedure, but kept in some exceptions.
Right now, the 15-week ban is under state Supreme Court review as Planned Parenthood, the American Civil Liberties Union and a handful of abortion providers sued to stop the law, arguing that the 2022 measure violates the right to privacy in the state constitution.
Attorney General Ashley Moody is opposed to the referendum, contending would be confused by the term "viability" and that it could be viewed as allowing abortion anywhere from 12 weeks to 25 weeks.
"While I personally would not vote for this initiative no matter what definition of 'viability' it was using, I know that to some voters, it is material to their vote — whether you are talking about an abortion in the first trimester or at the end of the second trimester," Moody wrote. "Floridians are entitled to know clearly and concisely what they are voting for or against."
While DeSantis is willing to complain about the money working for the amendment, and Moody's willing to diagnose supposedly defective language in the proposal, the Financial Impact Estimating Conference is less willing to hazard a guess as to how the amendment would affect the budget given what chief economist Amy Baker calls "a bunch of permutations that will make it a challenge" to score the proposal.
___
Anne Geggis and Christine Jordan Sexton contributed reporting.