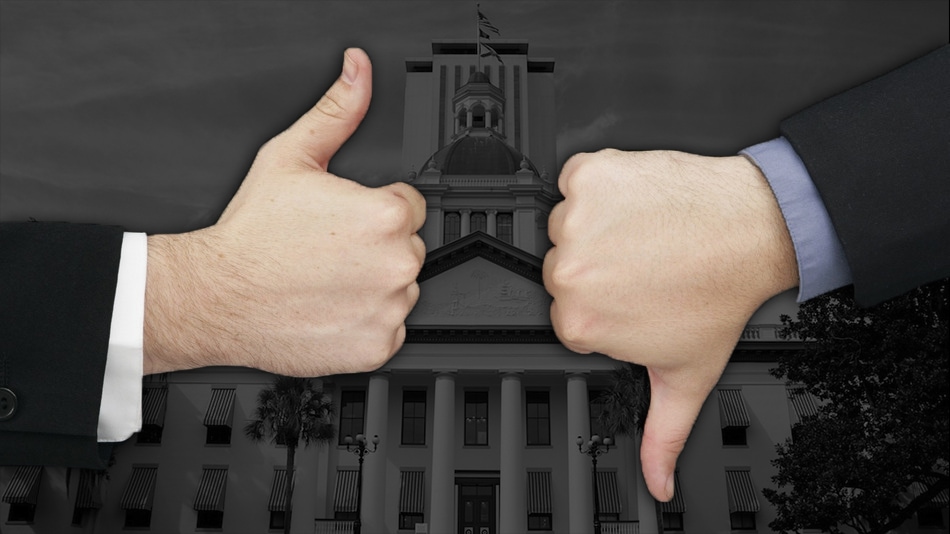 Ron DeSantis continues to hit new lows in poll after poll despite reboot after reboot.
Ah, we've finally reached Thanksgiving week, when the holiday season starts in earnest. And this past week in the world of politics gave us plenty to be thankful for.
We're thankful the federal government was competent enough to remain functional (well, at least for another few months).
We're thankful Florida remains a premier destination for travelers and that the state's tourism economy is continuing to hit highs following the pandemic.
We're thankful the state finally seems to be fixing devastating staffing woes for the Department of Corrections to make sure Florida's prisons are run smoothly and safely.
We're thankful consumers appear to be in a spending mood this holiday season, helping to continue to improve the economy.
And we're thankful that gas prices remain near their lowest point of the year, a much needed point of relief for families who have endured a tough few years of inflation.
Those items all came from the past week, proof that there is good news out there if we can all pull ourselves away from doom-scrolling Twitter and hate-watching clips of our political enemies.
Happy Thanksgiving to all. We hope you have a peaceful holiday season with family and friends you love.
Because let's be honest, the Thanksgiving holiday next year, following the 2024 election, is going to be a complete shit show.
Now, it's on to our weekly game of winners and losers.
Winners
Honorable mention: Robert Coker. We want to recognize Coker's legendary run with U.S. Sugar here as he gets set to retire after more than 40 years with the organization.
Coker started out with U.S. Sugar in 1982 in the Community Affairs Department. By 2000, he landed in his current role as Senior Vice President of Public Affairs.
Along the way, Coker lobbied on several major issues, helping defeat the 1996 Penny-A-Pound sugar tax and shaping policies like the Everglades Forever Act and the Comprehensive Everglades Restoration Plan. He also helped improve U.S. Sugar's railroad transportation infrastructure and has overseen some of the company's biggest charitable programs.
"As a corporate officer and a valued member of our senior leadership team, Robert has been actively engaged in strategic corporate decisions from environmental regulation to real estate for more than two decades," U.S. Sugar President and CEO Kenneth W. McDuffie said.
"Robert Coker has been called a legend in the political arena, and that's a pretty good summation of his career."
Coker was a titan in his field. As he readies to step down at the end of this year, he deserves all of the accolades coming his way.
Almost (but not quite) the biggest winner: Fabián Basabe. Look, we wouldn't have predicted Basabe landing in the win column given the various accusations that have been chasing him around the past year. We've spotlighted those problems repeatedly in this column.
This week, however, was undoubtedly a good one for Basabe.
The prior week saw a report from GrayRobinson, the firm that the House hired after Basabe underlings accused him of abuse and sexual misconduct, found "no evidence" of wrongdoing, clearing him in that probe.
To be sure, there is still a separate lawsuit pending regarding those allegations. But Basabe appears to have once again beaten an ethics complaint into the accusations, allowing him to make the case that his name is cleared — for now — as he prepares for a likely heated re-election campaign.
Then this week, he earned what was, considering the circumstances, a glowing profile in New York Magazine.
Yes, the piece covered the numerous allegations against Basabe, and highlighted the effort to oust him from his House District 106 seat next year. But the profile also very much played up Basabe's image as an in-demand socialite. The piece was chock full of that narrative, introducing him to a national audience and pushing forward his argument that he can't be "canceled."
The court case against Basabe will help to clarify whether these allegations have merit. And as the campaign heats up, challenger Joe Saunders will certainly make the case that Basabe's own voting record should give voters pause, regardless of any accusations of impropriety.
For this moment, however, Basabe appears to have regained control of his narrative. With an election coming up with little margin for error, that's a win for him.
The biggest winner: Disney. The Mouse saw two big signifiers this week that their influence in Florida is as impactful as ever, despite the grumblings of Gov. Ron DeSantis.
First, the company promoted a study showing Disney had a $40.3 billion impact on the state's economy last year. The report also looked at an alternate universe where Walt Disney World didn't exist in Florida, arguing the state's unemployment rate would jump from 3% to 5.4%.
Yes, Disney commissioned the report. But analysts at Tourism Economics looked at Disney financial data, visitor survey reports and publicly available info to pull the estimates together. The findings show just how big a juggernaut Disney is as DeSantis continues carrying out his rhetorical battle with the company.
"Disney is an economic catalyst to the state of Florida generating billions in economic activity, either directly, or indirectly through its supply chain and the spending of employees," said Adam Sacks, President of Tourism Economics, a division of Oxford Economics.
Add to that Disney Cruise Line opening a home at Port Everglades, offering a nearby cruising option in South Florida. The company had previously only parked at Port Canaveral in Central Florida. But Disney celebrated the new home this week, with the first ship ready to set sail Monday.
That will only add to Disney's boon to Florida's economy. Maybe soon we'll have a Governor who recognizes those benefits over carrying out unnecessary culture war battles to appease a base that doesn't even seem to like him all that much.
Losers
Dishonorable mention: Patty Cummings. DeSantis suspended Cummings late Thursday amid allegations the Cape Coral City Councilwoman lied about where she lived in order to qualify for her District 4 race.
Cummings is also facing felony charges over the accusations. Those include fraudulent application for a driver's license and two counts of false swearing in with voting of elections.
Cummings ousted incumbent Jennifer Nelson in last year's election, but questions have swirled about whether she actually lived in the district she was representing.
When news of the charges broke, Cummings' camp signaled that she did not intend to resign and would fight the allegations.
But days later, DeSantis made the decision for her when he signed an Executive Order removing her from office.
"Patty Lee Cummings is prohibited from performing any official act, duty, or function of public office; from receiving any pay or allowance; and from being entitled to any of the emoluments or privileges of public office during the period of this suspension, which period shall be from today until a further Executive Order is issued or as otherwise provided by law," the order reads.
Almost (but not quite) the biggest loser: Anti-drag law. The U.S. Supreme Court declined a request from the state to enforce a new law targeting "lewd" performances in front of minors.
The unstated target of that law: drag shows, as DeSantis has tried to message against explicit LGBTQ materials being marketed to Florida's kids.
But drag performers have argued the vague law would target any drag performance, explicit or otherwise, in front of minors, even where parents allow their children to attend. That prompted a lawsuit against the measure, which is still moving through the courts.
As the parties await a ruling, however, a federal judge in June put an injunction on the law being enforced. Last month, the 11th U.S. Circuit Court of Appeals upheld that injunction, continuing the pause on the law until a court can decide on its merits.
Late Thursday, the U.S. Supreme Court declined to revert that injunction, keeping the block in place.
Again, to be clear, there hasn't been a ruling on whether the law is constitutional or not. The courts are merely making decisions about whether the law should or should not go into effect before there is a ruling on the legal challenge.
But typically, lawsuits that are clear losers don't lead to an injunction. Rather, judges turn to such an action when the plaintiffs have a strong case.
Regardless of how the case ultimately shakes out, DeSantis' drag show crusade is on hold despite his best efforts.
The biggest loser: DeSantis. His rival, Disney, looked great this week. His push to go after drag shows remains in limbo as well. And on top of all that, DeSantis is still flailing in the polls with now less than two months to go before the first GOP Primary votes are cast.
We've wondered for months here whether DeSantis has a chance to make a massive comeback to overtake former President Donald Trump. But while DeSantis' team has repeatedly pushed a narrative that he's been dominating debates and ready for a surge, DeSantis instead has only surged downward.
Just this week, two polls showed him in fourth place in New Hampshire. A third poll on Friday had him in a dismal fifth place showing in the first-in-the-nation Primary state. He also hit a new low in the Ohio GOP Primary. And embarrassingly, he had his worst survey yet in Florida, losing by 41 points to Trump per a survey from Florida Atlantic University.
DeSantis' team will tell you that he will gain momentum with a win in Iowa. To that end, he recently pulled in the endorsement of Republican Iowa Gov. Kim Reynolds, which we noted here last week.
Win there, and New Hampshire and other early states may be far more favorable for DeSantis than current polls suggest.
Well, how's that going? Despite rolling out ads spotlighting the Reynolds endorsement, the newest survey still shows DeSantis 36 points behind Trump in Iowa.
Ouch.
With Mike Pence and now Tim Scott out of the race, DeSantis is trying to take the fight to Nikki Haley to narrow the field further. That comes as polls increasingly show Haley as a threat to overtake DeSantis as the favorite Trump alternative.
It's an obvious strategy that winning candidates always keep in mind: Focus your fire on the candidates who are your main competition in the race.
Well, polls have shown Trump stomping DeSantis since early this year. Yet DeSantis didn't follow that rule with Trump. Instead, he and his team sat on their hands and refused to go after Trump until it was too late, for fear of alienating his voting base, despite everyone and their mother realizing Trump's base was with him no matter what.
What DeSantis could have done was win over voters open an alternative. Instead, his team allowed Trump's lead to snowball. And the more inevitable Trump looks, the more inevitable he is as voters resign themselves to coming home to their party and supporting their likely nominee.
We remain open to the possibility that something changes before votes are cast in Iowa. We have never had a party front-runner fending off any criminal indictments, much less 91. Speaking with certainty about this race is a fool's errand.
But at this point, Haley seems the better bet to emerge as a threat to Trump's superiority. And DeSantis looks more and more like the newest case study in how to fall apart as a once-loved presidential candidate. Even Jeb Bush, Bobby Jindal and Scott Walker are wondering what the hell happened here.